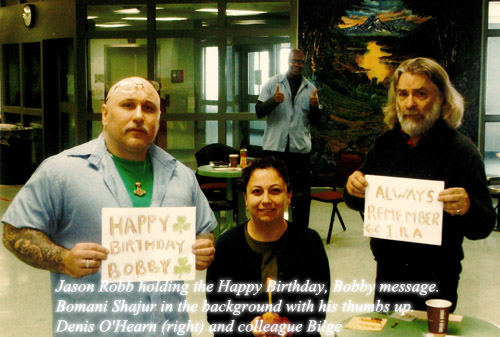 Denis O'Hearn, author of the biography on Bobby Sands, Nothing But An Unfinished Song, is Professor of Sociology at Binghamton University, USA, and has been involved in campaigning for the rights of death sentenced prisoners in US Supermax Prisons. He has sent us this report, about how prisoners in Ohio celebrated the 60th anniversary of the birth of IRA hunger striker Bobby Sands on 9th March, 1954. Here is his report:
You and others may be moved to hear about a birthday party that I attended yesterday. I was in Ohio State Penitentiary, on the 60th birthday of Bobby Sands, visiting my brothers Bomani Shakur and Jason Robb. Bomani and Jason, along with three others, are awaiting execution for their parts in a prison uprising in Lucasville, Ohio in 1993. There is no evidence that any of the five was involved in any killings that took place during the uprising but they led a movement to convince prisoners not to inform on other prisoners regarding any events that took place during the uprising. Bomani and Jason were offered deals by the state of Ohio to get very reduced sentences if they testified against other prisoners but they refused to do so and chose to save their souls at the possible cost of their lives.
As punishment, the state fabricated evidence of guilt and withheld evidence of their innocence and stage-managed a series of trials that resulted in death penalties. The five men remain steadfast friends and comrades. Two are white, two black, one a Sunni Muslim.
In January 2011, after reading accounts of the Irish hunger strikes of 1980-81 and of the life of Bobby Sands, three of the men went on hunger strike to demand contact with each other and open visits, where they could touch their friends and family and break bread together with them. This we have been doing since the victorious end of their hunger strike, although Bomani and Jason remain chained to separate picnic tables during the visits.
Yesterday, we bought a small cake from the vending machine in the visiting room. Jason, who is an accomplished artist, used the crayons and paper from the children's play area of the visiting room to make birthday cards reading, "Happy Birthday Bobby", and "Always Remember." He constructed a birthday candle from paper, with a "flame" on the top, to decorate the cake. Together, we celebrated Bobby's life and his ongoing contribution to freedom everywhere.
After the victorious hunger strike in Ohio, other prisoners around the United States read about Bobby and the Irish hunger strikers. Last year 30,000 men in California's prisons went on hunger strike against solitary confinement. They organized the strike from a small area of isolated confinement called the short corridor that resembles nothing so much as the H-Blocks at their height of inhumanity, although these men do not even have windows in their cells. The men who organized the strike are African-American, Latino, and White. According to one recent report the men held all kinds of lively debates in their "pod" in Pelican Bay State Prison, but whenever the subject of Bobby Sands and the Irish hunger strikes came up the talk changed.
"Every time we'd start talking about it, we'd notice the pod going quiet—we knew people were listening."
The state says that they are leaders of gangs that are at war with each other yet they have shown the deepest comradeship. The hunger strike lasted some 60 days and it may resume again if rights are not granted.
Last month, dozens of prisoners in Menard "administrative segregation" (solitary) unit in the state of Illinois went on a hunger and then thirst strike for their rights. Again, they cited the example of Bobby Sands who, among others, has been responsible not only for politicizing large segments of the US prison population but for showing them a way that they can fight for their rights through nonviolent resistance. Soon, I believe, there will be a nation-wide hunger strike in the prisons here to protest against the inhumane policy of long-term solitary isolation, which since 1983 has put tens of thousands of men into total solitary isolation, some of them unable to touch another human being for decades.
Today we hear that hundreds of undocumented migrants who are being detained in Tacoma in the state of Washington launched a hunger strike – on Bobby's 60th birthday!
All of the Irish hunger strikers and their families, those with us and those who have passed from us, can take great pride in the fact that their struggle continues and that their example has given hope to tens of thousands of men who are still being held in "concrete tombs" in the richest nation in the world.
Happy Birthday, Bobby! Always Remember!
– Denis O'Hearn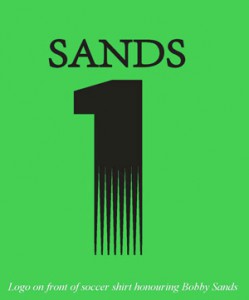 Last Sunday by visiting his grave, by commenting on social media such as Facebook and Twitter, many people marked the 60th anniversary of the birth of Bobby Sands. In the run-up to Bobby's anniversary he and his fellow hunger strikers were recalled at events in Geneva, Switzerland, and Vincenza, Italy. Last Sunday, within the space of a few hours, over four thousand people visited our website.The Bobby Sands Trust is proud to record all events, large or small, which honours our brave comrade.
So with this in mind, if you live in San Diego, California, then feel free to go along this Sunday where people who were not even born when Bobby died will be wearing jerseys bearing his name at a 6v6 Indoor game. Organiser Janice Jordan says: "If you have any extended family or friends in San Diego, please let them know they are welcome to come to our game. We shall be honoring Bobby Sands at our 6v6 Indoor game.The lads will be wearing the name Sands on their jerseys. The game is on Sunday, the 16th of March at 6.45pm. The address is: 2720 Howard Avenue, San Diego, California, 92104 in the North Park area of San Diego. FREE ADMISSION!
Janice Jordan, The Und1sputed Ones, California Wellness, LLC
http://www.undisputedusa.com/NorthPark/ud1soccer.html
http://www.youtube.com/user/Und1sputedOnes
http://www.facebook.com/Und1sputedones
"Today marks the 60th birthday of Bobby Sands. His name we'll always remember, his sacrifice we'll never forget. Today, I think of his parents and his siblings, his son Gerard and his grandchildren. I remember too his comrades, all of whom held Bobby in such high esteem. His smiling face is known the world over and his fight for freedom remains an inspiration wherever people rise up to face injustice. His poetry and songs still resound. Let us remember…
" – Christy Moore"
Sixty years ago next Sunday, 9th March, Bobby Sands was born in Rathcoole on the outskirts of North Belfast. Bobby died on hunger strike on 5th May, 1981, at the age of 27, followed by nine more comrades: Francis Hughes, Raymond McCreesh, Patsy O'Hara, Joe McDonnell, Martin Hurson, Kevin Lynch, Kieran Doherty TD, Thomas McElwee and Mickey Devine.
Around the world the name of Bobby Sands has become synonymous with the struggle of the weak against the strong, the oppressed against the oppressor, and his and his comrades' example have been taken up by many other political prisoners from India to Palestine to Kurdistan.
Today's Guardian newspaper publishes in its Reel History series an analysis of Steve McQueen's breakthrough film, Hunger, loosely based on Bobby Sands' last days. That films numerous awards include: the prestigious Caméra d'Or at Cannes in 2008; Gucci Group Award – Mostra del Cinema di Venezia 2008; Discovery Award – Toronto International Film Festival 2008; the Sydney Film Prize; best picture from the Evening Standard British Film Awards, receiving two BAFTA nominations, winning one; and winning six out of eight awards at the 2009 Irish Film and Television Awards.
At the time of Nelson Mandela's death, Russia Today, compared the ANC leader with Bobby Sands. Last October a translation of Bobby Sands' diary won the Italian Cultural Association LETTERATURE DAL FRONTE (Cassino) prize.
And so it continues – the memory of our comrade, who would have turned sixty years of age this week, his and his comrades' sacrifices and influence reverberate to this very day!
Here is a link to a tribute to Bobby Sands by his comrade, former blanket man Colm Scullion, which was recorded two years ago.
Former republican POW and blanket man Rab Kerr has just issued a pocket-
sized new guide to Belfast murals as a follow up to his 2008 book, 'Republican Belfast: A Political Tourist's Guide. "The book," says Kerr, "is aimed primarily at tourists coming to Belfast and is meant to complement their own pre-trip research or guide book. For that reason I kept it compact and relatively cheap."
Here, Tom Hartley, whose book on Milltown Cemetery will be published next July, takes a look at Rab Kerr's book and this history of mural painting in Belfast:
The 'Belfast Mural Guide' is a timely reminder how murals have evolved from being political statements of the republican and loyalist communities, to the point where they now occupy a central role in underpinning political tourism in Belfast.
Within the Irish political tradition the first murals to appear were the murals of the Orange lodges. These were dominated by the image of King William on a white horse. Tommy Henderson, a painter and Independent Unionist Councillor on Belfast Corporation, and Member of the Stormont Parliament, is reputed to have painted the very first King Billy on a gable wall of a grocery shop in Weir Street in the Shankill area of Belfast. In effect the image of King Billy had made the jump from the Banners of the Orange Lodges on to the gable walls of Belfast.
Murals in the republican community first appeared during the 1981 hunger strikes. In a community where politics were heavily censored by the state and the media, republicans had traditionally used pamphlets, posters, badges, Gestetner printing machines, local news-sheets and their own newspapers to spread the republican message. These forms of dissemination were used over decades by republicans and were a core practice in their political opposition to the British state in Ireland. In effect, because they were denied access to mainstream media, they created another form of alternative media to counter state censorship. The use of murals by the republican community should therefore be seen as a development within this tradition of an alternative media.
It is difficult to pinpoint at what point murals in the republican community moved from being a political statement to being an art form widely used to reflect the political and cultural concerns of that community. A study of the development of the first murals demonstrates how the skill base of the mural painters was in the process of continuous development. Within a few years of the hunger strikes, murals began to reflect the colour and vibrancy of a republican community reduced to living within an imposed greyness of deprivation. Many young muralists found their first sense of empowerment when they lifted a paint brush to paint their first mural.
The political murals that began on the gable walls of the republican community would in time be adopted by the loyalist community. Today, tourists in black taxies and buses are common features seen daily on the Falls, and Shankill Roads, in east Belfast and in Ardoyne, all clicking away with their digital cameras at the wide variety of murals which are found on the gable walls of Belfast.
The pocket guide produced by MSF Press will be a necessary requirement for any tourist who wishes to see the full extent of the mural product on offer in Belfast. With each mural in the pocket guide, the reader is given its location, its walking distance from the City Hall and its GPS co-ordinates. I would highly recommend this small pocket guide for visitors and locals, as a means of understanding and enjoying a wide variety of murals painted by the skilled muralists of Belfast.
The book is available on Amazon & Ebay priced £4.50. In Belfast it can also be purchased at the following venues: The Art Shop, Cuturlann, Nova Print in Conway Mill, The Republican Museum, Conway Mill, Falls Road; The West Belfast Taxi's Passenger Terminal in King Street; Crumlin Road Gaol; and the Belfast Welcome Centre.