Print This Article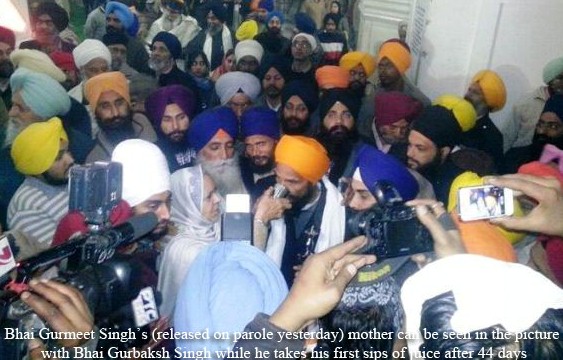 The six Singhs whose release Gurbaksh Singh Khalsa demanded have been released and Bhai Sahib Gurbaksh Singh Khalsa has ended has hunger strike after 44 days. This news has been sent to the Bobby Sands Trust by Inderjeet Kaur in a statement which said:
"He is still alive and in high spirits (chardi kala) and doing fairly well, but is, of course, much weakened physically. We pray for his complete recovery and anticipate many more years of inspiration from him. He will go down in Sikh history as a great hero whose willingness to undergo martyrdom achieved justice for these six.This concludes Phase One of the Morcha (campaign) to obtain the release of all those prisoners detained in India after completion of their sentences. There are many more still being held and we will continue to fight for their release, both Sikhs and non-Sikhs.
"We thank the Bobby Sands Trust for your support of us in this matter and pray that we can achieve our goal without the need to again resort to such drastic measures."
A link to the news story of this can be read here.

Print This Article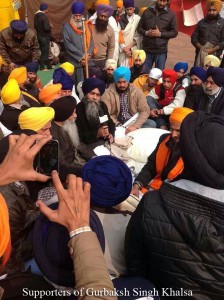 Gurbaksh Singh Khalsa, a Sikh, has been on hunger strike since November 14, in Mohali, protesting against India's refusal to release six Sikh Political Prisoners that have served their terms, but remain imprisoned for political purposes. Campaigners and supporters have asked the Trust to publish details of the protest and a Facebook website where people can sign a petition calling upon the Indian government to act. The following is from Inderjeet Kaur:
Sisters and Brothers of the Bobby Sands Trust,
Please put this information on your International page. This is a very serious matter about a Sikh brother on a hunger strike unto death. Indian newspapers refuse to publish what is happening and his sacrifice is virtually unknown outside of the Sikh Community. He mustn't be allowed to die unnoticed by the world. I have links to articles in Sikh online publications, if you want them. Here is a Facebook page supporting him: We Support Bhai Gurbaksh Singh Khalsa. Please post about this very good and dedicated man who is giving his life to try to get prisoners who have served their sentences released.
DETAILS
Gurbaksh Singh Khalsa has been on a hunger strike since November 14, 2013, in Mohali, India. The purpose of this strike is to raise awareness about Sikh political Prisoners languishing in Indian prisons after serving their given sentences. His health has deteriorated considerably; his body is shutting down and he could die within days. His cause has received no media coverage in Punjab, India or elsewhere due to the Indian government's lack of interest in its minority populations. Prominent newspapers in Punjab and nationally in India, even when given outside funding, have refused to publish any stories Gurbaksh Singh Khalsa and his hunger strike. His cause and message is simple, peaceful, straightforward: free those political prisoners that should be legally free.
Prisoners whose release is immediately sought: Gurmeet Singh, Lakhwinder Singh, Lal Singh, Shamsher Singh, Waryam Singh, Gurdeep Singh.
DR Avtar Singh's Medical Report: 14 December, 2013:
"I have reviewed Bhai Gurbaksh Singh's latest blood test reports of 12 hours ago. Bhai Sahib allowed the blood test to be done at the sangat's request. His Potassium level has dropped to 3.1. The level was 3.3 less than 48 hours ago. Any level less than 3.5 is abnormal. Our body will use all the stored amounts of Potassium in us before the level starts falling below 3.5. Bhai Sahib's Creatinine level has improved . This shows that he is drinking a lot of water . BUT he is not taking any fruits or vegetables or Dal for the last 30 days and that is from where Potassium is obtained. Potassium level less than 3.0 is termed Severe Hypokalemia ( The risks to body start showing their effects and can be life threatening ). The risks are of Arrythmia ( Irregular heart beat with heart going into dangerous rhythm resulting in sudden death even ). At level less than 2.5, Bhai Sahib's respiratory muscles will stop working and he will die of being unable to breathe. In a nutshell, Bhai Sahib is at risk of having a heart attack due to abnormal heart beat as potassium will fall below 3 in the next 24 hours and he will likely die of being unable to breathe in the next 3-5 days ( It seems his potassium level keeps falling by 0.1 every 24 hours ). Bhai Sahib's Kidneys have recovered but his heart is going to be at risk now. I warn Badals, Akal Takhat Jathedaar as well as Bhai Sahib's supporting organizations to ALL work as a team and get those six Singhs out of the Indian Jails ASAP so that Bhai Sahib can be given Fruit juice immediately as his body is in desperate need of Potassium. Bhai Sahib is at risk of Sudden Death ANYTIME now due to his low Potaasium and this risk will increase tremendously as his Potassium level falls below 3.0 in the next 12-24 hours. If he dies anytime, it will be a proof of the Society's inability to listen to a genuine human being like Bhai Gurbaksh Singh."