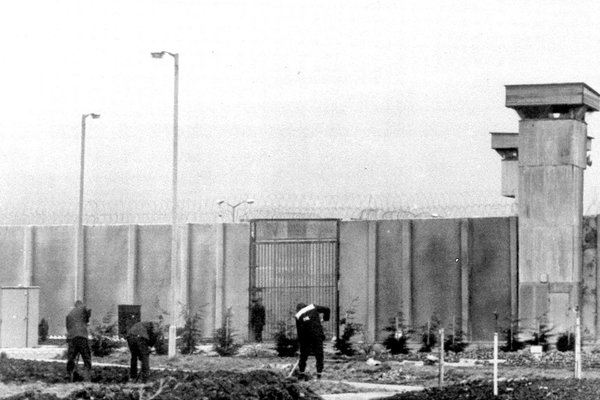 The New York Times, which during the conflict, and despite pressure by Britain, referred to IRA fighters as guerrillas, carries a considered piece on the preservation of some buildings at Long Kesh/H-Blocks and interviews two former hunger strikers. The full feature can be read here.
CNN, the popular Cable News Network, carried a feature on the 1981 hunger strike in response to the hunger strike by one hundred prisoners at Guantanamo Bay. In it are interviewed Brendan 'Bik' McFarlane and Denis O'Hearn who wrote the biography on Bobby Sands, Nothing But An Unfinished Song. The feature can be heard here.
http://cnnradio.cnn.com/2013/05/09/the-legend-of-hunger-strikers/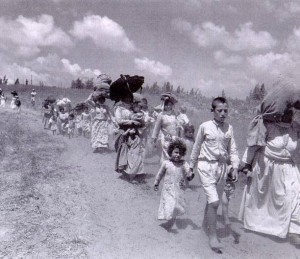 Next Tuesday, 14th May, is the sixty-fifth anniversary of the Palestinian Nakba. In Belfast the Palestinian Education Initiative is organizing a public lecture outlining the work and legacy of the world renowned Palestinian writer, intellectual and activist, Edward Said.  For many years the late Said's voice illuminated and provided a framework for understanding the politics of the Israel-Palestine Conflict and the colonialist Orientalist mindset that asserted and continues to assert that Palestinians and Palestinian culture are primitive, foreign, other. 
A brilliant critic of Western hypocrisy and intellectual dishonesty, Said was also a vehement critic of the late Yasser Arafat and the PLO, and he predicted their adoption of the 'peace process' would lead to the dead end of continuing occupation that we see today. Presented by Dr Conor McCarthy* of Maynooth University College, this lecture presents an opportunity for attendees not just to engage with Said's thought but also to come to see how often their own understanding of the Israel-Palestine Conflict has been constructed through a prism of western imperialism.
7 pm, Tuesday 14th May, St Mary's University College, Falls Road, Belfast
*Dr Conor McCarthy teaches English at NUI Maynooth, and is the author of Modernisation, Crisis and Culture in Ireland 1969-1992 (Dublin 2000) and The Cambridge Introduction to Edward Said (Cambridge 2010). He is a founder-member of the Ireland-Palestine Solidarity Campaign.
From Said's classic book Culture and Imperialism: "United States policy has been supported by a dominant culture that does not oppose its main tenets: support for dictatorial and unpopular regimes, for a scale of violence out of all proportion to the violence of native insurgency against American allies, for a steady hostility to the legitimacy of native nationalism."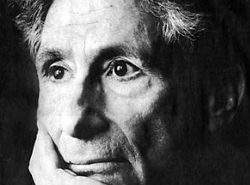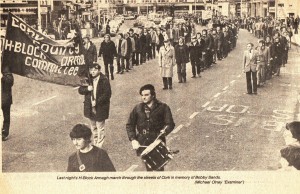 Within hours of the news of Bobby Sands' death reaching the outside world, there were protests throughout Ireland and abroad.
A reader has sent us this newspaper photograph of a march through Cork City centre on Tuesday, May 5th, 1981.
This weekend, Sunday the 5th May, is the thirty-second anniversary of the death on hunger strike of Bobby Sands, IRA Volunteer, blanket man, MP, whose life, whose writings, are an inspiration to thousands upon thousands of oppressed people and political prisoners across the world. Last year the Trust posted a video of former prisoner Colm Scullion who reflected upon his friend and comrade as he visited Bobby's grave in Milltown Cemetery. It was a poignant and moving film and celebratory of the inspiration a great man instilled in friends and comrades.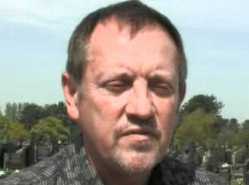 Extra medical staff have been sent to the US military prison in Guantanamo Bay, Cuba, where almost two-thirds of the detainees are on hunger strike, with many being force-fed. to help address a hunger strike that has spread to nearly two-thirds of the detainees.
The strike is into its twelfth week. Twenty-one prisoners are being force-fed and five of the prisoners have been hospitalized though it is unclear how advanced is their condition. The protest began on February 6th when inmates claimed prison officials searched Korans in a way they considered blasphemous, according to their lawyers. Prison authorities denied the allegations. But the strike turned into a larger protest by prisoners against their indefinite incarceration without charge or trial over the past eleven years.
Although President Barack Obama promised to close the prison in the US base in Cuba where 150 al Qaeda suspects are being held without charge or trial, the number has increased under his watch.
More and more critics have called for the immediate closure of the facility. Among them is former chief prosecutor at Guantanamo, Air Force colonel Morris Davis, who warned that "unless President Obama acts soon, I believe it is likely one or more of the detainees will die."