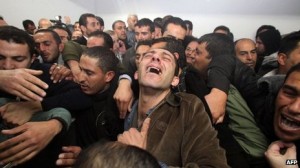 The Israeli army has stepped up its attacks on the non-violent demonstrations being held outside Israeli prisons in support of the Palestinian hunger strikers. Tear gas, baton rounds and live ammunition have been used to disperse the crowds, with reports of Palestinian casualties. Two events during the past week have further contributed to feelings of outrage in the Palestinian community: Israeli settler attacks on the West Bank village of Qasra and the death in custody of a Palestinian.
Arafat Jaradat, a 30 year old father of two, died in the Israeli Megiddo prison on Saturday 23rd  February. According to news reports he was arrested a week ago for allegedly throwing a rock at an Israeli settler in the West Bank last November. The Israeli Prison Service claims that he died of a 'heart attack' but given that torture of Palestinian detainees is customary in Israeli prisons – as are ill-treatment and medical neglect of prisoners – there has been widespread speculation, now confirmed by the autopsy report, that Jaradat succumbed to torture.
Palestinian prisoners in the jails have responded en masse to these events by initiating hunger strikes. Meanwhile pressure is mounting on the Palestinian Authority to take Israel to the International Criminal Court for breaches to the 3rd and 4th Geneva Conventions regarding the treatment of prisoners.
On 15th February Palestinians held non-violent protests outside various Israeli prisons demanding the release of Palestinian prisoners Samer Issawi, Ayman Sharawna and Yousef Abdel Rahman Eshteiwi who are all on hunger strike. Though released in a prisoner exchange deal in 2011, they were re-arrested under the notorious Article 186 of Military Order 1651 which requires them to serve the rest of their sentences. There is great concern for hunger striker Samer Issawi who is now close to death. The brave and determined protestors had to face tear gas and live rounds fired by the Israeli army. For more information see:
http://addameer.org/etemplate.php?id=573
http://www.counterpunch.org/2013/02/13/are-they-just-waiting-for-samer-issawi-to-die/
Below is a recent letter sent by Samer Issawi who has been on hunger strike 146 days.
Translated by Aziz Arafat
I feel a huge pain in muscles , the doctor said that my nerve network has clearly started to get damaged.
I am suffering from pain in stomach and constant pain in right kidney area and severe headache feels like a power outage hits my head. Heartburn urine and diarrhea , I have started drinking water since last Friday's evening, now I take vitamins and medical solutions to keep my nerve network intact.
I am gradually losing my sense of sight, hair lose and my hands noticeably shiver , I suffer the same symptoms but this time severely.
In the hospital , at 1:00 pm , I asked them to bring me some water and sugar, however, they brought them at 9:00 pm. I pulled a cannula out of my hand ( should be inserted for no longer than 3 days, but I had to do it myself because they didn't do it for me ).
There are two Russian doctors that treat me well , now, I am at a room that lacks central heating and warm water, the room's door is glassed, they don't hear me when I ask for help .
My greetings go to all the people who show solidarity with me , I assure that I'm still on my hunger strike regardless of what's going on, my hunger strike will only end when I'm victorious .
I send my greetings to the people of Al Esawiah village for their support of my hunger strike, We're fighting this battle defending the Palestinians' dignity, defending the Gazans who were martyred and injured and defending the 1.6 sufferers of Gaza who scarified a lot to accomplish the prisoners' swap deal.
I derive my power and steadfastness from the people of Palestine , Jerusalem and Al Esawiah neighborhood who have been protesting for my hunger strike.
Once again I assure that I am still on hunger strike,and the lawyer (Shireen Issawi) is just the one who can tell about my exact situation or Mashaal , just don't listen to any distorted stories about my hunger strike from any other sources.
I made my bequest to be prayed (Al-Janaza) over me in Al Aqsa Mosque , and to be buried nearby to my martyred brother Fadi Al Issawi in case I pass away.
My salutation goes to those who showed a firm stance with me, Arabs and foreigners, their solidarity represents the world's free determination and a real democratic work contrary to the Israeli's fake one.
We see countries pretend to be democratic while they are standing motionless in a crime being committed against prisoners and a just cause whose only demand is to free prisoners committed literally nothing. I was detained for no apparent reason, my fault is that I entered Jerusalem, Jerusalem is part of the West Bank !!
I pledge to go on in my hunger strike 'till a one end , either freedom or martyrdom.
We won't give less than the leaders who sacrificed their lives to protect their nations. Leaders such as Omar Al Mokhtar as well as William Wallace who refused recognition and loyalty to the king, I won't be less than those.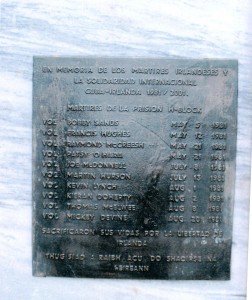 Thirty-two years after the hunger strikes of 1981, visitors to Cuba continue to pay homage to the ten men who died in the H-Blocks fighting for political status. The memorial to the men in Parque Víctor Hugo (author of Les Miserables), Vedado, Havana, was unveiled by Sinn Féin President Gerry Adams on the twentieth anniversary of the hunger strike, and for many years, on the anniversary of Bobby Sands' death, 5th May, there is a vigil held at the monument. Before he met Fidel Castro in 2001 Gerry Adams described what the hunger strike was about.
"They were of course about the prison conditions inArmaghwomen's prison and the H Block of Long Kesh. They were about the denial of human rights to those prisoners and their families and friends and of course those are important fundamental issues. But mostly what the hunger strike was about can only be understood in the context of understanding the human spirit, about how the human spirit when taken by an ideal or idea or objective can rise above itself and how the human spirit in raising itself can do mighty, unimaginable and courageous things."
The memorial tablet includes a quote from a speech by Fidel Castro during the 1981 hunger strike condemning  British "stubbornness… intransigence… cruelty and insensitivity."
The Bobby Sands Trust would like to thank Alan Louth who sent us these photographs.