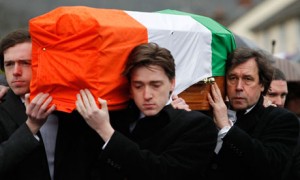 The funeral took place today in West Belfast of veteran republican and former IRA hunger striker Dolours Price (62) who was found dead in her home in Malahide, Dublin, last Wednesday. Former women comrades from jail flanked the Tricolour-draped coffin throughout the funeral procession.
Large numbers of local people and former prisoners lined the route from St Agnes Chapel where former Armagh Prison chaplain, Fr Raymond Murray, celebrated Requiem Mass. In his homily he said: "Dolours's family can relate her nature and her talent, both of which is outside the knowledge and understanding of those who did not know her personally. She was clever and witty, full of fun and held people enthralled by her conversation.
"She was very devoted to her parents. Her mother, Chrissie, died on February 1st, 1975. Their mother never saw Dolours or Marian back in Ireland. They did not get compassionate leave from prison in England to attend her funeral. A week afterwards they were repatriated to Ireland but that grief of not seeing her mother meant she never found closure."
Many had travelled from the USA, England and across Ireland to pay their respects to Dolours who in 1973, at the age of almost 22, was sentenced to life imprisonment for several bomb attacks on London. Of her co-accused, Dolours and her younger sister Marian, Gerry Kelly (now a Sinn Féin MLA) and Hugh Feeney went on hunger strike demanding to be repatriated to Ireland. They were cruelly force-fed for over 200 days and in 1975 were sent back to Armagh Prison and Long Kesh (from where Kelly eventually escaped).
The deleterious effects of their hunger strike on Dolours and Marian were profound. Both were grievously ill in prison and eventually they were released under Royal Prerogative within two years of each other in the early 1980s. Dolours later married the actor Stephen Rea with whom she has two sons, Danny and Oscar.
Two years ago, Marian was arrested on several political charges and although granted bail had her licence revoked by the then British Secretary of State, Owen Patterson. Despite intense lobbying she was only granted several hours' compassionate parole to visit the family home and wake house on Sunday morning and say her goodbyes to her sister with whom she was extremely close.
At the graveside in Milltown Cemetery veteran activists Eamonn McCann and Bernadette McAliskey paid tribute to Dolours, her life and unwavering political commitments.
The Fine Gael politician who ordered the hijacking of the body of dead hunger striker Frank Stagg and for his remains to be buried under six foot of concrete has objected to a text-based installation of H-Block comms rendered into a work of art by Longford-born artist, Shane Cullen.
Patrick Cooney was Minister for Justice from 1973 to 1977 in Leinster House, a period during which the government introduced Section 31 of the Broadcasting Act which censored Sinn Féin elected representatives from being heard on radio or television, and was a period noted for the 'heavy gang', a group of detectives within the Garda Síochána who intimidated and tortured suspects.
Since last November the new Luan Gallery in Athlone has featured an exhibition, 'Borrowed Memories', which included Shane Cullen's 'Fragmens sur les Institutions Republicaines IV 1993-1997', in which he has painstakingly reproduced the hunger strikers' messages smuggled out of the H-Blocks during the protest. Irish Times art critic Aidan Dunne wrote of the exhibition that "the nature and texture of the language used in the messages is particularly interesting and worth close attention".
Mr Cooney complained, "I don't think it is art and secondly, the theme is inappropriate. If it was removed I'd shed no tears." He said that the featured messages were from "terrorists". On the day of the opening of the exhibition Mr Cooney, according to a report in An Phoblacht, became agitated on seeing the artwork and demanded to see the manager to get the exhibit removed.
Mr Cooney's son Mark, a Fine Gael councillor has tabled a motion for the monthly meeting of Athlone Town Council calling for the exhibit to be removed, claiming that it is "offensive to so many people." As the Luan Gallery are owned by the local authority, Councillor Cooney believes the council has the power to remove the installation.
One poster on the Politics.ie website wondered "would Cooney object if they were the records of men of 1916-1922?"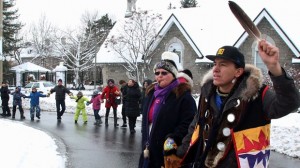 L A T E S T – On January 11th there will be a Global Day of Action for Idle No More. On twitter, the hashtag is #J11. There is also a Facebook page here with more information.
In Canada, Chief Theresa Spence is continuing her hunger strike and despite a lot of requests by opposition Members of Parliament, Prime Minister Harper still refuses to meet with her or other First Nations leaders to discuss treaty rights affected by Bill C-45 which was recently passed.
Two other First Nation elders, Emil Bell (72) and Raymond Robinson (51), both started hunger strikes in solidarity with Spence on December 12th. Emil Bell is of Cole Bay First Nation in Saskatchewan and Raymond Robinson is of Cross Lake First Nation in Manitoba.
There have been several rail line blockades set up as well in support of Spence and the Idle No More movement.
The Seton Lake Indian Band erected a blockade of a CN Rail mainline near Lillooet, BC starting Friday December 28th at approximately 3pm and ended it Sunday evening.
About three dozen Mohawks from Tyendinaga blocked the main rail line between Toronto and Montreal for several hours Sunday, December 30th.
The longest blockade of a rail line is at Sarnia, Ontario which has been going on since December 20th. The Aamjiwnaang First Nation and the Sarnia Chief of Police have been served with contempt of court, for failure to remove the blockade of CN Rail and are to appear in court tomorrow.
There have been several blockades of highways as well in various places across Canada to raise awareness of the issue.
The Canadian media – just as in Ireland during the early stages of the hunger strikes – hasn't given much coverage to Chief Spence or the Idle No More movement. News of the fast and solidarity actions comes mainly through social media such as Twitter and Facebook. There has been a lot of good support from the United States and there have been rallies in many cities there as well.