Former hunger striker Laurence McKeown, in a powerful analysis of 1981, writes of the legacy of that historic period, how it informs today's struggle for freedom and independence and how republicans and unionists can attempt to come to terms with the past. Laurence also pays tribute to the nationalist community for its unswerving support for the hunger strikers throughout the battle for political status.
In this, the 30th anniversary of the 1981 hunger strike, writes Laurence, there will be many talks, debates, exhibitions, and discussions in local communities, nationally and internationally. I always regard such events as an opportunity to thank those who did so much for us at the time; those in the Republican Movement, in the Relatives Action Committees, the National Anti-H-Block/Armagh Jail Committee, and most importantly, the ordinary men and women from our communities who came out time and time again in support of our demands. It was only in later years I fully realised the enormity of what they did; the extent of the courage they showed; going out onto the streets with nothing more in their hands than a placard to face the might, open hostility, and frequent brutality of the RUC.
In most cases these people were not republicans, not staunch IRA supporters. My family wasn't republican; the overwhelming majority of those I met in the IRA did not come from republican families. We were of a generation that responded to the circumstances and conditions we grew up in rather than being steeped in a republican tradition. Some of those who rallied to our support were totally opposed to the armed struggle and no doubt felt uneasy standing shoulder to shoulder with those they knew or suspected of being IRA volunteers. What would their (Protestant) neighbours think? How would the state intelligence and security services now regard them? What implications would it have for their careers and family life? But they came out nevertheless because they believed it was wrong that people should have to die on hunger strike.
I felt that sense of unease myself the other week as I stood in a rally outside the city hall in Belfast's city centre. It was a rally called by the Trade Unions to protest against the killing by a republican military faction of PSNI officer, Ronan Kerr. I attended because I felt it was the right thing to do. But it felt uncomfortable. I was standing alongside people who had often been condemnatory of the IRA. I wondered if they now felt vindicated, or morally righteous, that republicans now joined them to condemn the actions of other republicans. But actually that's okay; because it's always been okay for republicans to condemn or criticise the actions of other republicans. In fact that has been the strength of the Republican Movement down through recent decades. Such criticisms were rarely voiced openly, people not wanting to give a hostile media yet another opportunity to condemn those from their own community, but they were voiced nonetheless, and more importantly, taken on board.
That's how the Movement kept in step with the community from which it came and from which it got its strength. We are in different times now and such matters need to be more open and public. That's why republicans were at the rally.
Directly after the gathering I went to the site of the former prison, Maze/Long Kesh. I went there as part of a delegation from Healing Through Remembering, a very diverse organisation of people from a range of backgrounds looking at how we deal with the legacy of the past, or how the past lives on in the present. We were going to Long Kesh to learn how plans to develop the site, including the construction of an iconic peace building and conflict transformation centre, are advancing. As we walked around the prison I spoke about my experiences there; the site was familiar to me but strange territory to the others. And it meant different things to us. For me, it was the prison first opened as an internment camp in the early 1970s because that's how the Unionist one-party state dealt with demands for reforms and civil rights. It comes as some surprise to people today living in England (and elsewhere) that Britain operated an internment camp here for over 4 years at the latter part of the twentieth century. That was meant to be something that happened in Stalin's Soviet Union or China but not in Europe.  However it was normal for us as internment had been used in every decade since the setting up of the Northern Ireland state. It was but one element of an extensive range of powers, forces, and institutions that held the Orange state intact. And when internment became too much of an embarrassment it was phased out and replaced by the H Blocks, a more brutal regime but with the same intention – to deny and distort the reality of what was going on in the North and to crush republican resistance. Five years of protest by republican prisoners and ten deaths on hunger strike in 1981 thwarted those attempts.
Others who accompanied me into the prison that day would have had different opinions and perspectives about what the site meant to them. It wasn't uncomfortable for me to be there, far from it, other than for the emotions that being there always stir up for me. But I'm sure it was uncomfortable, to say the least, for others. For one man in particular it was the prison that held the IRA man who killed his wife in a bomb explosion. How did he feel walking alongside someone who had previously been in the IRA and spoke proudly of his time in prison? For another it was the prison that held those republicans who had fought against him and his comrades in the British Army. Same place, different interpretations, different meanings, but people trying to think their way through it all and trying to accept that all those contradictory understandings and truths exist alongside one another. And that is uncomfortable, and painful.
As I drove home from the prison that evening I thought of two of the families who showed great support for me and were a comfort to my family while I was in prison and on hunger strike; the Heffron and Totten families, two very well respected and extended families. John Heffron, a member of the Irish Independence Party, spoke at rallies organised in the area. Peggy Totten lived just across the road from my parents and was always there for them – especially for my father when my mother passed away suddenly, less than two years following the end of the hunger strike.
Last year I had cause to visit two particular members of the Heffron and Totten families, husband and wife, parents of Peadar Heffron, the PSNI officer seriously injured in a booby-trap explosion. I went to offer my sympathy and support. I'd never met Peadar but, given his family background and upbringing, I know he never joined the PSNI to 'crack Fenian skulls'. In fact everything I've heard about him since, privately and publicly, is that he was proud of his roots, his community, his Irish culture – both games and language, and that he proudly took those into the PSNI with him, organising a GAA football team and conducting Irish language classes. I'm sure that wasn't easy for him. The PSNI is not the RUC but it's still not an organisation you immediately think of as being 'republican-friendly'. But that's the task today, to make it so, just as republicans have taken their culture and politics into the council chambers and into Stormont and transformed those institutions. Former IRA volunteers, former prisoners, former hunger strikers, and a whole new generation of republicans who thankfully will never hold an assault rifle or see the inside of a prison cell, comfortably, proudly, and confidently tread the corridors of all government institutions now in the North. They're not there because they've abandoned the struggle; they're there to continue it, and what guides them is their collective experience and lessons learned from the past. Likewise other institutions of the state have to be transformed and that will not happen unless republicans and nationalists are in them and engage with them.
The hunger strike was a significant battle in a long struggle. It changed the course of that struggle in many ways, both inside and outside the jails. But it is critically important to recall that it did not get us our five demands, nor did the blanket protest, or the no-wash protest. They all contributed to us ultimately achieving those demands many years later but on the 3rd October, 1981 when the hunger strike ended ten men were dead and we only had one of our five demands; the right to wear our own clothes. It was a long struggle after that and a very much different one – because it had to be different. We were never again going to be able to wage the type of protest we had carried out between 1976-1981, nor would we have wished to. Those days were over. That form of struggle was gone. Likewise today; the war is over, the armed struggle is over. It took us a long way but not to our final objective. It has still to be built upon but the struggle today is of a different form because it has to be different. The political, cultural, legal, social, psychological, and material conditions dictate that it must be different. It's not 1969, nor 1981, nor any other date from history. It's 2011 and things have changed; changed utterly.
Some years ago I took my young daughters into Long Kesh. They knew I had spent many years there and one of them was fearful that I might end up there again. So I took them to show that buildings with open doors and grilles, with rust forming on the locks and plants growing up through the tarmac do not make a prison and should hold no fear for anyone. The past should hold no fear for us. In the yard of the prison hospital I asked them to run to the far end of it. They did so and as they ran they laughed, as I expected they would, in competition with one another. Bobby (Sands) had written, "Let our revenge be the laughter of our children." I heard their laughter that day; I hope Bobby heard it too.
The hunger strikers were selfless. They died that others might live with dignity, if still imprisoned. They died because there were no options available to us other than surrender and total capitulation to the system, or hunger strike. If there had been an alternative course of action we would have taken it. We would have been right to take it. That's the difference between today and 30 years ago – having another option. It may be less dramatic but it is no less challenging and requires the same courage and commitment. It takes us into strange company in unfamiliar streets where we hear challenging words and often want to shout out, "No, that's not how it was; here's how it was," but then remember that no, that's not how it was for the other. Not right or wrong; just different. And that's where we are today in the North; tentatively sharing experiences, exploring how the war looked and felt to others and what it has left in its wake. But the war is well and truly over.
The struggle begins where you are and in the conditions that exist – not in conditions you would ideally like to exist, nor in some period from the past. You either engage with that or disengage, and attacks on young Catholics will not stop the ongoing transformation of the PSNI or any of the other institutions north or south. The role of the revolutionary and successful leadership is to identify the tide of historical development, tap into the psyche of the people, and to help channel both in new directions; it is not to try and get the people to support a position, strategy, and tactic a miniscule number of people have devised and which history and material circumstances tell us has long since had its day.
And it's ok to feel uncomfortable or uneasy at times because that way you know you're being challenged. It makes you more thoughtful, more reflexive, self-critical of your deeply-held opinions and assumptions. Feeling uncomfortable or uneasy is much better than someone else feeling grief.
Síle Darragh was the IRA O/C in Armagh Gaol during the hunger strike in 1980 and until her release in 1981. Earlier this month her book about her time in jail during the protest for political status was launched during Féile an Phobail in West Belfast. The launch was chaired by Danny Morrison and the guest speaker was Gerry Adams TD. Below are details of where the book can be purchased and here we print Gerry Adams's introduction to 'John Lennon's Dead'.
It is an uncomfortable fact, and unfair, that the four-year protest for political status by republican women in Armagh Gaol, despite being honoured in song, documentary film and some individual accounts and summaries, has long been overshadowed by the literature and focus on the same protest in the H-Blocks, largely because there ten men died on hunger strike in 1981.
Síle Darragh's quite personal and powerful story goes a long way towards rectifying and redressing that imbalance with this, her inside account, which is the best description yet of the atmosphere, the emotions and the suffering which the women of Armagh Gaol experienced and endured between 1976 and 1981.
Bhí stádas polaitiúil ag na Poblachtaigh mhná a chuir am isteach i bPríosún Ard Mhacha roimh 1976,, cosúil lena gcomrádaithe sna cásanna sa Cheis Fhada agus i gCampa Príosúin Magilligan. Baineadh agus ghéill rialtas na Breataine an stádas seo (nó stádas catagóra speisialta mar a thug na Briotanaigh air) i ndiaidh stailce ocrais poblachtaí i bPríosún Bhóthar na Cromghlinne in 1972. Ar an ábhar sin, ní raibh ar chimí sa dá áit éidí príosúin a chaitheamh nó obair sclábhaíochta a dhéanamh agus ba bheag coimhlint a bhí ann idir cimí agus an lucht riaracháin. D'athraigh sé seo áfach in 1976 nuair a tharraing rialtas na Breataine stádas polaitiúil siar agus nuair a rinne siad iarracht cimí poblachtacha a chóiriúlú, rud ar theip air arís agus arís eile roimhe seo.
Those female republicans serving their time in Armagh prior to 1976 had political status, just like their comrades in the cages of Long Kesh and in Magilligan Prison Camp. This status (special category status, as the British called it) was won and conceded by the British government after a republican hunger strike in Crumlin Road Prison in 1972. Consequently, neither set of prisoners had to wear prison uniforms or carry out menial prison work, and conflict between inmates and the administration was at a minimum. All this was to change in 1976 when the British withdrew political status and attempted to criminalise republican prisoners – something which in the past had failed time and time again.
But there is no accounting for British stupidity or for its ruthlessness.
As a result of a successful campaign by republican women in the early 1970s women in northern Irish jails had not been required to wear a prison uniform – whereas it was a major issue in the H-Block confrontation. There, the British demanded that prisoners wear a uniform signifying criminality, which they refused to do, which is why in that jail there was a 'blanket protest'.
 In Armagh the protest was one of disobedience – refusal to work or to take orders, maintaining a POW command structure, refusing to be divided and conquered. The administration responded punitively with a rising scale of punishments, mean and petty, and ultimately brutal.
Yet, still they failed to break the spirit or the resolve of the women.
Reading Síle's descriptions we get a glimpse of the dark and depressing world they inhabited, particularly after the no wash protest is forced on them and their natural revulsion to filth and squalor has to be overcome. Síle jokes that they must all have been slightly insane at that stage!
Perhaps, the most moving descriptions are around events in late 1980 and throughout 1981. Mairéad Farrell stood down as OC to hand over the leadership to Síle as Mairéad, Mary Doyle and Margaret Nugent embarked on hunger strike. Through no fault of the republican leadership they learnt by radio that the H-Block hunger strike had ended, and had ended without resolution, leaving them then to agonise over participation in the second hunger strike.
D'éirigh leis na mná i bPríosún Ard Mhacha agus leis na fir sna H-Bhlocanna sa deireadh – ach ar chostas mhór i saolta cimí, oifigeach príosúin, agus fear, ban agus páistí ar shráideanna an Tuaiscirt. Chuir Mairéad Farrell a cuid ama isteach sa phríosún agus ghlac sí páirt sa choimhlint arís go dtí gur mharaigh an SAS í agus a comrádaithe Dan McCann agus Sean Savage in 1988.
The women in Armagh and the men in the H-Blocks were eventually successful – but at a heavy cost in the lives of prisoners, prison officials and men, women and children on the streets of the North. Mairéad Farrell served out her sentence and rejoined the struggle only to be executed by the SAS in 1988 along with her comrades Dan McCann and Sean Savage.
It is fitting that this book is dedicated to Mairéad and the late Rose McAllister and Christine Beattie.
What kept these young women of Armagh Gaol together were solidarity and comradeship and their loyalty to one another – and, of course, their humour which must have baffled their jailers!
Síle, like many other republican women, has given great service to the struggle for freedom in Ireland, This important account of a part of that history was inspired by her going through old letters and comms from comrades and from digging deep in memory. But even after she wrote it she was still hesitant about showing it to anyone.
"You must be joking! Catch yourself on! Who would read it, it's not good enough!" were her comments when it was discovered that she had written a personal account of life in jail.
In fact, 'John Lennon is Dead' would not have been published if Síle had not been coaxed, cajoled and persuaded that this was a story that needed to be told and read.
It is our history which is recorded here and women, not before their time, are being written into the record.
So, we thank Síle for that, and we acknowledge and pay homage to all the women and their sisters who were incarcerated in other prisons on this island and other places.
Those who inflicted the most and thought that they could win have lost.
It is the republican spirit which has triumphed in the end.
Gerry Adams, Dublin, August 2011
Books are available through the following: 
www.amazon.co.uk
'Beyond The Pale' in reception area,  5-7 Conway Street, Belfast and/or peter_btp@hotmail.co.uk Tel – 07770811042/02890329646
Republican Merchandising Belfast Ltd., 52/53 Falls Road, Belfast, BT12 4PD, Ireland. Tel [028] 90243371
North Belfast Sinn Féin Bookshop, Teach Carney, 291 Antrim Road, Belfast, BT15 2GZ. Tel [028] 90740817
Sinn Féin Bookshop, 44 Parnell Square Dublin 1, Ireland. Tel [353)] 1 8726100/8726932
An Ceathrú Póilí [Culturlann Bookshop] Belfast, Tel [028] 90322811
Read Ireland book distributors – 048 90438630 and website www.readireland.ie and email gregcarr@readireland.ie
Thousands of republicans from across Ireland and many overseas supporters marched through Camlough last Sunday, in the national commemoration to honour the 1981 hunger strikers and Michael Gaughan and Frank Stagg who had died on hunger strike in English jails in 1974 and 1976, respectively. The main address, published below, was given by Sinn Féin President Gerry Adams TD.
'The Long Road
'The Hard Road
'The Brutal Road
'The Torture Road
'The Naked Road
'The Blanket Road
'The Hunger Road
'The Martyr Road
'The road through the long Bog…
'Ten men walked them all.'
Thus wrote a friend of mine… A sound man that I did time with in the cages of Long Kesh.
This summer we remember with pride, and celebrate the indomitable spirit and strength of character of these ten men, of the blanket men and the women in Armagh. We also remember Frank Stagg and Michael Gaughan.
Cuimhnímis ar ár laochra uilig le bród, bród as á spiorad dochlaoíte (do cleecha).
I want to commend all of those responsible for today's event. Congratulations – Comhghairdeas. You have all done a remarkable job. Tá obair mhór déanta agaibh uilig chun an comóradh seo a eagrú.
It is entirely proper that we meet here, not far from the graveside of Raymond McCreesh, set among the hills of South Armagh. I want to extend my solidarity to Raymond's family and to the families of Bobby, Francie, Patsy, Joe, Martin, Kevin, Kieran, Tom and Mickey, and to all of our patriot dead. And I want to thank all of you for attending. Buíochas mór daoibh as bheith anseo ar an lá starúil seo.
Along the lanes and in the fields and hills of South Armagh the decades of war saw a resilient IRA take on the might of the British Army. That determination and audacity and heroism is evident in the life and death of IRA hunger striker Raymond McCreesh and in the love of his parents and family.
The hunger strike was thirty years ago. It was a watershed moment in Irish history. In the summer of 1981 over fifty people were killed and many hundreds more were injured. Thirty thousand plastic bullets were fired, mostly in republican Belfast and Derry. Seven people died as a result, three of them children and countless hundreds injured.
The hunger strike came at the end of a decade in which the British government had employed every conceivable weapon in its substantial military and political arsenal.
Internment; torture; shoot-to-kill actions; rubber and plastic and lead bullets; CS and CR gas; curfews and mass arrests; black propaganda; special courts and special laws and an orange judiciary; sectarian attacks and collusion, and the withdrawal of political status for the prisoners in the H Blocks and Armagh women's prison, were all part of a concerted British strategy.
So too were its efforts to build political alliances with the SDLP and the Irish government. The British aim was simple – to protect British interests, and to defeat Irish republicanism and the struggle for Irish unity and independence.
Despite its propaganda and lies the British government knew that republicans enjoyed a substantial level of support. So, severing the connection between the republican struggle and the people was key – and criminalisation was a central part of this strategy. Breaking the prisoners was crucial.
Chreid na Sasanaigh gurbh fhéidir príosúnaí poblachtacha a bhuaileadh agus a sceimhliú chun éide coirpigh a chaitheamh, chun obair príosún a dhéanamh agus a gcuid poblachtachas a thréigeadh.
They were supported in this by the northern and southern political establishment.
But, as was so often the case throughout the centuries the British and their local allies misjudged the tenacity and resolve of Irish republicans, and in particular of the prisoners. The account of that period has often been told. Of Kieran Nugent refusing to wearing the prison uniform and saying they would have to nail it to his back.
Of the hundreds of prisoners in the H Blocks – naked, beaten, starved, denied proper medical care or toilet facilities, forced frequently to run the gauntlet of riot clad screws or subjected to the brutality of the mirror search. Of the women in Armagh – isolated and beaten and strip searched who were also denied adequate medical and toilet facilities. Of the families who organised and campaigned through the Relatives Action Committees and then through the National Smash H-Block Campaign. And of the tens of thousands who marched and protested in support of the prisoners.
The hunger strike changed the political landscape in Ireland.
The political gains that have been made since then owe much to the men and women political prisoners and to the sacrifice, resolve and perseverance of the hunger strikers and their families.
Bhí feachtas na bpriosúnaí dírithe ar 5 éileamh chun leasuithe príosúin ach i ndairíre bhí an streachailt ibhfad níos doimhne ná sin.
The prison struggle, like the struggle on the outside, became a battle of will about the right of the Irish people to self-determination and independence and freedom.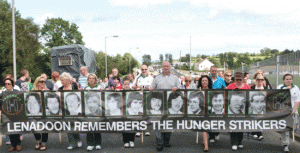 The prisoners knew that. So did the Brits. It was about uniting Ireland. That struggle continues today. And core republican objectives are at the heart of everything we do today.
The Sinn Féin political strategy is about achieving these objectives.
And let there be no doubt about it. We have a viable project and we have made, are making, and we will continue to make significant progress.
Thirty years ago the north was embroiled in war.
British troops were dug in on these hilltops; people were dying in their scores; nationalist areas were under military occupation and unionists were entrenched behind their laager mentality.
The Sinn Féin strategy brought the British and the unionists and the Irish government to the negotiating table.
Thirty years ago there was an Orange State. The Orange State is gone. The Government of Ireland Act is gone.
The right of citizens to opt for a United Ireland is equal to that of those who wish to retain the union.
Sinn Féin is from that democratic tradition which believes that the British government never had any right to be in Ireland; does not have any right to be in Ireland and never will have any right to be in Ireland.
There is now an entirely peaceful way to bring an end to British rule. Our duty is to develop democratic ways and means to achieve and to unite behind the leadership and the campaigns which will bring this about.
Yes it will be challenging! Yes it will be frustrating! The enemies of change are strong. But that never stopped us in the past.
Remember, once upon a time Margaret Thatcher – remember Margaret Thatcher? Remember she claimed that the north was as British as Finchley! It never was.  Britain's claim to the north is now reduced to a simple majority vote. Of course we have a huge job of work to do to persuade unionists of the merits of the republican and democratic position. But we are also in a very good place to do this.
Sinn Féin is the largest nationalist party in the Assembly and on local Councils.
There are five Sinn Féin Ministers, including our leader Martin McGuinness, who as Deputy First Minister shares the Office of First and Deputy First Minister with Peter Robinson as an equal in all matters. The DUP and UUP, who opposed power sharing, are sharing power in government.
There are all-Ireland political functioning institutions. And in all of these political institutions Sinn Féin is defending the rights and entitlements of all citizens and promoting our republican agenda for unity and equality.
I mbliana tá méadú tagtha ar ionadaíocht pholaitiúil Shinn Féin sna comhairlí áitiúla agus sa Tionól sa Tuaisceart.
In the Oireachtas today, we have a Sinn Féin team of fouteen TDs and three seanadoirí. And in constituencies across the south, especially those where we came close to winning Dáil seats,  Sinn Féin is growing organisationally and electorally. In Leinster House our new Dáil team is proving itself to be effective and efficient.
For many we are now the real opposition party, challenging the Fine Gael and Labour government as it imposes a disastrous austerity programme and introduces new stealth taxes on working families. The fact is that Irish republicanism is stronger today than at any time since partition.
Ach chun cuir lenar neart, chun tionchar pholaitiúil agus cumhacht níos láidre caithfidh muid ár streachailt a neartú.
There is no more important time than this for the republican principles of equality, fraternity, and freedom. Tá polasaithe polaitiúla bunaithe ar na prionsabail seo de dhíth go práinneach chun leas ár bpobail.
Republicans need to build our party.
More people need to join Sinn Féin.
More young people need to join Sinn Féin.
We especially need more women to join Sinn Fein.
To take up leadership positions.
And we need to use our growing political strength wisely and successfully and well.
Achieving our republican goals will not be easy. While Unionist leaders now see the benefits of working on an all Ireland basis, they remain opposed to a united Ireland.
So there is work to be done peacefully and democratically with them.
Sinn Fein is up for that work. The British government, despite its protestations to the contrary, and its systems, has yet to face up to its responsibilities to the people of this island. It can best do this by leaving us to manage our own affairs.
The Irish government, and in particular the Irish political establishment, is partitionist.
That is evident in so many ways, for example, in the resistance thus far, to extending voting rights in Presidential elections to Irish citizens living in the north. But there are many people in Ireland who want rid of outsiders ruling us whether from London or the IMF and EU.
They want a free and united and independent Ireland.
I believe there are many people in Ireland who share our goals of a free and united and independent Ireland.
Trí neart pholaitiúil a thógáil agus comhpháirtíocht a chothú beidh muid ábalta ár spriocanna amach.
Sinn Féin is clear about our strategy, clear about our goals and clear about the road map to the future.
We will not be distracted or put off course.
We have a vision of a new future, a better future, and we have the spirit and the confidence to work with others to achieve this.
Raymond McCreesh agus a 9 comrádaí agus na poblachtaigh go leor eile a thug a mbeatha don streachailt thar na blianta, chuidigh siad linn theacht go dtí an áit a bhfuil muid inniu.
There is an enormous responsibility on us to seize the opportunity they created and to make Irish freedom a reality. There is a role for everyone in this new situation. Let us stand together, united behind our republican goals.
Bainimis ár saoirse amach agus tógaimis Éire Aontaithe agus poblacht nua lenar linn.
There is resistance to this. There was also resistance to the blanketmen and the women in Armagh. They knew this. But they kept their eyes on the prize. They were also aware of all of the developments in the campaign and the manoeuvrings by the British and others. They were not put off by any of this. They were steadfast in their determination.
Struggle is hard. Activism can be challenging. There will always be cynics and begrudgers and naysayers.
But there will also always be heroes and heroines. Ray McCreesh and his comrades set an example for every republican. They should be our role models.
Let's keep our eyes on the prize. In the last entry of his diary Bobby wrote.
'…at the end of the day everything returns to the primary consideration, that is, the mind. The mind is the most important.  But then where does (the) proper mentality stem from?
'Perhaps from ones desire for freedom…
'If they aren't able to destroy the desire for freedom, they won't break you.
They won't break me because the desire for freedom, and the freedom of the Irish people is in my heart.
'The day will dawn when all the people of Ireland will have the desire for freedom to show.
'It's then we'll see the rising of the moon.'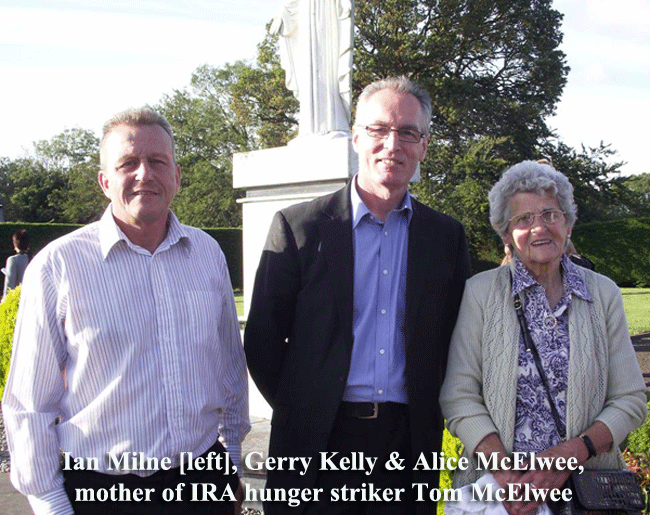 Last Sunday a commemoration was held in Bellaghy in honour of Tom McElwee, the ninth republican prisoner to die during the 1981 hunger strike. The parade assembled at McElwee's home place in Tamlaghduff and was led by a group of ex-POWs carrying photographs of the hunger strikers, followed by local bands and a band from County Donegal. The parade went through Bellaghy village, and then gathered at St Mary's Cemetery where Tom and his cousin Frank Hughes are buried. Local Sinn Féin Councillor Caoimhe Scullion chaired the commemoration. Comrades of the two hunger strikes were prominent in the ceremony: Ian Milne laying a wreath on behalf of the Republican Movement and Sean McPeake on behalf of the ex-POWs. Deputy First Minister Martin McGuinness was in attendance and former IRA escapee Gerry Kelly MLA gave the main oration. Colm Scullion, another close comrade of Frank and Tom, gave a personal tribute, which we publish below.
"Friends, during the week Ian Milne asked me if I could put together a few words on Thomas McElwee. He said, 'Colm, if you can, include the personal side of Thomas, which perhaps most people won't know but would love to hear.'
"It made me think of not only the sad times in the H-Blocks, but also the laughs and happier times of normal teenagers in a very abnormal society.
"I suppose our first introduction to protest or resistance was the civil rights protests in Bellaghy. I remember attending, like many others, with our parents. Thomas and Benedict would also be there listening to, among others, Bernadette Devlin.
"The protesting would continue, this time it was the anti-internment demonstrations. Benedict had broken his ankle and attended on crutches aided by his big brother. On one occasion a car drove through the protest and headed up Castle Street chased by Thomas! And, fortunately for the driver, he got away!
"A somewhat normal life did exist during the turmoil. We like other youths of our age were frequenters of the local dance scene in Moneyglass, Ardboe and Dungiven. Cars weren't in abundance but Thomas was always there to offer a lift.
"As a Volunteer in the IRA Thomas never backed away from any operation no matter the risk. On one occasion when a car couldn't be obtained Thomas used his own, the important thing to him was get the job done.
"It was during this time that South Derry, under the command of Dominic, Francis and Ian, led the fight against the British forces. Some would claim that the area was virtually a no-go area.
"On the morning of October 9th 1976 we were part of a bombing team attacking commercial targets in Ballymena. Thomas, Benedict, Sean Mcpeake and myself had reached our destination. In the car we had four bombs. Myself and Sean were seated in the back of the car while Benny and Thomas were in the front. I remember a blinding flash and explosion then a panic to get out of the car. Outside the car Sean was lying on the ground covered in blood, Thomas was standing covering his face with his hands, blinded. I had tried to run away and it was only then that I saw the extent of my injuries. I collapsed on the ground and woke up the following day in hospital.
"We spent over two months in hospital. Although we were in different rooms in the security ward of Musgrave Park we contacted each other by writing notes. I remember Thomas sending me a homemade birthday card entilted, 'A joiners mishap' and on it was a drawing of me scratching my head and looking at a door hung upside down.
No matter how bad or serious the situation Thomas would always see the lighter side even at his own expense. On remand in the canteen it wasn't unusual for Tom to put his artificial eye in someone's cup of water, anything for a laugh.
"During the blanket protest he embraced the Irish language and education programmes conducted by, among others, Bobby Sands and Tommy McKearney. He actively took part in all debates and saw the necessity of politics side by side with armed struggle.
"Thomas was also was known as the hard man of the wing. The screws called him 'Punchy McElwee'. He took no nonsense from them despite the vast odds. I remember the screws coming around with the dinner. One screw threw Thomas's plate on the urine-covered floor. Thomas said nothing then punched him as hard as he could and he was punished with being sent to the boards for a month.
"One Sunday while coming from Mass the screws were sticking their fingers in our mouths in a so-called search. Bobby and I had reached our cell and Bobby shouted out to the men what was happening in case someone was carrying a note or tobacco. We watched the men come up the wing through a small space on the door. Thomas approached the screw hands raised for the search, as soon as the screw attempted to search his mouth Tom punched him in the face about half a dozen times. The screw dropped to the ground screaming for help. Tom was marched to the boards again.
"Thomas was also a very devout Catholic. He never missed the rosary and always carried the prayer books sent in by his mother, Alice. He was very anti-sectarian and expressed a wish to work among the Protestant community and show them that we could share this island as one people without English interference.
"Thomas was kept in our wing for about three weeks on hunger strike. The morning he left was terrible. He came to our cell door, we wished each other good luck. The men all got to their doors to bid him farewell. He walked up the wing to the gates and shouted, 'All the best, Colm'.
"The screws then took him to the prison hospital in a van. We stood at our cell windows watching him wave out the window as we cheered and roared.
"That was the last time we saw Big Tom."
Twelve-year-old County Armagh schoolgirl, Majella O'Hare was "executed" according to a former senior British officer who served in the North and is now a leading Tory MP.
MP Patrick Mercer made this startling admission at a seminar on internment at Westminster University, London, in July.  Also attending as speakers were six former internees including Gerry O'Hare and five of the 'Hooded Men'- Joe Clarke, Francie McGuigan, Paddy-Joe McClean, Kevin Hannaway and Archie Auld.
Patrick Mercer served nine tours in the North.  A military historian and former BBC defence reporter, he is currently a member of the British Home Affairs Select Committee and chairman of the House of Commons sub-committee on counter-terrorism.
Delegates included about eighty academics and students at the University, as well as former British officers and the former SDLP Stormont MP Austin Currie.
The audience was enthralled as the internees related their experiences and ill-treatment by British soldiers.  For the veteran republicans, being heard by a much younger and rapt audience was also a unique experience.
As PJ McClean outlined the well-documented torture that they suffered, there were looks of disbelief – which changed to wonder – as he outlined how the European Commission found Britain guilty of torture. Later the men were awarded substantial damages.
The afternoon session involved Mercer and another British officer, Jack Sheldon, answering questions from their perspective.
Sheldon was a 35-year career officer in the Queen's Lancashire Regiment.  He did four tours in the North, three emergency tours and one residential tour based at Ballykinlar, County Down. He served from December 1971 as a lieutenant and platoon commander based at Finiston School on the Oldpark Road in North Belfast and his company was responsible for the Bone, the Protestant 'Rivers' area and the Louisa Street peace-line.
Also answering questions in this session was Kevin McNamara, a Labour MP for 40 years and for a long time was the Labour Party's 'Northern Ireland spokesman'; and Ken Bloomfield, who at the time of the introduction of internment was deputy secretary to the North's cabinet.  He went on to become the head of the Northern civil service and, in 1997, the North's first Victims Commissioner.
It was during this discussion that Mercer made his statement about Majella O'Hare.
After the sessions, students button-holed the internees and fired question after question.  Some initially expressed doubts about the claims of torture but were forced to reluctantly accept their veracity. Amongst questions the internees faced were those focusing on why all the internees, with the exception of Gerry O'Hare, were found at their own homes in the initial round-up on August 9th, 1971. Why, they wondered, were active IRA members confident enough to be living at home at all?  There was an explanation: after a previous series of raids and arrests earlier in the summer which had led to a major political row, few believed the authorities would go ahead with full-blown internment. Some, more cautious republicans, had, indeed, heeded warnings not to stay at home – while others had been lulled into a sense of false security.
They were also quizzed on the reasons why they were each individually selected for what was euphemistically called 'deep treatment. That was as much a mystery to the internees as to the audience because, for example, Paddy-Joe McClean was a civil rights activist and a well-known opponent of IRA methods.
Another question was whether, if they considered themselves soldiers, it amounted to 'a fair cop' for Crown Forces to arrest them?
Every volunteer, the audience was told, was warned when he/she joined that imprisonment was one outcome.
A focus of interest was whether Long Kesh amounted to a 'University of Terrorism' and, as ever in discussions about the prison experience, the students and University staff were fascinated by stories of escape attempts, including that by Francie McGuigan in 1972 from the internment camp.
The students were told of the achievement over the years by prisoners, many of whom emerged from jail with degrees in humanities, languages and social sciences.
There were no takers for one question: whether Unionist Prime Minister Brian Faulkner really believed the RUC claim that there were no Protestant/loyalist subversive organizations, and thus his decision only to intern nationalists and republicans. There may have been no takers – but there were plenty of loud guffaws.
The audience was also interested in the lessons for today and whether the experiences of internment in the North can inform contemporary counter-insurgency strategists.