Details have now been released of the events in South Armagh preceding the National Commemoration march in South Armagh on 14th August to honour the hunger strikers, and other events up until the end of August.
Saturday/Sunday, 6th/7th August – Bellaghy Social Club, Ballyscullion Road, Bellaghy – National Exhibition – 11am – 6pm (Sat.); 2pm – 6pm (Sun.)
Monday 8th August – 30th Hunger Strike Anniversary launch. DVD – Memories of 1981 Hunger Strike Exhibition, Tí Chulainn Centre Mullaghbawn, 7pm
Tuesday 9th August – Hunger Strike Exhibition, Tí Chulainn Centre, Mullaghbawn, 7pm-10pm
Wednesday 10th August – Wreath Laying, Hunger Strike Monument, Fords Cross, Silverbridge, 7.30 pm. DVD – Hunger Hunger Strike Exhibition, Tí Chulainn Centre, Mullaghbawn, 8.30 pm
Thursday 11th August – Panel discussion and Q & A. Speakers – Paddy Quinn, Laurence Mc Keown and Eileen Morgan. Hunger Strike Exhibition, Tí Chulainn Centre, Mullaghbawn, 7 pm sharp
Friday 12th August – Unveiling of Plaque, Culloville Youth Club, 8pm, followed by function in McAleavey's Bar
Friday 12th August – Discussion and Debate 'Legacy of the Hunger Strike'. Speakers -Jim Gibney and Gerry McConville, Barcroft Community Centre, 7.30-9.30pm
Saturday 13th August – Unveiling Of Hunger Strike Seat, Forest Park Green, Low Road, Dromintee 7pm. Main Speaker – Paddy Quinn, followed by function in local social club
Sunday 14th August – National Hunger Strike, 30th Anniversary Commemoration, Assemble at McGinn's field beside St Paul's School, Camloch, 2.pm sharp
Saturday 20th August – Guildhall, Derry City – 12 – 3p.m. – National Exhibition
Saturday 20th August, 4.30pm – Clonmel, Tipperary.Hunger strike commemoration march. Speaker to be confirmed
Saturday 28th through to Monday 29th August  – The Lamass Fair, Ballycastle – National Exhibition – venue to be confirmed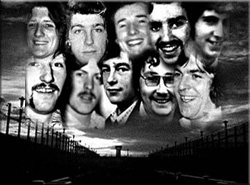 A former blanketman from West Belfast, Seamus Kearney, has come up with a novel idea for a reunion of all those prisoners who took part in the H-Blocks and Armagh Jail protests and has taken it upon himself to fund and organise a reunion.
"Thirty years have passed since the hunger strikes and the horrors of the H-Blocks and Armagh," said Seamus. "This year there proudly have been commemorations held nationally and locally, exhibitions, debates and discussions. But I believe there is room and merit in organising another major event – a reunion of everyone who was involved regardless of which organisation they subscribed to or supported or were members of. Something around which we can unite and reminisce to honour our fallen comrades.
"I have been in touch with a variety of friends and comrades – such as Colm Scullion (Bellaghy), Freddie Toal (Armagh), Tony Millar (Derry) and former hunger striker Laurence McKeown – who are supportive of this initiative and so I am sending out a general invitation.
"My plan is to be all-inclusive and at the event I will just say a few words about the historic role we played in the struggle. I hope this unique reunion will be a time for reflection and an opportunity to meet former comrades in the same spirit we shared many years ago.
"Given how many former prisoners have since died this will probably be the first and only opportunity for us to come together.
"And to uplift us a little, on the night we shall finish with a disco of all the pop music we never got to dance to when we were young in the 1970s and 1980s!"
Admission will be confined to former blanketmen /Armagh women and their families. The reunion will be held in the Devenish Arms, Finaghy Road North, Belfast on Saturday 8th October, beginning at 7pm sharip. Tickets are £7 each with all profit to be donated to a cancer charity.
For further information contact Colm Scullion – colm519@btinternet.com
25th July (Mon) – Arklow Art Galery, Main Street, Arklow, Co. Wicklow – National Exhibition 1.30am to 9.30pm. Panel discussion 7.30pm – Main speaker ex-H-Block POW John Connolly
26th/27th July (Tues/Wed) – Ballycolman Community Centre, Strabane – National Exhibition 10am to 9pm
28th/29th July (Thurs/Fri) – Coláiste Feirste, Bóthar na bhFál, Beal Feirste – National Exhibition
29th July (Fri) – Altinure Chapel, Park Village, Co. Derry – 7.30pm March to Kevin Lynch memorial Park Village
30th/31st July (Sat/Sun) – Sinn Féin Centre, Dungiven, Co. Derry – National Exhibition
31st July (Sun) – Kevin Lynch Commemoration – Assemble 2pm Castle car park, Dungiven, Co. Derry – March to Kevin Lynch's graveside – Main speaker ex-H-Block POW Seán Lynch MLA
31st July (Sun) – Drumkeen, Co. Donegal – 5pm parade and wreath laying at hunger strike memorial – Main speaker ex-hunger striker Raymond McCartney MLA
1st Aug (Mon) – The Grove, Main Street, Dungiven, Co. Derry – 7pm Wreath laying ceremony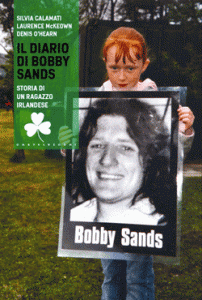 Silvia Calamati, Laurence McKeown and Denis O'Hearn recently received the Alessandro Tassoni Award in Modena, Italy, for their book, 'Il diario di Bobby Sands. Storia di un ragazzo irlandese' (The Diary of Bobby Sands. The Story of an Irish Young Man) Rome, Castelvecchi Editore, 2010. Silvia Calamati was also given a cheque for 1000 Euros which she is donating to a Belfast Irish medium school for children.
The book was welcomed and applauded by both the award jury and the audience. In giving the award to Silvia Calamati Professor Francesco Muzzioli, Professor of Literature at La Sapienza University ( Rome)  and member of the award jury, said: "Thirty years after the dramatic events which led to Bobby Sands' death after a long hunger strike, his story is brought back to life in this book. Written by Sands' fellow inmate Laurence McKeown, with the help of journalist Denis O'Hearn, the Italian edition has been repared by Silvia Calamati. She has added a series of photos of the Long Kesh prison where Sands and the other prisoners were kept in inhuman conditions.
"It is the story of a twenty-year old boy who just through culture and studying found the will to fight back against his imprisonment.  Faced with cynicism and violence, he chose as the ultimate form of protest to abstain from food, suppressing within himself his own survival instinct. The book's narrative alternates between the present and the past, including passages from Bobby Sands' diary, which follow step by step his final days. They make us feel at close hand the courage of his radical form of struggle.
"Each chapter reconstructs part of his life, prior to his arrest, his growing political awareness, his first and second imprisonments, the worsening of the detainees' conditions, followed by the hunger strike and his election to parliament and death on the 5th May 1981.
"The book also contains descriptions of the other young people who followed Bobby Sands in the strike with its inexorable consequences. It finishes with the lyrics of the songs that were themselves a result of this form of resistance against oppression. Whilst the slowness of the diary shows incisively the devastation of physical weakness, from the biographical element emerges the palpitating portrait of an 'everyday hero'. Because Bobby Sands – we can see him in photos and wall paintings reproduced in the book – is a boy of the Sixties and Seventies, long hair and guitar, who like so many others demands independence, freedom and equality. His heroism consists in having not feared the threat of the power structure, and having shown himself, in the end, to be stronger than it.
"So, this is a book, which – beyond the historical issue which still causes discussion – must make us reflect about the 'need for heroes' and the high price of freedom. It makes us think about the ethical exhortation deriving from Sands' story to "never surrender, never despair, never lose hope". It should also serve to recreate ex novo the question of the European identity, in a period in which our continent's unity seems to be falling apart on all sides even before it has been achieved: an identity capable of self-criticism, which takes account of episodes like these, of the grave lack of 'human rights' which took place in the heart of so-called civilisation".
Footnote: Modenese Alessandro Tassoni (1565-1635) was an Italian political writer, literary critic, and poet. The Award was set up in Tassoni's city of Modena in 2005 and has the support of the President of  Italy Giorgio Napolitano. It is sponsored by the Emilia Romagna Region  and by the University of Modena and Reggio Emilia, two of the most important universities in Italy. The Award is organized by the cultural association Le Avanguardie and by the magazine Il  Bollettario, in collaboration with Modena City Council , Modena Province and Biblioteca Estense Universitaria, the historical library in Modena. The Award is given each year to a book which, as a homage to Tassoni and his ideals, is recognized by the Jury Award as 'innovative, inspired by values of freedom and committed to the building of a more just and democratic world'.
Joe McDonnell Weekend

Thursday 7th July – National Exhibition in Rodaís 4 – 8pm
Friday 8th July – National Exhibition in Rodaís 12 noon – 8pm
Saturday 9th July – National Exhibition in Rodaís 12 noon – 4pm
Friday 9th July – White Line Picket Connolly House 5.00-5.30pm
Joe McDonnell Cup, Saturday 9th July Whiterock Leisure Centre, 7-a-side soccer competition 2  – 4pm: Cup & medal presentations 4pm
Function in Rodaís, Saturday 9th July 8pm, Chair Sue Ramsey MLA, Speaker Bobby Storey
March & Rally- Sunday 10th July 2pm, Assemble Horn Drive, bottom of Lenadoon Avenue to Ródaís. Chair – Councillor Gerard Ó Neill: Speaker Gerry Kelly MLA