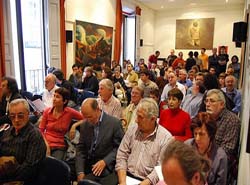 There will be a reading of Bobby Sands' diary in Madrid on Friday May 6th at the Club de Amigos de la Unesco and will include music and a historical introduction. The event is part of the commemorations of the thirtieth anniversary of the 1981 hunger strike. The organisers say: "Thirty years after the death of Bobby Sands we want to pay homage to him and remember him through the writings he produced while imprisoned: prose, poems and songs in addition to passages of the diary he wrote over his first 17 days on hunger strike. The texts selected will focus on the human values contained in his literary work, as well as considering the circumstances and context in which they were written.
After and introduction about him and his historical context by Luis Antonio Sierra (author of Irlanda del Norte. Historia del conflicto and Irlanda: Una nación en busca de su identidad), we will read a selection of texts in Spanish, English and Irish (translation provided for languages other than Spanish). The location is – CAUM (Club de Amigos de la Unesco de  Madrid), Plaza de Tirso de Molina, nº 8 – 1º, 28012 – Madrid, Friday, May 6th, 18.30. Admission – free. For further information and queries please write to: bslectura@hotmail.com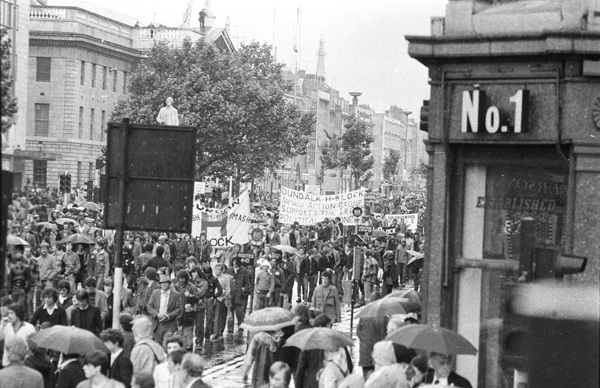 More details of the exhibition tour have been released by the national commemoration committee covering the remainder of April and the first three weeks in May. They are:
April…… 22nd to 24th – Cornmill, Lineside, Dungannon Road, Co. Tyrone
25th to 28th – St Aidan's school, Whiterock Road, Belfast
30th Carnlough Community Centre, Carnlough Village, Co. Antrim
May…… 7th – The Emerald Roadhouse, Finaghy Road, Belfast – Bobby Sands Memorial Lecture
20th and 21st – Glens Hotel, Coast Road, Cushendall Village, Co. Antrim
22nd – Church Hill, Donegal (10 miles west of Letterkenny on the road to Gweedore)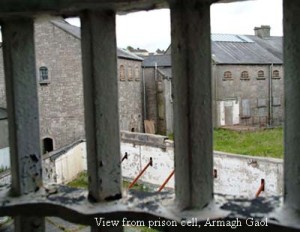 Former prisoner Rab Kerr has recently published a glossy pictorial book with unique images of three prisons – the 'Crum', Long Kesh and Armagh Prisons. Regular reviewer, veteran republican Gerry O'Hare, himself a former prisoner takes a look. Here is his opinion…
A new book of photographs taken recently in Crumlin Road, Armagh and Long Kesh jails has landed on my desk – and what a treat for any prisoner wishing to recall time spent in those ghastly places.
Shiver as you read it – and thank God you survived your time in these soul-less and damned places.
Penned, or should I say, photographically gathered together in its glossy pages are images that will stir memories (and, let's be honest, not ALL of them universally bad).
The author is Rab Kerr who himself spent years inside.
The photos were mostly taken after all three jails closed and Rab's camera evokes vivid images of the desolate places they were.
Prisons, of course, were not built as holidays camps but republican prisoners maintained a discipline that helped to make doing time that mush easier, or doing "Bird" as we colloquially called it.
There are pictures of the insides and outsides of the jails, showing the massive security that the authorities needed to keep the prisoners in. This we know led on to inspire the ingenuity of republican escapees managing to defy massive odds. But escapes, well documented in other books, there were – and many.
Glancing at the pictures, readers are given a sense of daily life for the
inhabitants and their 'landlords'.
What they can't capture is, of course, the inside stories … the daily chore of slopping-out, lousy meals and the ever-watchful eyes of the screws as the daily battle between "Them" and "Us" wearily chalked up another day.
But Rab has tried to give a context allowing the reader to grasp something of the conditions for the men and women prisoners' struggle, albeit in pictures.
I think of the old adage: "one good picture is worth a thousand words".
Rab is to be congratulated for this essay and it should encourage many other prisoners to start writing their memoirs before they are all lost.
This is time to grab the pen, or in Rab's case, the camera.
[On a personal note, it with a sense of vindication that I noted just how close four institutions were at the beginning of my life in north Belfast. Those institutions were: the Mater Hospital (where I was born), St. Malachy's College (where I was "educated"), Crumlin Road Courthouse (where I was sentenced) and the Crumlin Road Jail next door (where I served my time).]
All proceeds from Rab's book are going towards the refurbishing of the memorial in Twinbrook. The book is printed in A4 landscape, is in full colour, and has 104 pages with 141 Photographs. The ISBN is 9780956806901, is published by MSF Press and costs £15.