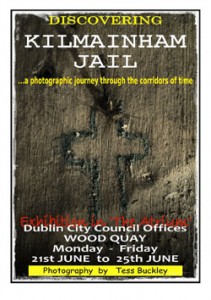 Tess Buckley's photographs of Kilmainham Jail, recently used to illustrate Niamh O'Sullivan's book, 'Written in Stone', have gone on display in the Dublin City Council Offices at Wood Quay. The exhibition began on Monday 21st June and runs until Friday 25th June. There has been immense interest in the photographs which have encouraged people to do follow-up visits to the actual jail.
The death has occurred in Belfast of well-known republican activist and ex-POW Seando Moore. The Bobby Sands Trust would like to extend its condolences to Seando's wife Patricia and the wider McCabe and Moore family circles. Go ndeanna Dia trocaire air. Thousands of people visited the wakehouse, among them the families of the dead hunger strikers to whom Seando had become very close due to his involvement in national commemoration committee which organised exhibitions and events around the 10th, 20th and 25th anniversaries of the hunger strike.
Seando was laid to rest in Milltown Cemetery on Tuesday 15th June and the oration was delivered by his friend and Secretary of the Bobby Sands Trust, Danny  Morrison. He said:
"A former blanketman, Seamie Finucane said to me at the wake house on Sunday, 'This better be a good oration!' And I said, don't be saying that, I am rusty and nervous enough. And he said, 'Seando will be listening to every word you have to say and you better get it right.'
"Seando, our old friend and comrade, Seando.
"And Seando, before you start complaining about the Gaeilge, let me say, 'Ta bron orm, ach tá mé ag foghlaim fóill!. Tá mé ag foghlaim go fóill!'
"When he first came to Beechmount, all those years ago, as an immigrant from Ballymurphy, Seando looked so young and innocent that Big Ted christened him 'the child'. The speculation was that he was attracted to Beechmount because we had the best five star restaurant in the Belfast Brigade – Ma McCabe's in Locan Street.
"The RA has been accused of many things down the years but it's about time that it also took responsibility for the rickets suffered by the sons and daughters of Ma and Frank McCabe all of who'll be quick to tell you at the drop of a hat: 'we never got fed until all you lot had your fill.'
"So, Seando joined the Beechmount squad and was a courageous Volunteer of the Irish Republican Army. These were the days of Albert Kavanagh and Jimmy Quigley and Paddy Maguire and Stan Carberry and Basil Fox all of whom Seando was very close to.
"All of us have our memories of him. He was very, very funny, with his dry humour, and you couldn't easily fall out with him. There was no spite in him and he was loyal and loving, as his mother and brothers and sisters knew and as we in Beechmount were to discover.
"Occasionally he and I used to stay up in my elderly widowed Aunty May's house in Andersonstown. She was very traditional and every morning when Seando and I came down the stairs she would put out a boiled egg and a round of bread and butter. After sometime of this Seando was exasperated and said, 'Has she no bloody Cornflakes?'
"A woman, Brenda, at the wake on Sunday was recalling the times when she used to dye Albert Kavanagh's hair and Seando's. I reminded her of what a terrible job she had made of Seando's. A squad of us were at a dance in Clonard Hall one night when it was surrounded by the British army who came in firing rubber bullets and rounding up all the males. Myself and Basil were arrested and put into the back of Saracens – from where we were eventually taken to Castlereagh and interned. But from the back of the Saracen I could see Seando being put up against the wall and a spotlight was shone on him. I started to laugh because although his hair was black his eyebrows were still ginger! But he got away and lived to fight another day.
"I had made a gallon of home brew in the run-up to Christmas before I was arrested and Seando went to my house. "Mrs Morrison, I have just received an important message from Danny in Long Kesh and I have to remove everything that is under the stairs immediately." So, Seando, and a few comrades took the beer round to Terry and Bernie's and had a great time, he told me, when he eventually was arrested and landed into Cage 2.
"Of all the prisoners the internees had the most in terms of visits and parcels and letters and yet they did the most moaning. So, I was glad when Seando was arrested and interned – he was like a ray of sunshine to our Cage, a real wit and kept everybody in stitches.
"He was released after the big fire and during the 1975 ceasefire, I think.
"As I said, we had been going in and out of Ma McCabes and I don't know when it was that he and Patricia put their eye on each other but from that moment on they were an item. There are lots of jokes about mother-in-laws but Seando's case defies all the stereotypes. They got on so well that they lived next door to each other and she doted on Seando. Ma McCabe herself is very ill and all of our thoughts are with her today.
"Yesterday, I came across an unpublished letter that Seando wrote to her from the Blocks in 1978 and I hope she doesn't mind me reading part of it out.
"'Well, Ma McCabe and family, Got this chance to drop you a line. I hope you are keeping well and I'm sure you are still getting the regular visitors at dinner time. How is all the rest of the family keeping, too many for me to mention but I hope that they are okay. Before I forget, we had a smuggled photo here of a protest march, I think it was the 9th August.
"'You're doing a great job for us, Ma McCabe, this protesting. That's what we need, people out there showing their support for us. Patricia was saying about her being on TV and the child in the Republican News. A few of the lads heard about the child in the paper. They are still slagging me about it. Are they keeping alright?
"'Ma McCabe when you ring up Sean's will you tell Patricia I had a letter for her but wasn't able to get it out and I send my love to her and the child and I am thinking of them every day. I am getting carried away there, Ma McCabe, thinking I was writing to Patricia."
            "'Well, what about yourself? Are you keeping alright? What about the Hibs? Have you any contact with them now?… Does the Dolly Sisters [the two Eileens] still come round for the PDF. You can tell them I was asking for them.
            "'Ma McCabe I want you to get a parcel ready for Patricia to bring up on the visit. You will have to make it around 3ins long. That's tobacco. Make it round and put in a lot of headache tablets and painkillers also, as we don't get any medical treatment. Make it round like a hair roller, put red matchheads up it also and papers for the fags. I hope I haven't mixed you up there. I'm writing this and I'm mixed up!… If you see my mum please tell her that I had a letter for her but couldn't get it smuggled out.'
"Like most republicans Seando suffered arrest and torture, including on one occasion three days in Springfield Road barracks where he was stripped and a hood placed over his head. He was continually beaten and was the subject of a mock execution and was threatened with being hanged out the window. He sued the RUC and later successfully won a brutality case against them.
"He was eventually caught on active service in 1977 but before he was sentenced to 10, 7 and 4 years in jail he and Patricia got married in Crumlin Road Prison. There is a great photograph of them in the house, taken by Seando's dear friend Sean 'Flute' Osborne on Seando and Patricia's thirtieth wedding anniversary. They are actually back in the Crum and the photograph is very symbolic of the fact, that although times were extremely tough for a young married couple, Patricia and Seando survived and triumphed over the brutality of Castlereagh, lengthy prison sentences, the blanket and no wash protests and the heartbreaking hunger strikes of 1981.
"A few years ago, the Bobby Sands Trust launched a book to commemorate the 25th anniversary of the hunger strike. I was speaking at it and was describing some of the comms that I received from the blanketmen. I was actually speaking about ones from Seando and him describing to me how these men locked behind doors for four years, regularly beaten, played Bingo to entertain themselves, and I started to cry and could hardly talk because it brought it all back.
"After his release he and Patricia went on to build a good family and home. Their family went on to include besides Francine, Sean, Patricia Ann and James, grandchildren Eoin and  Seainin.
"'After his release from prison,' as Gerry Adams said the other day, 'Seando became an indispensable part of Sinn Fein.' He worked hard locally on community issues and was the driving force behind the work of the commemoration committee.
"But Seando could never forget the memory of ten men dead and when it came to the tenth, twentieth and twenty-fifth commemorations of that incredible prison struggle Seando travelled the length and breadth of Ireland and Britain organising exhibitions, displays, lectures and discussions. Latterly, he was seriously ill and those long journeys were bound to take their toll on his strength but he told one comrade: 'When the Movement came to ask me to do the commemorations… that was my medicine.'
"It is a tragedy that so many former POWs – and the number is shocking – survived the armed struggle and prison only to be so cruelly cut down by disease, especially cancer.
"Although he was 'the child' when he came to Beechmount forty years ago and was known only to a few, in recent times he was probably one of the best known republicans in Ireland. Anytime you spoke to a relative of the hunger strikers the first thing they asked was, 'How's Seando?' I was in a small hotel in the northern outskirts of Cork City a few weeks ago and a couple, total strangers, who weren't even from the area, but were from Kerry came up to me to ask, 'How's Seando keeping?'
"When Seando phoned you it was always with those beguiling few words, 'Well, mo chara, how's things?' You knew that he wanted you to do something.
"About twelve years ago he had the idea of commemorating all the people from A-Company area who had helped the struggle, fed and looked after or sheltered Volunteers, the anonymous people, who having passed on were now beyond British rule. He asked me to help him but he did all the running, collecting the biographies and photographs. It's an incredible little pamphlet for it demonstrates that the IRA was a real people's army with support on every street. I cannot mention all of them – or we would be here all day – but there were people like John and Teesie McCullough, the Gills, Mrs Burns, Pearse Graham, Billy Taylor, Ken Smith, the O'Rawes, the McCooeys, Dinky Quigley and May McManus and her brother Joe – and people like Stoker Cosgrove, whose daughter Nora, married to Patricia's brother Jim, was murdered by the RUC on the morning of Joe McDonnell's death. And just as they lied when they killed the people on Bloody Sunday the British lied about the circumstances of the death of Nora.
"To Seando's mother, Ellen, his brother Phillip, and sisters Rosaleen, Margaret and Geraldine, I would like to offer my condolences, the condolences of the Republican Movement and those of everyone here today and all who visited that packed wakehouse since last Saturday. To Patricia and the family you have lost a great, decent man who was so, so proud of you. Patricia, you made him a happy companion and husband; and the children fulfilled him.
"On one of the periods when Seando was low he said to Patricia what if we never see each other again and she responded with a typical Seando answer – 'you don't get rid of my that easier, I shall see you in heaven'.
"And last Saturday morning as he was letting go she told him, 'Seando, today, you will be with the hunger strikers in heaven.'
"In her death notice Patricia wrote: 'My husband, my best friend, and soulmate. What we had no millionaire could buy and wonderful memories no one can take away. I know in my heart you will look after me and walk beside me every step I take. Wait for me and walk beside me every step I take. Wait for me.
Your loving devoted wife, Patricia.'
"As we were finishing the booklet Green River we looked at a number of poems because we wanted to pick out something appropriate for the introduction. Seando chose this one which was written by a Turkish political prisoner. I would like to dedicate it to Patricia. It is called, 'You're Not Alone'.
If one day my eyes cannot see
Or if we part
Never to meet again
I'll still be by your side.
When you sing a song on your own
Or get angry with people
Or as you learn new things
I'll be in the sounds and the words.
And, if you ever fall into darkness
I shall come
To your side with amazing lightness of colours.
If you ever fall into darkness
I shall come
To your side with amazing lightness of colours.
Tim Brannigan's mother was from Belfast, his father from Ghana. Tim's Irish republican activism led to his arrest and imprisonment in the H-Blocks of Long Kesh in the 1990s. Tim's powerful memoir explores the meaning of identity and is a book which has garlanded praise across the full spectrum of the media. As part of Féile an Phobail's Youth Fringe Festival Tim will be speaking on August 6th in St Mary's University College, Belfast, about his experiences. Here, veteran republican Gerry O'Hare reviews Tim's memoir.
To be an IRA Volunteer in Belfast during the seventies was a dangerous life-style choice. Its members mingled in crowds to avoid detection and took whatever steps they could to survive and remain at liberty. The varied precautions they took have now become legend and folklore. Similarly, IRA supporters took risks, protected activists, marched on the streets, and suffered abuse. But imagine being black, from Beechmount, with the Brits all around, and being a supporter of the 'RA!
Enough said.
This book is the tale of just such a person; his beginnings, his growing
up in Belfast, working for the Movement and the struggle and – surprise, surprise – his eventual capture and imprisonment.
Tim Brannigan was born to a strong and resourceful woman, Peggy Brannigan, from Carrickhill. A married woman we hear that she fell for the charms of a Ghanaian medical doctor. Already married, with three children, she thought she could get away with her indiscretion – but giving birth to a bouncing black baby put paid to that. That's where this story begins. Luck, which appeared to have forsaken her, returned to Peggy's side.
For years, she had been a helper at 'St Joseph's Baby Home' and – on occasions – had brought babies home with her for the weekend. Tim's stepfather, Tom, we learn was completely unsuspecting of Peggy's dalliance and, after his birth, Tim was quickly bundled off to St Joseph's.
Peggy simply told family and friends that her baby had died at birth.
Traumatized by her own deceitfulness, she hatched a cunning plan to bring Tim home – by adopting him. This plan worked quite well, as neighbours were aware of Peggy's big heart for orphan babies. Thus Tim becomes a fully paid up member of the Brannigan family and gains three elder brothers at one swoop, so to say. Another brother is born, and the unsuspecting Tom is eventually shown the door by Peggy who takes on another man in her life – Chris.
Being the only black kid on the block in Belfast brought daily problems for Tim. School time appears to have been mostly ok, apart from the usual racist comments from the odd school bully. But the Brannigans form a wagon around the kid – and he retells his upbringing and school days with much humour.
Growing up in the seventies brought the young Tim into the real world and this reviewer's eye is caught by the title of a chapter: 'Young, Lifted and Black' (a parody of a hit song of the time 'Young, Gifted and Black', originally written by Nina Simone). Through education and determination to make a life for himself, Tim gets to Liverpool university and gains a degree. Qualified, he looks for work in Britain but soon hankers for home and Peggy.
Earlier, as a young boy, he had sold An Phoblacht for Sinn Fein, but getting on in college was his real goal. When he comes home, he tells us, it's not long before the IRA comes a-knocking at his door. The end result is a tragedy for himself, his mother and brothers. He allows two IRA men to hide weapons in his mother's old wreck of a car and is spotted by a local tout. Within a day, the family home is raided and all are hauled off to Castlereagh holding centre.
Fearful for his mother, he owns up and takes full responsibility. That sends him to jail for seven years and he eventually ends up in the H-Blocks where he knuckles down and does his time. The story recalls his attempts to become a journalist in which endeavour he shows great resilience. He never lets his various employers know of his conviction, however, and lives under a continual, fearful shadow that they will find out and give him the sack.
He ends up in the Irish News and, when another journalist warns him of threats to expose him, he informs his employers.  They are understanding. Unfortunately, the journalist who warned him is not so lucky. It was Martin O'Hagan who was assassinated by loyalists for his courageous expose of their criminality.
The latter part of the book tells a poignant story of his battle of wits with the brave Peggy as she fights serious illness.  Tim decides to give up his career to stay at home, full-time to nurse his mother, along with his other siblings. It's a harrowing and heartbreaking end for his mother who is the real centre of this fascinating book. It is a short book but with many twists and turns. Only a Peggy Brannigan could hatch it.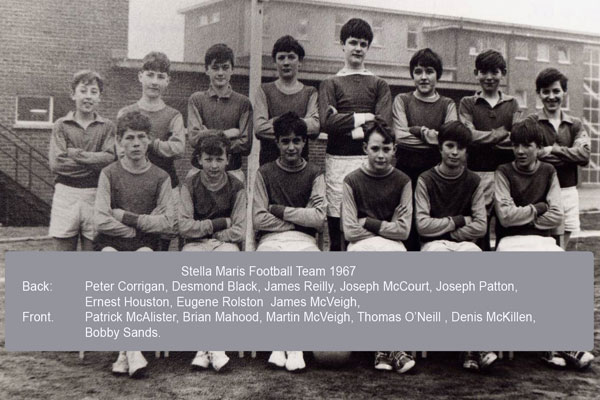 Researchers at Stella Maris Secondary School have unearthed early photographs of a young Bobby Sands as part of their study of past pupils who were killed during the conflict. On their website they say: "Twenty six past pupils whose names are known were killed during the 'troubles'. Of these, twenty four were boys and two girls. Most were in their late teens or early twenties. One, John Rolston, was murdered within two days of leaving school. Three were killed by the Provisional IRA, another three accidentally when handling explosives, nineteen including the two girls by loyalist paramilitaries and one, Bobby Sands, died in prison on hunger strike shortly after he had been elected M.P. for Fermanagh and South Tyrone. Eight families who had one or other parent killed in those years also sent children to the school. The full account of those from the school and area that died in the conflict can be read here.