Dónal Donnelly, from Omagh, was sentenced to ten years for membership of the IRA in 1957, during the Border Campaign. However, three years into his sentence, using hacksaw blades, torn sheets and electric flex, and running a gauntlet of searchlights, alarms and machine-guns, Dónal went 'over the wall' and escaped from Belfast's Crumlin Road Jail. As 12,000 RUC men and B Specials pursued him in the cold, wintry days after his escape, nationalists and republicans gave him shelter and support.
Now, as the fiftieth anniversary of his daring escape approaches, Donal has written a remarkable account of how he beat the authorities and made it to freedom, and his subsequent life.
His book, 'Dónal Donnelly – Prisoner 1082 – Escape From Crumlin Road Jail, Europe's Alcatraz' will be published by Collins Press and is being launched in Dublin Castle on Thursday, 8th April, by Robert Ballagh. Also, there will be a reception to mark the publication of the book in Crumlin Road Prison on Sunday 11th April at 3pm when the guest speaker will be Monsignor Raymond Murray, former Chaplain to Armagh Jails.
The book will be reviewed here by veteran republican Gerry O'Hare next week.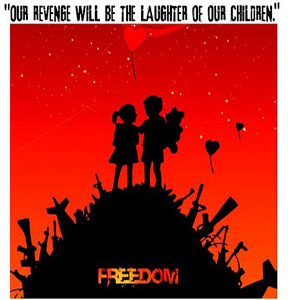 Blogger, 27-year-old Jafar Alam, a Muslim, based in Toronto, posted this painting on his blog, Divine Breezes, which was inspired by 'the genius of Banksy', the British graffiti artist whose real identity remains a mystery.
Jafar writes below the painting: 'Inspired by the genius of Banksy and the perpetual, revolutionary words of Bobby Sands:
'"They will not criminalise us, rob us of our true identity, steal our individualism, depoliticise us, churn us out as systemised, institutionalised, decent law-abiding robots. We refuse to lie here in dishonor! We are not criminals, but Irishmen! This is the crime of which we stand accused. Never will they label our liberation struggle as criminal…Our revenge will be the laughter of our children" – Bobby Sands
'We refuse to lie here in dishonor! We are not terrorists, but Palestinians. This is the crime of which we stand accused. Our crime remains that we were born Palestinian.'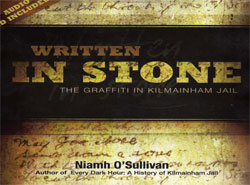 "This grand little book was devoured, from cover to cover, in one sitting," writes veteran republican Gerry O'Hare, "such was the quality of the writer's skill in weaving us through the story of the graffiti, pictures and history within the grim, grey walls of Kilmainham."
Gerry O'Hare reviews Niamh O'Sullivan's 'Written In Stone'
More a pictorial record of the graffiti in the prison cells than a history of Kilmainham Jail, those who have visited the jail will delight in retracing their footsteps with the aid of its photos – and the help of a DVD, included in the price of the book, assisting both the general reader and students.
The author explains, in her introduction, that she wanted to capture that "veiled world of the writings left behind on Kilmainham's walls by its former inmates".
This she does, both in her script and the excellent photographs, taken with a 35mm camera.  Most she captured herself, while others are published with the permission of the officials of the jail and Museum. A few of her pictures are allowed by permission of the families of their late owners, including those of Sighle Humphries and Risteard Mulcahy.
I warmed to the book particularly because of the personal experiences of myself and my three children, Terry, Jane-Frances and Rory. When I was released from Portlaoise Jail in 1975 my former wife Rita still languished in Limerick Jail for republican activities. Not long after my release, my late and dear friend, Eamonn MacThomais, invited us for a private visit to Kilmainham – then a hive of activity with many volunteers working to restore the Jail.
As Eamonn was showing me what work was being carried out, we heard shrieks of delight and laughter from my children. Rushing to the cell from where the sound was coming, we discovered they had spotted graffiti in the wall of the cell that simply said 'Free Rita O'Hare'.
Rita was also facing extradition at that time.
Whilst well-meaning support for Rita was naturally welcome, I was also slightly embarrassed that someone had written on the wall of a cell at a time when hardworking volunteers were trying to clean and restore it! However, Eamonn saw the funny side of the incident – and as I read Niamh's book it brought back warm memories.
Since that time, the history of the restoration work, and its many supporters and well-wishers, has being well-documented.
Here, in this book, Niamh brings us into the world of former prisoners who served sentences and many others who went to meet their deaths by execution at the hands of Free State forces. Niamh seems to understand the point I was trying to make about my children when she succinctly says, "I was fascinated by the original writings on the walls: those left behind by former inmates – as opposed to the large volume of later scribblings by post-1960s tourists and visitors".
She tells us there are levels of graffiti in the old prison, two parallel worlds existing side by side: that of the authentic, yet brief, 1915-1924 span of prison inscriptions, and the modern (1960s to 1980s with some 1990s, and even post-2000 examples – 'Kilroy Was Here' material).
In some instances, the old and the new occupy the same miniscule space.
She lets us know of her frustrations when she adds: "Drawing the necessary distinction between the two has, on occasion, proved a rather difficult task".
It was not just republicans who left their mark on the walls of Kilmainham. The author dwells briefly on other visitors – British soldiers imprisoned for their own misdemeanors. During the period of the First World War, we learn, that in the east wing, Private Patrick Reddy, a young man, served eighty-four days in Kilmainham for minor offences. He was entitled to both the Victory Medal and the British War Medal once the war had ended.  He never collected either as he died in France in 1917.  Reddy was a Dubliner and just 24-years-old.
The author says: "His ghost lingers just enough to prompt us to remember all those Dublin, Irish, boys and men who gave their lives for their country, just as surely as the executed men and boys of 1916 did, but on a different stage. Their pain in the past has been less visible but we should never allow it to be less real".
The most frequently photographed piece of graffiti is located in the East Wing, in Grace Gifford Plunkett's cell. It is her original painting of the Madonna and Child and it was the first graffiti to be officially restored by Thomas Ryan RHA.
For long periods the jail was allowed to fall into decay before, in the 1960s, concerned people undertook to save what was left and try and restore the worst parts.*
It was the work of the Kilmainham Jail Restoration Society, followed by the OPW, to stabilise the building.
One problem the volunteers had was that the majority of the writings were made by black pencil on tin and the aged, already crumbling, plaster walls -which Niamh tells us that, even to this day, are subject to continuing expansion and contraction brought about by the Irish weather.
She is at pains to warn us that there is no guarantee that the decaying process can be stopped. Indeed, there is a danger that as restoration continues very carefully, it does not accelerate the decay.
In order to safeguard what is still there, glass barriers – that do not interfere with inscriptions – were erected along with wooden barriers, to prevent visitors touching the walls. Cell doors were also locked.
All this serious work is being carried out to save the graffiti.  The hope is that there will eventually be a solution to finally preserve the already fragile plaster. In the meantime the need for more funds is vital.
Former female prisoners will read avidly that some five hundred women were incarcerated in Kilmainham between February and September 1923.  Up pops Sighle Humphreys again, a prominent Cumann na Ban organiser, veteran dispatch carrier, propagandist and locator of safe houses for the IRA. Aged just 24 at the time, she spent most of 1923 in Kilmainham, the "north Dublin Union Internment Camp" and Mountjoy Prison.
She didn't spend her time idly. Along with her formidable mother, Nell, and her Aunt Anna Rahilly, she organised various games, including rounders and handball with the other female prisoners. She taught Irish classes, went on hunger strike and was finally transferred out of Kilmainham in September, along with the remaining prisoners, to make way for an influx of male republican hunger strikers.
She was among the last batch of women prisoners released from Mountjoy in December 1923.  Her cell in the Old West Wing, we are told, is unique.
According to the author, she stamped it firmly with her own distinctive thoughts and ideals, with various messages surviving to this day, both in Irish and English.
On her cell door is her name: 'Sighle Nic Amhlaoibh'.  Nearby is a scrawl 'An Phoblacht Abu', interspersed throughout her cell with the logo of Cumann na mBan (a rifle badge with the initials 'C na mB' intertwined).
Her disparaging thoughts of the Free Starters leaves us in little doubt. "Men and measures may come and go, but principles are eternal", and the Irish "Ni Siochain gan Saoirse" (No peace without freedom).
There are other amazing stories about female prisoners but the reader does not want me to spoil the tales that lie ahead. Their's and the male prisoners scribblings and art-work will hold you enthralled and the author is to be praised for her dedication in, not just working on the restoration work, but for whetting our appetites for the full history of Kilmainham.
I fully recommend this fine contribution by a dedicated scribe and historian. It should be in every republican home as a starting point for children to learn about a period of our troubled past.
Eamonn Mac Thomais can rest peacefully in the knowledge that hundreds of restorers, continue unselfishly to carry on the vital work begun by Eamonn.
Readers can also help by making a donation to the prison project.
Written In Stone – The Graffiti In Kilmainham Jail' by Niamh O'Sullivan, Publ. Liberties Press, €12.99
About the author: Niamh O'Sullivan is the author of 'Every Dark Hour: A History of Kilmainham Jail'. She spent her early years in Dublin and the Netherlands and studied law at UCD and Kings Inns before becoming a barrister. In 1982, she brought some visiting American relatives to Kilmainham Jail, which was being run and renovated by volunteers, and fell under the building's spell. Legal work permitting, Niamh acted as a volunteer guide and, when the jail was taken over by the OPW in 1986, she took a position as an official guide, before moving on to work in the archives of the jail in 1992. After 24 years at Kilmainham, she recently left the jail to relocate to County Kilkenny.
*For the story of one of those who worked on the renovation of the prison in the 1960s see: http://saoirse32.blogsome.com/2006/06/29/p8642/
And here http://saoirse32.blogsome.com/2006/06/30/p8672/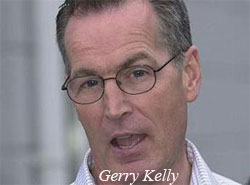 Gerry Kelly, the former IRA hunger striker, escapee and currently the Sinn Féin MLA for North Belfast, was arrested in England in March 1973 and sentenced to two life sentences and twenty years. He and three of his comrades went on hunger strike seeking repatriation to a prison in the North, closer to home, but were brutally force-fed. Kelly recalls: "They started force-feeding me around the 19th day and I was force-fed 167 times over 200 days. You'd frequently vomit and that too would be forced back down your throat." A few weeks ago he wrote a poem about his hunger strike and two IRA comrades who had been imprisoned earlier, who also went on hunger strike, and were to die at the hands of the British government.
For Michael and Frank
It was not the hunger
Though it gnawed its way
Through slim pickings of fat
To muscle tissue
And into every dream
So that in the most outlandish
Or exotic of images
Central to its theme was…food
It was not hunger
After nineteen foodless days
This usurper of senses
Had been usurped by fear
For several hours since
The dapper doctor announced
That he would return
To force-feed the prisoner
(He later changed this to
'Artificially feed the patient')
Fear had feasted
On his self doubt
From the ballad of his schooldays
From the archives of his mind
The spectre of Tom Ashe's
Force-fed death appeared
The dramatisation
Of the brutal process
By cynical warders
Ate at his mind
The clinical recitation
Of dangerous possibilities
The tube entering the lung
'By mistake of course'
But most acute
The fear of failing
Once the gauntlet
Was thrown down
So when the trolley
Rattled to the door
The young man
Lotus-like on the bed
Faced them, bone naked
To the blanket round his waist
Talisman of rosary-beads
About his neck
The key turned
With a clack
Churning in his gut
An intrusive unknown
Twelve-handed they entered
In an angry flood
Frothing hospital white
Over incriminating blue
While the doctor
From deep-seated elitism
Affected detachment
In civilian hue
The initial resistance
Was painfully brief
Control achieved 
In a practiced way
Man-handled and
Stripped to helplessness
Then stretched
To hopelessness
Under doctor's orders
Trailed up the bed
With jack-knifed body
To the high end
For a throat to stomach line
That would be straight and true
His hair-pulled head forced back
His wholeness held in human vice
All of which, the doctor
Hypocritically explained
Was for his own good
To save his life
Fear fought dedication
In the rebel's heart
As his breath battled
Through locked teeth
'Now' came the order
'Open your mouth'
And so it began
In clenched mute refusal
When naivety left the naked
To join the clothed
And both discovered the power
Of the jaw muscle
Forearm anchored forehead
Knuckles into jaw joints
Heel- hand on nose and face
Soft with blood
Forceps scraping gums
Ryle's Tube searing nostrils
Till the soft membrane
Is red-hot with pain
Yes, jaw muscles are strong
But far from strong enough
As his mouth is forced open
A horse-bit fills the void
No time for self pity
As the bit is adjusted
To feed a tube
Down famine throat
A motionless dread
In the pinioned body
Movement is rebellion
And therefore suppressed
No speech is possible
Nor motion of limbs
All protest undiluted
In dilated eyes
This is the scared-stiff
Experience of nightmares
Where great fear
Invokes paralysis
The tube knocks heavily
At the swing door in his throat
One way to the stomach
The other to lung-filled death
Tom Ashe Tom Ashe
A pounding drum
Comfort and fear
Beating in his head
Then the flap swings right
The tube rams down
And a dam-burst of liquid
Distends his shrunken belly
Just as the pain ebbs
And relief tingles
In his sweat beads
The stomach heaves back
With involuntary spasms
A thick white eruption
On chin and chest
And uniforms
Until some clever man
Wielding a kidney-dish
Collects the dripping remains
Of this expensive fare
Which the doctor described
Without hint of irony
As equivalent to
'A meal at The Savoy'
For his final trick
With nausea on the wane
The chef returned the contents
To the prisoner's stomach
And so it ends for one day
Business-like, with a hasty exit
Of the tube from the throat
And the squad from the cell
Leaving the Irishman
To clean up the mess
To recover his dignity
And fret about the many next times
In fairness to the doctor in charge
Known by the official title of
'Principle Medical Officer'
He was affected by the scene
Thereafter he developed the habit
Of entering the cell, only after
The jailers had subdued the prisoner
For entry of the feeding tube
A man of intellect and eloquence
Who spoke of Arthur Koestler,
Oliver St John Gogarty, (among others)
And his own flag-waving youth
While he worked at his task
– Gerry Kelly, 2nd February 2010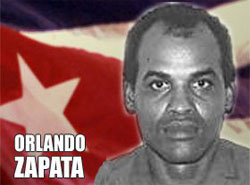 A debate has raged on many websites in relation to the death in a Cuban prison of a hunger striker on February 23rd last. Here is one example from the website of The World Association of International Studies (WAIS).
JOHN HEELAN: The Cuban dissident Orlando Zapata Tamayo has died in hospital as a result of his 85-day hunger strike. He started his strike as a protest against Cuban prison authorities refusing to allow him to wear white–a symbol of Cuban resistance.
Nearly 30 years ago, Bobby Sands, a Republican Irish dissident and member of the IRA, died from his hunger strike. He started his strike as a protest against Northern Irish prison authorities who insisted that he and his colleagues wear prison uniforms even though the latter claimed to be political prisoners (and Sands was an elected MP until Thatcher changed the law).
In December 2001, a memorial to Bobby Sands was unveiled in Havana, Cuba by the the IRA President, Gerry Adams, who was later greeted by Fidel Castro. Can we expect to see a similar memorial in Havana to Orlando Zapata Tomayo? If not, why not?
ALAIN de BENOIST replies: If I follow John's reasoning, the memorial to Bobby Sands having been unveiled in Havana, Orlando Zapata Tomayo's memorial should be erected in Ireland, not in Cuba! But I am afraid the comparison is not very significant. The great Bobby Sands was jailed for political reasons (I was extremely sad when he died). But, to my best knowledge, Orlando Zapata Tomayo, while being described since 2004 as a "prisoner of conscience" by Amnesty International, never had any political activities before his arrest. He was arrested several times for crimes without any political content. He mainly started his hunger strike to obtain a television and a cellular phone in his jail.
Anyway, Zapata Tamayo's death has been publicized all around the world as the death of a "victim of the Cuban dictatorship." The media does not give the same publicity to everything. The murder of Claudia Larissa Brizuela, member of the National Front of People's Resistance (FNRP), who was killed in Honduras on 24 February (one day after Zapata Tamayo's death), has not been publicized anywhere. The discovery, in last December, in a mass grave located in La Macarena (Colombia), of 2,000 bodies of trade unionists and peasant leaders murdered by paramilitary and special forces of the Colombian army was not publicised much either.
JOHN EIPPER (editor of  WAIS) comments: Alain's last point is unsettling for someone about to board a plane for Colombia. By the by, there won't be many WAIS postings tomorrow morning, as we must leave for the airport at 4:30 AM. When we're in Colombia (Cartagena, Santa Marta and Medellín), I'll see what I can find out about the murders at La Macarena.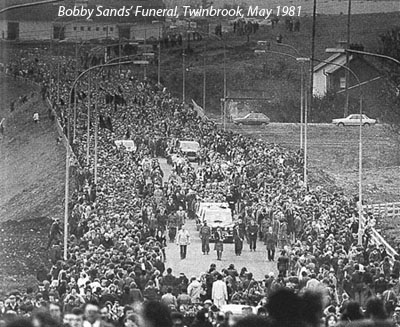 A study of the statistics to this site shows that from across the world it receives an average of 3,000 visitors per week. There were over 700 visitors last Monday, March 1st, the date in 1981 when Bobby Sands commenced his hunger strike. In the last week of 2009 we had 8,457 visitors and the busiest day since the site was upgraded in September 2008 was on Wednesday, 16th December, 2009, when we received 3,886 visitors. The busiest month was March 2009 when there were 21,407 views.
Wikepedia is the largest daily referrer and the most popular pages after the Home Page and the writings of Bobby Sands are the biographies of the hunger strikers, photographs, songs and lyrics, and book reviews.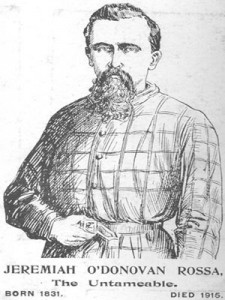 Former republican prisoner Gerry O'Hare reviews the monumental study on Irish political prisoners (1848-1922) by Professor Sean McConville which covers the period of the imprisonment of O'Donovan Rossa, Tom Clarke and Roger Casement. McConville shows how punishment came to shape the nationalist consciousness and the part it played in the development of Anglo-Irish relations and the birth of the Free State/Republic of Ireland.
The Untameables – Gerry O'Hare
There has been a proliferation of books in recent time about prisoners and jails.  Some of the authors are ex-prisoners which lends a certain credibility to their accounts. This book, however, is by an academic.
Professor Sean McConville, who works at the Department of Law, Queen Mary College, University of London, has produced a tome of over 800 pages dating from the 'Young Irelanders' to the War of Independence in 1922.
Such an effort, this reviewer felt, deserved more than a fleeting read, so time was set aside to give the author, and his work, due credit.
Firstly, who is the author? McConville is a Professor of Criminal Justice and Professorial Research Fellow. He has published widely on imprisonment and related political and legal issues, including work on Britain, Europe and the United States. He also encouraged Anna Bryson to edit and publish 'The Insider', the story of Eamon Boyce's diaries in Crumlin Road Jail, 1956-1962 (reviewed here).
In an introduction, McConville tells us modern Irish nationalism took form in the years 1848-1922. Campaigns ranged from the ballot box, civil disobedience and conspiracy, to 'terrorism', insurrection and guerilla war.
While the punishment of 'offenders' presented successive governments with seemingly intractable problems, imprisoned revolutionaries discovered and exploited numerous opportunities to continue and intensify their struggles. The details of their stories makes this book probably the most comprehensive and detailed study yet of the political use of imprisonment in these years.
Drawing extensively on archives and special collections in Ireland, England, the USA and Australia, many hitherto unused, McConville shows how punishment came to shape the nationalist consciousness.
Accounts of prisoners' experiences and official reactions are given context by matching chapters, each describing the political and organisational components of successive phases in the nationalist and republican struggle. Successive governments' responses were conditioned by legal and constitutional factors as well as attitudes and opinions in Britain, Ireland, the USA and Australia. Through considering these, as well as British and Irish party politics, McConville tries to tell the full story of the part played by political imprisonment in the development of Anglo-Irish relations and the birth of the Irish State.
The main story is told with extensive references on each page. This reviewer eventually discovered that it was easier to read the narrative – and then to go back for a second read, using the references.
The book is broken down into sections and each could have made a book in itself.
One section that I found fascinating and distressing was that which covered those who became known as the 'Dynamitards'.  It covers a shocking period, when explosives were first used in a campaign which ended in abject failure.
In 1867, Alfred Nobel had managed to stabilise the powerful and extremely dangerous explosive, nitroglycerine, in such a fashion that it could be manufactured commercially – that is, made into dynamite.
We had read earlier that Fenianism, both in Ireland and America, was at a low ebb when in 1870 Gladstone released the Fenian leaders who were exiled to America. But there were many factions and the Fenian leaders, we learn, failed to unite the Irish in America. It was about this time that Clan na Gael came to the fore.
The Clan recognised the authority of the Irish Republican Brotherhood which was based in Ireland and Britain. It had secured its place in the leadership of militant Irish-Americans in 1876 when it brought off the rescue of six Fenians in jail in Western Australia, an operation organised by John Devoy and executed by John J. Breslin. The escape captured the admiration of Irish people at home and abroad and whetted the idea among the most militant that an operation successfully carried out half way round the world could now be replicated closer to home – in England.
But internal politics and personality problems meant it was three years before the team of volunteers actually made it to the shores of England. The campaign was a disaster and many of the team were captured and sentenced to life imprisonment. Among the prisoners was Thomas Clarke, who survived his sentence despite unbelievable treatment, whilst most of his colleagues died or went mad.
Many debates took place in the British parliament to seek amnesty before the prisoners were eventually released. The men were isolated in England and suffered the worst degradation from their jailers who we learn were ex-sailors and former British soldiers who took sadistic pleasure, approved by the governors, to break the Irish lifers.
'Life' in those days meant twenty years. Relatives and friends at home in Ireland only learnt of their conditions through rumour. The prisoners had to wear soiled clothes, taken from ordinary criminals.  If they complained they were forced to take a cold bath and wash the dirty clothes at the same time.
Their conditions and treatment would make your blood boil.
If Clarke managed to keep his sanity by being determined to beat the system what are we to make of Michael Davitt, according to the author? It appears that despite bad treatment he appears to have been almost a model prisoner. Reading the extensive, surviving official records, public accounts and private papers dealing with Davitt's imprisonment (there are three in all) he emerges as a person of integrity, one who would not willfully misrepresent his experiences.
In the bibliography of prison writings, this is a rare quality and, being thus perceived by his contemporaries, it enhanced his moral and political stature, giving weight to his writings on prison matters.
We are told that he was "no turbulent Rossa" and his prison record shows only a handful of disciplinary reports, and those of the most trivial kind. McConville concludes that Davitt was a man who tried to survive in the convict system, keeping his mental and emotional balance, and limiting the damage which could undoubtedly arise from a long confinement.
The author's view and opinions on Roger Casement may provoke controversy particularly on the subject of the 'Black Diaries'. His lewd description of Casement's alleged sexual exploits left me wondering why he had to go into such detail. Controversially, he states, and I quote, "Although arguments raged for many years after Casement's death, there can now be no doubt that the diaries and ledgers are genuine". The references, of course, that he used to 'confirm' such claims were the work of the secret services in Britain. Enough said.
There is extensive coverage of the hunger striker Terence McSweeney, Lord Mayor of Cork. As he lay dying, we learn of the skullduggery that went on between the prison authorities and medical officials – and the medical help, or lack of it, that McSweeney received. The question of force feeding is reminiscent of the treatment meted out to Thomas Ashe and four of the 'Belfast Ten', including Gerry Kelly, Hugh Feeney and the Price sisters.
A debate takes place over the state's refusal to hand McSweeney's body over to his relatives. I found this most interesting and ironical, considering that the foreword to the book is by former Taoiseach, Garret Fitzgerald. Fitzgerald was a minister in the Fine Gael/Labour coalition government which in 1976 hijacked the remains of IRA hunger striker Frank Stagg, to prevent his family and his comrades giving him a republican funeral. Did Fitzgerald even blush as he wrote the foreword?
The last three sections deal with the handover of British power and the period up until 1922. Much of the detail will not be new to avid historians. However, as this book is about prisoners, it is significant that the author recalls the final campaign for the release of those caught on the northern side after the Treaty. After the signing of the Treaty, the Free State Government sought their release as part of a policy to 'close the books' and because clemency would be politically advantageous.
Two men in particular are named: John McCurtain, whose brother had been a commandant in the Free State Army killed by republicans in Tipperary, and John Flood , whose brother was shot dead by the British in March 1921. The British government, in the years immediately following, undertook to act as intermediaries with the North's government to review the cases of prisoners who had been sentenced because of their part in the 'invasion'. The North's Prime Minister, James Craig, agreed to allow the British government to review these cases, and to accept the resultant recommendations. Thirty-three men were released on January 25, 1926.
With these releases Britain ended the part it had played in that Anglo-Irish war and its immediate aftermath. Though not of course, its involvement in Ireland and confrontation with Irish revolutionary politics.
New 'cohorts' had entered the system, and would have a presence there for most of the Twentieth Century.
For historians this book is a worthwhile and powerful work of diligent research.  I recommend it with the proviso of a health warning for republicans who would perhaps argue with some of the polemic that underlines some of its assumptions.
Irish Political Prisoners, 1848-1922, published by Routledge Taylor and Francis
London and New York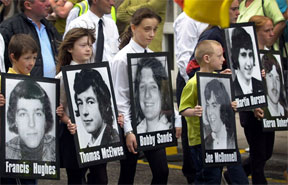 We would like to apologise for the delay in updates in the past week or two. Due to serious computer problems and glitches we have not have access to emails and postings. We are still experiencing some problem which we hope to have completely sorted out over the forthcoming weekend. Thanks you for your patience. – Administration