The comms of Bobby Sands and others, smuggled out of the H-Blocks of Long Kesh, particularly during the hunger strike, are now world famous, writes Gerry O'Hare.
Far less well-known is that a republican prisoner, as long ago as the 1950s, had written a prison diary, entirely in Irish, which had also been smuggled out – this time from Belfast's Crumlin Road Jail. Here, Gerry O'Hare reviews a  book based on these diaries.
Eamon Boyce's diary, written when he was incarcerated during the IRA's 1956-62 'Operation Harvest', has now been translated and edited by academic Anna Bryson – and belatedly published under the title, 'The Insider'.
But better late than never …
Boyce's story of daily life in The Crum' was originally written into small diaries that inexplicably 'by-passed' the jail censor over many years. Always fearing the risk of discovery by the authorities, his story, as told, is remarkable.  He even managed to keep his diaries secret from most of his comrades and fellow prisoners.
Anna Bryson, who edited the book, is the holder of a Ph.D. in History from Trinity College, Dublin, and was also lead researcher for Professor Sean McConville's monumental volumes on Irish political prisoners. (The volume, 1848-1922, running to 820 pages is currently available.) McConville is a professor in the Department of Law, Queen Mary, University of London. Bryson was interviewing the former republican prisoner for McConville's project when he unexpectedly presented Bryson with his own remarkable diaries and, with the assistance of Kathleen Rigney, they have been faithfully translated from their original Irish.
Boyce learned all his Irish whilst in prison.  A Dublin-based CIE bus driver, he was the leader of a 1954 IRA attack on Omagh barracks for which he was sentenced to twelve years for Treason Felony on three counts at the Belfast Winter Assizes.
'Operation Harvest' had not started at the time of his imprisonment but began and continued while he was in jail. The book relates Boyce's frustrations with that ultimately unsuccessful campaign as well as daily life behind prison bars, friendships, inevitable fall-outs, internal politics and eventual freedom in 1962.
It all began when, sitting in his cell at Christmas 1956, he received a parcel including a Gael Linn small diary which the censor had missed. Inspired by that good fortune, he began to plot how he could smuggle material out of the jail. One method was by stuffing written pages into the hollow interiors of crosses, made from matchsticks. Another five diaries were smuggled in for him and he began to fill their pages before they were duly smuggled out again.  It was Boyce's way of 'doing
Time'.
He also managed to smuggle in a small radio (another precursor to the later exploits in the H-Blocks of Long Kesh during the blanket protest).
And so we come to the content of these remarkable journals. But first, a note about the book as printed. It includes a detailed annotation, notes and index putting Boyce's diary entries and comments into the context of the time including names, events and political goings-on outside the prison. The index is a book in itself and this reviewer, after some time, decided to begin by focusing, first, on the narrative given in Boyce's own words before re-reading the book to take in the context. The index is so detailed that it is, without doubt, one of the best I have ever come across.
The diaries are, at times, depressing and at others' joyous as he relates the daily life he faced over his years in jail.  The names flow by of past volunteers, sadly now mostly no longer with us. They include both sentenced prisoners and internees between 1956-62.
Petty incidents became huge crises for Boyce as he tried to make life as bearable as the harsh regime that existed in Crumlin Road Jail at that period would allow.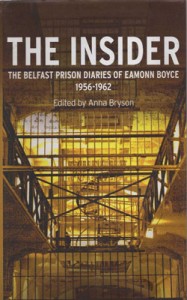 As a former Crumlin Road inhabitant, I – and others of my generation – cannot begin to realise how hard time was served back then. We had it bad, but it was infinitely worse in the 1950s.
Visits are highlighted, particular those with his mother and his brother, Sean. An example: "Saturday 5th April 1958: My mother and Sean up. She looks well enough but she has been ill. I had a short visit and I got a great Easter parcel. Mam says she'll visit Charlie Murphy in a while."
Visits were severely restricted and at the whim of a screw could be terminated for the simplest of petty reasons.
Boyce's writings are geared towards his release and his frustration shows as other members on the Omagh raid are all released ahead of him. He watches with frustration the failure of the IRA campaign to make much headway. He is both delighted and disappointed at different times
with the success and failure of Sinn Fein candidates. Another example, an entry dated Friday 9th October, 1959: "Awful result in the election – Sinn Fein destroyed altogether – I can't talk about it.  A nice letter from Johnny and Florrie. They were delighted with the music box."
The refusal of chaplains to administer the sacraments at Mass pained him. The bishops of the time decreed that those involved in the IRA were to be refused the sacraments. The Prison Chaplin then was Fr. Paddy McAllister (who later taught me when I was a pupil at St Malachy's College, next
door to Crumlin Road Jail). He forgives Fr. Paddy, though, as he states, the priest was dictated to by the bishops.
On a happier note, a friendlier chaplain ignored the bishops' diktats and gave absolution to any prisoner who wished it.
Escape plans are a thorny issue with Boyce as they usually brought down severe searches (and posed the danger of exposure to his diaries). In December 1960 Danny Donnelly escapes. On 2nd January, Boyce writes in his diary: "The searches are going on. I'm afraid that I'll lose these diaries. I had to go to bed at eight o'clock with the cold. The English princess (Margaret) is in the Free State".
As his time of release comes nearer, his frustrations mount. And his final diary note leaves one sharing his unhappiness.
Tuesday 18th September 1962:  "A letter today. Thank God. My mother, Sean and Fr Livinus all right, but they are fed up waiting for me. Pearse (Doyle) is in Mungret College. Donal (Murphy) will be home on 2.10.62. but there's no word of Joseph Doyle…
"This is the last part of my diary after seven years writing. With God's help, there will be nothing important to write between this and freedom. I'm grateful to God that everything was okay from the day I came in here.
"Of course, I'm very disappointed about political maters. I was full of hope coming in, but now I don't suppose that there's any solution to the republican question. It's too late, but we had our chance.
"It's a pity that South, and the other men, died – as there won't be any result from their sacrifice – but that's life. I pray that God will give me luck and blessings in the life that is ahead of me".
Finally in a 'Question & Answer' interview with the editor/author, he is asked was his jail life a worthwhile experience? His answer speaks volumes:
"In many ways yes. I kept my self respect and the people I met – mostly men – during the whole course of my involvement with the movement, it's been privilege to know them and I've been a better person because of them. Now if I say that to somebody up north, they might laugh – but I would definitely say that".
'The Insider – The Prison Diaries of Eamonn Boyce 1956 – 1962', edited by Anna Bryson. Published by the Lilliput Press, Dublin, 62-63 Sitric Road, Arbour Hill, Dublin 7. Price €40
'Belfast' is an alternative rock band based in Bergamo, Italy, and among the songs on their new CD is one called 'Long Kesh'. Information about the band and this song (and a live YouTube performance) can be found here. Paolo Ghidini of the band, writing about the destruction of the H-Blocks, says in a message to the Bobby Sands Trust: "We are essentially pacifist, and we don't have any political approach to the history, but we modestly tried to express our feeling about it with a song, named 'Long Kesh'… How sad was seeing the maze destroyed during our last trip in Ulster… I think that in another country, it would become an historic museum."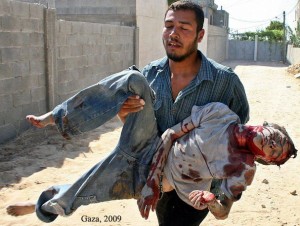 The award winning journalist, Robert Fisk, visited Belfast over the holiday period and wrote a feature for the London 'Independent', making historical comparisons between the Plantation of Ulster and Israel's dispossession of the Palestinians. His article is titled: 'Walls never work: in the Middle East or in Ireland – Israel's illegal claim to West Bank Arab land is based on holy texts, not on a king's fiat.' Here is the article in full:
We were walking round Milltown Cemetery last week, me and David McKittrick – Our Man in Belfast and among my oldest friends – and the wind came biting down from Cave Hill.
"Cloaked in ice and snow," was how the Belfast Telegraph described Northern Ireland when I took the train back to Dublin the next day, but I think the bitterness of the Ardoyne, the Falls, the Shankill, the old Markets, made up for the exaggeration. "Peace" lines they may be, but just east of Andersonstown, that frozen, implacable wall of iron, stone and wire reminded me of an even more permanent "security fence" more than 3,000km away.
In Milltown Cemetery, in the Republican "plot" – yes, Bobby Sands lies there, also memorialised, of course, in the street next to the British embassy in Tehran – was the shared grave of Maire and Jimmy Drumm of Sinn Fein. Her picture showed a younger woman than I used to know, all smiles and curled hair rather than fury and cynicism (though she'd met me cheerfully when I went to say farewell more than 34 years ago, a whiskey bottle on the table and the commanders of the IRA's Andersonstown Brigade on the sofas around her to say goodbye to the young "fella" setting off for Beirut).
"Murdered by pro-British elements" her gravestone said – that was the nearest an Irish Catholic Republican movement might come to saying "Protestants" – and I remembered how they'd shot Maire in her bed at the Mater Hospital in 1976, how she'd fallen from the bloody sheets and tried to crawl across the floor; where they shot her again.
They could not have known that Belfast would today be a Catholic majority city. Nor could the Protestant settlers of the 16th and 17th century – the Jacobean planters and the Cromwellian veterans – have known that their lands would almost all be Catholic 400 years later. The story of the Protestant "settlements" in Ireland provides a ghostly narrative of those modern-day "settlements" in the West Bank, where the Israelis insist on fighting the world's last colonial war with the assistance of that great anti-colonial nation known as the United States.
The differences, of course, are legion. Protestantism, in its various Irish forms, aimed to convert or ethnically cleanse the Catholic Gaels. Judaism does not attempt to proselytise – quite the contrary – and Israel's illegal claim to West Bank Arab land is based on holy texts, not on a king's fiat.
Robert Kee, still one of the finest popular expositors of 16th-17th Irish history, puts in concisely: "The four counties of Donegal, Tyrone, Derry and Armagh … together with the two counties of Cavan and Fermanagh became subject to the most systematic attempt yet to plant or settle in Ireland strangers from England and Scotland. This was the so-called Plantation of Ulster, worked out on a government drawing board between 1608 and 1610."
There had been previous efforts to colonise barbarous Ireland, when Catholic sovereigns had settled families in Leix and Offaly (whose landowners found they now lived in King's and Queen's Counties, just as West Bank Palestinians are supposed to believe that, since 1967, they have lived in Judea and Samaria). "But all such previous plantations had in the end been failures," writes Kee. "Collapsing for lack of human support or capital, or else being physically wiped out by the rebellion of those who had been dispossesed to make room for them."
This remains Israel's fear: that those Palestinians dispossesed in 1948 will return to take their former lands in what is now the State of Israel, or at least those lands stolen from them in the West Bank after 1967. The Catholic massacres of Protestants in 1641, a period of civil war vividly captured in the 20,000 pages of witness depositions now held by my own alma mater of Trinity College, Dublin, is a bleak precursor of the Hebron massacre of Jews during the Arab rebellion of 1929; albeit that up to 1,300 Protestants were hanged and put to the sword in 1641, 64 Jews in Hebron. William Baxter, a gentleman from Co. Fermanagh "swore that Ross McArt McGuire seized his lands at Rathmoran … on the grounds that they 'belonged to his father before the said plantation,'" Trinity's modern history professor Jane Ohlmeyer, recalled in a recent article.
But the Elizabethan settlers came as soldiers who settled. Later Scots Protestants came, like Israelis to the West Bank, as settlers prepared to be soldiers. "The idea of the settlement of underpopulated lands caught the imagination of men in both countries" – I am quoting Perceval-Maxwell's work on Scottish migration, but "making the desert bloom" and "a land without people for a people without land" echoes in the future distance.
Cromwell was to inject a new form of violence into Ireland, whose ultimate victims can still be found in Milltown Cemetery and, just down the Falls Road, in Belfast's largely Protestant City Cemetery. The slaughter at Drogheda and Wexford acted as a catalyst of mass fear, much as the killings at Deir Yassin and many other Arab villages in 1948 led to the abandonment or capitulation of hundreds of other Arab towns in the land that was to become Israel. Most of the best land of Ireland, at least three-quarters of it, was confiscated from its Catholic owners, its original inhabitants expelled to the cold, wild lands of Connaught. By 1688, Catholics held only 22 per cent of the original Gaelic Ireland, precisely the same percentage of mandate Palestinian land – 22 per cent – for which Yassir Arafat was required to negotiate in the hopeless Oslo "agreement". Arab-owned land in "Palestine" is now smaller still, heading inexorably to the mere 14 per cent that the Catholics still clung on to in 1703.
Again, these are not parallel narratives; but unborn ghosts are there. English rulers in the 17th century suspected – quite rightly – that Spain was lending spiritual and material support to Irish insurgents, just as Israel today believes, correctly, that Iran is giving spiritual and material support to Hamas and, outside "Palestine", to Hizballah. For the Pope of Rome, read Pope Khamenei of Tehran. On many occasions, acts of "terrorism" against the Protestants emerged from landless Catholic tenants who were allowed to work for those who had seized their property. So, later Protestant "settlements" were surrounded by vast defensive walls, angled with watch-towers and ramparts and gun positions. The city of Derry has walls above the Catholic Bogside every bit as ferocious as the Israeli wall that now cuts into yet more Arab land.
And, of course, Irish Catholics fled abroad – just as the Israeli foreign minister would like to "transfer" Palestinians to the east. And where did the Irish Catholics go? As many as 100,000 fled to the continent, mostly to Spanish Hapsburg territories, in many cases to the Spanish lands from which the Moriscos – the Muslims of Spain and the remainder of the nation's Jews – had just been "cleansed" by their Catholic Christian overlords. The final crushing of the Spanish Muslims (who had failed to convert) occurred in 1609, when Philip of Spain forced 300,000 souls to leave the Iberian peninsula for Ottoman north Africa. And the very Spanish "cleansers" who had "ethnocided" the Moriscos – Garcia Sarmiento de Sotomayor and Count Caracena were among them – now advocated resources for the Irish arriving in Galicia.
Irish Catholic publications of the time – according to research undertaken by Igor Pérez Tostado – compared Irish Catholics with Spanish Muslims; "both were presented not only as disloyal but as a mortal threat to the very survival of the political community." Both, in effect, were thrown into the sea.
But the English and Scots "settlements" failed in Ireland. Protestant hopes of eternal support from London eventually proved false. And so, what of Israeli hopes of eternal support from Washington? I still don't believe in a one-state solution – which the Protestant minority will one day have to accept in Ireland, if they have not, subconsciously, already done so – but colonisation leads only to the graveyard. Walls don't work. Nor "superior" religions. Nor ethnic cleansing. History, which should be studied as eternally as false hopes, is a great punisher.