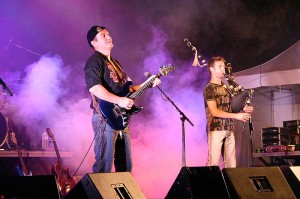 Here are two further songs about Bobby Sands. The first, 'Bobby Sands' by French Rock group Soldat Louis who mix traditional Breton music with rock can be listened to here.
The second song is by Cork singer/songwriter Bébhinn Hurley whose single 'Bobby' went to number 1 in the Irish download music charts when it was issued last July.
It can be heard here. For more information about this single click here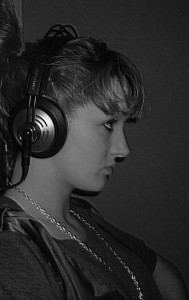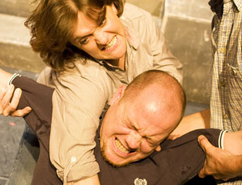 Martin Lynch's play, 'The Chronicles of Long Kesh', has gone down a storm at the Edinburgh Fringe and negotiations are taking place for further productions of the drama which covers life in the notorious prison from the time it opened in September 1971, through to its failed renaming by the British as 'The Maze', the hunger strikes of 1980 and 1981, and the eventual release of the political prisoners under the Belfast [Good Friday] Agreement. See 'Belfast Telegraph' story…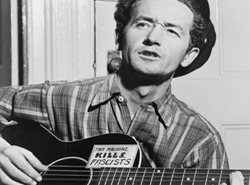 "You keep me in jail and you lock me in prison" form part of the lyrics of the Woody Guthrie song, 'I've Got To Know'. The actor Tim Robbins recommended this song to the Trust which is used at the end of his brilliant political satire, 'Bob Roberts' (1992).
Woodrow Wilson 'Woody' Guthrie (July 14, 1912 – October 3, 1967) is best known as an American singer-songwriter and folk musician, whose musical legacy includes hundreds of political, traditional and children's songs, ballads and improvised works. He frequently performed with the slogan This Machine Kills Fascists displayed on his guitar.
Audio clip: Adobe Flash Player (version 9 or above) is required to play this audio clip. Download the latest version here. You also need to have JavaScript enabled in your browser.
(CHORUS)
I've got to know, yes
I've got to know, friend,
Hungry lips ask me wherever I go
Comrades and friends are falling around me
I've got to know, yes,
I've got to know
Why do your war boats ride on my waters?
Why do your death bombs fall down from our skies?
Why do you burn my farm and my farm down?
I've got to know, friend
I've got to know
(CHORUS)
What makes your boats haul death to my people
Nitro blockbusters, big cannons and guns
Why doesn't your ship bring food and some clothing?
I've got to know, folks
I've got to know
Why can't my two hands get a good paid job
I can still plough, plant, I can still sew
Why did your law book chase me off my good land
I'd sure like to know friend, I've just got to know!
(CHORUS)
What good work did you do, I'd like to ask you
Give you my money right out of my hands?
I built your big house, here to hide from my people
Why did you hide so, I'd like to know!
(CHORUS)
You keep me in jail and you lock me in prison
Your hospitals jammed and your crazyhouse full,
What made your cop kill my trade union worker?
You'll have to talk plain 'cause I sure got to know!
(CHORUS)
Why can't I get work and cash a big paycheck?
Why can't I buy things in your place and your store?
Why do you close my plant down and starve all my buddies?
I'm asking you, now, 'cause I've sure got to know!
I've got to know yes
I've got to know friend
Hungry lips ask me wherever I go
Comrades and friends are falling around me
I've got to know, yes
I've got to know…