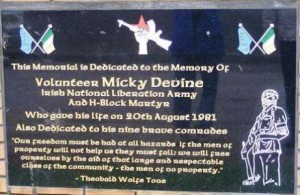 Today, August 20th, is the twenty-eighth anniversary of the death on hunger strike of Micky Devine from Derry. Twenty-seven-year-old Micky Devine, from the Creggan, was the third INLA Volunteer to join the H-Block hunger strike to the death.
Micky took over as O/C of the INLA blanket men in March 1981 when the then O/C, Patsy O'Hara, joined the hunger strike but he retained this leadership post when he joined the hunger strike himself.
Known as 'Red Micky', his nickname stemmed from his ginger hair rather than his political complexion, although he was most definitely a republican socialist. For more read on…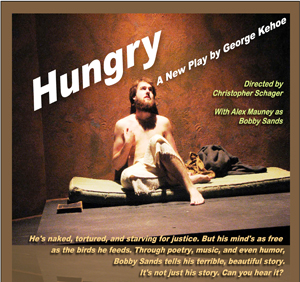 A new play about the life and death of Bobby Sands will be performed as part of the 13th annual New York International Fringe Festival. Adapted and written by George Kehoe, 'Hungry' blends original writing with excerpts from Bobby Sands' prison writings. "It is an episode in a timeless story, self-sacrifice for a greater cause," Kehoe said. "How does a 27-year-old man come to believe that his only choice is to hunger strike and see it through to the end? What is his justification? His motivation?"
"His story dramatizes the lengths to which humanity will go to justify, inflict, and endure suffering for political goals – as well as the hopeful possibilities of that suffering," said Christopher Schager, director of the 90-minute show.
The play features the young actor Alex Mauney as Sands. A recent graduate of the University of Mississippi with a B.F.A. degree in Theatre Arts, Mauney employs music, mime, and poetry in bringing Sands' vision of a united Ireland to life.
The play will have five performances Aug. 21-25 at the Manhattan Theater Source at 177 MacDougal St. For more information see here.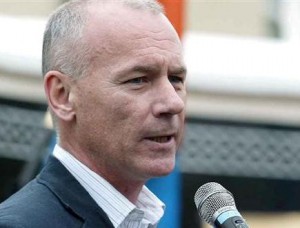 "Bobby Sands was our O/C and he led us. Our comrades, Frank, Raymond, Patsy, Joe, Martin, Kevin, Kieran, Tom and Mickey, stepped forward to join him and they showed us leadership…" – Padraic Wilson, speaking at the hunger strike commemoration in West Belfast on Sunday night, 16th August. For the full text of his speech see the Sinn Fein website.
Republicans from across the country turned out in their thousands on Sunday 16th August, to remember the sacrifice of the H-Block hunger strikers and, before them, Michael Gaughan and Frank Stagg [from Mayo] who died while imprisoned in England during the 1970s.
Sunday's march, the culmination of a weekend of events organised to mark the 28th anniversary of the H-Block fast, saw as many as 10,000 people join with representatives of the families of the hunger strikers as they marched through Galbally, the birthplace of Martin Hurson, to a rally at the Galbally Pearse'S GAC.
The many banners that were carried along the three mile route were a colourful display of solidarity and a geographical pointer to the fact that people had travelled the length and breadth of Ireland to attend the march.
From Tyrone there were banners from Brantry, Eglish, Kileeshill, Loughmacrory and Killyclogher. Then there were the banners, from Wexford, Dublin and Monaghan.
Republican flute bands travelled from Dungiven, Belfast, Strabane, Armagh, Antrim and they all beat out their defiance, to the delight of the crowds.
The bands from Scotland were a welcome addition. They are proud republicans who still face the rigours of a sectarian and racist Scottish establishment as they play their part in the struggle for a united Ireland.
The lines of former POWs, wearing their 'black and whites', represented every county in the Six Counties. They were joined by many more who came from further afield, all bringing their own memories of the prison struggle. The former H-Block prisoners reminisced about Bobby, Francie, Ray McCreesh, Patsy, Big Joe, Hurson Boy, Big Doc, Kevin 'Barabbas' Lynch, Big Tom and Red Mick. But prison struggle was not confined to the H-Blocks. The many faces in the crowd of women who had fought the injustice and brutality of strip searching in Armagh and Maghaberry and the men who were gassed by the British army using highly toxic CR gas in 1974, all stood firm against successive British regimes whose aim was to criminalise the republican struggle.
There were prisoners who spent many years in prison in England who were at Sunday's march, POWs who were isolated in Special Secure Units (SSUs), who refused to be broken or criminalised. On reaching Galbally the huge crowd was addressed by the Sinn Féin President Gerry Adams who said that Sinn Féin are not in the business of electoral politics for the sake of it but to bring about real change for the better in the lives of citizens.
"The republican struggle was not and is not about bums on seats in the Executive or Parliament Buildings or Leinster House or the EU or any other forum just for the sake of it! Our representatives know this. They are about delivering. They are about using the political strength we have vested in them to deliver the rights and entitlements of citizens and to achieve our republican objectives. We are not in the business of electoral politics for the sake of it but to use the political mandate we receive to bring about real change for the better in the lives of citizens.
"Activism for Irish republicans means being firmly rooted and active in our local community; relevant in the work that we do; and republican in our politics and motivation. Republican politics are about the national and the social: the national and the local. In simple terms our objectives are about a better Ireland, a reunited Ireland, a new inclusive society – and a new national Republic based on equality, freedom and justice.
"There are a number of prongs to our activism and to our strategy. One is about bedding down the peace process. This means completing the implementation of the Good Friday Agreement; on the transfer of powers on policing and justice; on a Bill of Rights and on Acht na Gaeilge. It also means tackling disadvantage and poverty and injustice and delivering effective government. And it's also about reaching out to and engaging with unionism at all levels; community, church, political, the orange order, the working class and middle class.
"We who want a United Ireland must be prepared to persuade those who don't of the merits of our position. While all this is a huge challenge in many ways the work we do in the South is just as difficult.
"Since 1927 the politics of the southern state has been dominated by the two big conservative parties, Fianna Fáil and Fine Gael. The reality is that it is only in recent years that Sinn Féin has been able to seriously take on the task of building a long term political strategy in the south. It is a slow process but republicans are about changing political conditions so that citizens are empowered to make their lives better, to reclaim their rights.
"The Irish government purports to be republican. There is nothing republican about its policies. It is not about equality or citizens rights. It is a bad government, taking bad decisions, in the interests of its money lender friends in the banks and among the developers.
"The decisions that have been taken so far and the decisions likely to emerge out of the McCarthy Report and in the budget later this year, amount to an attack on the most vulnerable and disadvantaged in society. Instead of taxing the wealthy the Irish government is slashing public services and jobs and beating up on the unemployed, the elderly, the children and the sick.
"There is an urgent need to build opposition to the coalition government, and to the conservative forces in the state. They cannot be allowed to destroy the social fabric of Irish society. Our responsibility is to make republicanism relevant to our time by bringing forward commonsense and practical solutions to the chaos the conservative parties have caused.
"What is needed is a new politics delivering and implementing new policies that protect jobs, create new jobs, invest in public services and remove the threat of homelessness from tens of thousands of families.
"There are lots of potential allies out there. The prison protests in Armagh and the H-Blocks brought together many people who disagreed on other issues. The hunger strikes became a catalyst for a huge mass movement.
"In dire economic times, not dissimilar to today, prison candidates including Martin Hurson, received substantial votes and two prisoners were elected TDs. So while building Sinn Féin, we also have to help build an alliance for change. We have to come together with others to forge a stronger, united progressive and democratic movement for our country – one that aims to meet the needs of all citizens.
"Just as we did in that long hard summer of 1981. I believe that this can be done."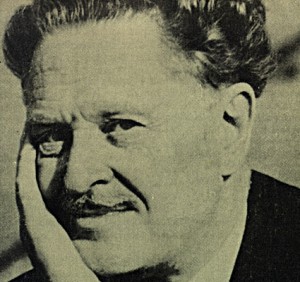 Nâzım Hikmet was once declared by the Turkish state as a traitor. But almost fifty years after his death, this year the Deputy Prime Minister Cemil Cicek announced that "Turkey is restoring the citizenship of its most famous 20th century poet Nâzım Hikmet". Mick Hall, in a feature solicited by the Bobby Sands Trust, examines the life of this great poet.
Nâzım Hikmet, Communist Poet
By Mick Hall
Nâzım Hikmet was truly a man of his age, and when reading his work it is easy to see why it enraged the bureaucrats who oversaw the Turkish State. For the more his jailers turned the screw the more he rebelled against their brutality and proclaimed for all to see the beauty in the world and that within his fellow man.
Born in 1901 into a wealthy bourgeois family which had strong connection within the Ottoman Court, his grandfather belonged to the liberal Mevlevi order of Islam (Sufi), whose religious rituals included expressing their faith through dance. Throughout the Ottoman period the Mevlevi order was famous for its poets and musicians. They also helped man the upper echelons of the bureaucracy of the Ottoman Empire and Caliphate.
Nâzım Hikmet was educated in the tradition of an upper class Turkish child of his day. His schooling was in French and at 16 he entered a prestigious naval academy, graduating in 1918. However, after being posted to a war ship he became ill and having spent a year in hospital he was discharge from the Navy in 1920 for health reasons.
At the end of WW1, the Ottoman Empire, which had sided with Germany in that needless, bloody conflagration, crumbled into dust and its capital, Istanbul, and much of modern day Turkey were occupied by the armies of the victorious Allies, who planned to carve up these lands between the UK, France, Italy and Greece, leaving the Turks only a small piece of land in central Anatolia.
Having become radicalized by 'Ataturk's' (Mustafa Kemal's) call to liberate Turkey from the foreign invaders, Hikmet wrote a poem called Gençlik, (Youth) which was a call to the younger generation to fight for the liberation of their country.
On 1 January 1921, Hikmet was able to make his way covertly from Istanbul to central Turkey with the help of an illegal organization which provided weapons to Mustafa Kemal's emerging army, who were then based, along with the command of the resistance movement, at a small town called Ankara, which then was famous for sheep that produced angora wool; and today is the capital of the Turkish Republic.
The publication of Gençlik caused a stir amongst tens of thousands of young Turks, who were enthused by it to join the struggle to liberate Turkey from its foreign occupiers. When he arrived in Ankara, Nâzım Hikmet was summoned to meet Mustafa Kemal, who advised him, "In order to be modern, some young poets write theme-less poems. I advise you to write poetry with an aim." Ataturk then arranged for Hikmet to work at the fledgling 'Ministry of Education,' probably realizing that he would be out of harm's way and more valuable there than at the front, especially given that at the time Kemal had more men than he had arms to supply them with.
It was during this time that Nâzım Hikmet came into contact with people who spoke favourably about the Russian Revolution. That Lenin's government had been the first to recognize Kemal's provisional government must have further endeared the Bolsheviks to Hikmet.
Nevertheless, it was not only the town Ankara that was a backward and conservative place, so too were many senior members of Ataturk's army, staffed as it was by men like Kemal who were former officers in the Ottoman armies, many of whom had been trained in staff colleges manned by teachers seconded from the Kaiser's army. Thus word soon reached Ziya Hilmi, a senior official in the provisional government, about a group of young men who refused to attend the mosque and argued about left-wing radical ideas. It was one thing for Ataturk and his immediate entourage to push the political envelope wide, but quite another thing to allow all and sundry.
Whilst not unsympathetic to radical ideas himself, Hilmi knew that for Ataturk winning the war of liberation took precedent; and, he concluded, Hikmet would be safer abroad. Thus Hikmet and a fellow poet Vâlâ Nureddin went to Moscow to study and experience the Russian revolution at first hand. It was here he came under the influence of Vladimir Mayakovski, Meyerhold and other Soviet poets, musicians and artists who belonged to the Left Art Front.
Hikmet returned to Turkey in 1924, not long after the Turkish War of Independence had ended in a victory for Ataturk's forces and the foundation of the Turkish Republic. But he was soon arrested for working on a leftist magazine. In 1926 he managed to avoid a police round-up of leftists by again going to Russia, where he continued writing poetry and plays.
A general amnesty allowed him to return to Turkey in 1928. By then he had joined the Turkish Communist Party, which had been outlawed, and he found himself under constant surveillance by the new Republic's secret police and spent five of the next ten years in prison, on a variety of trumped-up charges. In 1933, for example, he was remanded in jail for putting illegal posters in a public place, but when his case came to trial it was thrown out of court for lack of evidence.
Meanwhile, between 1929 and 1936 he published nine books, five collections and four long poems that revolutionized Turkish poetry, flouting Ottoman literary conventions and introducing free verse and colloquial diction. While these poems established him as a major poet, he also published several plays and novels and to keep the wolf from the door he also worked as a bookbinder, proof-reader, journalist, translator, and screenwriter to support an extended family that included his second wife, her two children, and his widowed mother.
With Mustafa Kemal 'Atatürk' dead, the Turkish State, having failed to break Nâzım Hikmet's political will, then decided to lock him away for good, by placing him before a drumhead court and on the night of 17 January 1938, he was arrested by the police. He was sent to the Military Court of the Military College Headquarters in Ankara to be tried for "provoking military personnel to rebel against their superiors." He was found guilty and sentenced to 15 years, although the State was not done with Nâzım as it was determined to place a double lock on his cell door.
To ensure this happened he was then brought before the Military Court of the Naval Headquarters, charged with having "provoking naval soldiers to rebellion." For this imaginary 'crime' the gallant admirals sentenced Nâzım Hikmet to a further 25 years.
Although feeling victorious they pared the 35 years down to 28 years and 4 months in total prison time. This sentence was approved by the Military Supreme Court on 29 December 1938 and Hikmet disappeared into the dark vault that was, and still is, the Turkish penal system.
Far from being silenced Nâzım Hikmet wrote ferociously for the next 12 years, smuggling new poems out of the jails on scraps of paper. On completing a poem he would read it to his friends amongst his fellow inmates who looked forward to these readings as they took them beyond the prison walls.
After WW2 ended a campaign to free Hikmet gradually built up steam, both within Turkey and abroad, where a committee was set up in 1949 to campaign for his release. It included the leading artist and writers of the day including the poet Pablo Neruda, Picasso, the singer Paul Robeson and intellectuals like Jean Paul Sarte and Bertrand Russell.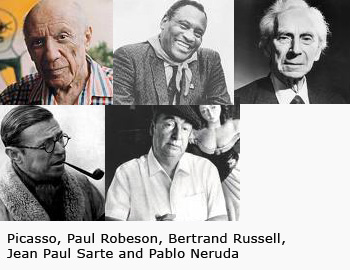 It was during this period that Hikmet engaged in an 18-day hunger strike to further pressure the Turkish authorities. On 15 July 1950, shortly after Turkey's first 'democratically' elected government came to power, he was told by his lawyer that he was free at last.
However, the security services had not given up on him and within a short time of being released their persecution of him began again. Reluctantly Nâzım Hikmet was once again forced into exile. Given a house outside of Moscow, he travelled widely in Europe, Asia, Cuba and Africa, promoting his work and the causes he believed in. He died of a heart attack in 1963.
Whilst persecuted by the Turkish State in his own lifetime and his books and poems banned, Nâzım Hikmet is today revered by the overwhelming majority of the Turkish people. At the turn of the 21st century over 500,000 Turks signed a petition demanding that the government restore Hikmet's citizenship. Ask any Turk who their nation's greatest poet is and resoundingly they will reply Nâzım Hikmet, often quoting a verse of one of his poems to prove their love.
Sensing the public's great love for the man and his work, Turkey's political elite do likewise. Whether they be on the political left, centre or right, they now all sing the praise of this radical communist internationalist.
The current Islamic AKP government is no exception. Over 50 years after the Turkish State branded Hikmet a traitor and withdrew his citizenship, Deputy Prime Minister Cemil Cicek recently announced that "Turkey is restoring the citizenship of its most famous 20th century poet Nâzım Hikmet."
Myself, I have absolutely no doubt that 50 years on, the Irish political elite will be glorifying Bobby Sands and, as with the aforementioned Turkish political elite, they will be doing so, for all the wrong reasons.
SOME ADVICE TO THOSE WHO WILL SERVE TIME IN PRISON
If instead of being hanged by the neck
You're thrown inside
for not giving up hope
in the world, your country, your people,
if you do ten or fifteen years
apart from the time you have left,
you won't say,
"Better I had swung from the end of a rope
like a flag" –
You'll put your foot down and live.
It may not be a pleasure exactly,
but it's your solemn duty
to live one more day
to spite the enemy.
Part of you may live alone inside,
like a tone at the bottom of a well.
But the other part
must be so caught up
in the flurry of the world
that you shiver there inside
when outside, at forty days' distance, a leaf moves.
To wait for letters inside,
to sing sad songs,
or to lie awake all night staring at the ceiling
is sweet but dangerous.
Look at your face from shave to shave,
forget your age,
watch out for lice
and for spring nights,
and always remember
to eat every last piece of bread-
also, don't forget to laugh heartily.
And who knows,
the woman you love may stop loving you.
Don't say it's no big thing:
it's like the snapping of a green branch
to the man inside.
To think of roses and gardens inside is bad,
to think of seas and mountains is good.
Read and write without rest,
and I also advise weaving
and making mirrors.
I mean, it's not that you can't pass
ten or fifteen years inside
and more –
you can,
as long as the jewel
on the left side of your chest doesn't lose it's luster!
Nazim Hikmet – May 1949. Trans. by Randy Blasing and Mutlu Konuk (1993)
——————————————-
PLEA
This country shaped like the head of a mare
Coming full gallop from far off Asia
To stretch into the Mediterranean
THIS COUNTRY IS OURS.
Bloody wrists, clenched teeth
bare feet,
Land like a precious silk carpet
THIS HELL, THIS PARADISE IS OURS.
Let the doors be shut that belong to others
Let them never open again
Do away with the enslaving of man by man
THIS PLEA IS OURS.
To live! Like a tree alone and free
Like a forest in brotherhood
THIS YEARNING IS OURS.
—————————————
LETTERS FROM A MAN IN SOLITARY
1
I carved your name on my watchband
with my fingernail.
Where I am, you know,
I don't have a pearl-handled jackknife
(they won't give me anything sharp)
or a plane tree with its head in the clouds.
Trees may grow in the yard,
but I'm not allowed
to see the sky overhead…..
How many others are in this place?
I don't know.
I'm alone far from them,
they're all together far from me.
To talk anyone besides myself
is forbidden.
So I talk to myself.
But I find my conversation so boring,
my dear wife, that I sing songs.
And what do you know,
that awful, always off-key voice of mine
touches me so
that my heart breaks.
And just like the barefoot orphan
lost in the snow
in those old sad stories, my heart
– with moist blue eyes
and a little red runny rose-
wants to snuggle up in your arms.
It doesn't make me blush
that right now
I'm this weak,
this selfish,
this human simply.
No doubt my state can be explained
physiologically, psychologically, etc.
Or maybe it's
this barred window,
this earthen jug,
these four walls,
which for months have kept me from hearing
another human voice.
It's five o'clock, my dear.
Outside,
with its dryness,
eerie whispers,
mud roof,
and lame, skinny horse
standing motionless in infinity
-I mean, it's enough to drive the man inside crazy with grief-
outside, with all its machinery and all its art,
a plains night comes down red on treeless space.
Again today, night will fall in no time.
A light will circle the lame, skinny horse.
And the treeless space, in this hopeless landscape
stretched out before me like the body of a hard man,
will suddenly be filled with stars.
We'll reach the inevitable end once more,
which is to say the stage is set
again today for an elaborate nostalgia.
Me,
the man inside,
once more I'll exhibit my customary talent,
and singing an old-fashioned lament
in the reedy voice of my childhood,
once more, by God, it will crush my unhappy heart
to hear you inside my head,
so far
away, as if I were watching you
in a smoky, broken mirror…
2
It's spring outside, my dear wife, spring.
Outside on the plain, suddenly the smell
of fresh earth, birds singing, etc.
It's spring, my dear wife,
the plain outside sparkles…
And inside the bed comes alive with bugs,
the water jug no longer freezes,
and in the morning sun floods the concrete…
The sun-
every day till noon now
it comes and goes
from me, flashing off
and on…
And as the day turns to afternoon, shadows climb the walls,
the glass of the barred window catches fire,
and it's night outside,
a cloudless spring night…
And inside this is spring's darkest hour.
In short, the demon called freedom,
with its glittering scales and fiery eyes,
possesses the man inside
especially in spring…
I know this from experience, my dear wife,
from experience…
3
Sunday today.
Today they took me out in the sun for the first time.
And I just stood there, struck for the first time in my life
by how far away the sky is,
how blue
and how wide.
Then I respectfully sat down on the earth.
I leaned back against the wall.
For a moment no trap to fall into,
no struggle, no freedom, no wife.
Only earth, sun, and me…
I am happy.
Nazim Hikmet – 1938. Trans. by Randy Blasing and Mutlu Konuk (1993)
——————————————————————-
A SAD STATE OF FREEDOM
You waste the attention of your eyes,
the glittering labour of your hands,
and knead the dough enough for dozens of loaves
of which you'll taste not a morsel;
you are free to slave for others-
you are free to make the rich richer.
The moment you're born
they plant around you
mills that grind lies
lies to last you a lifetime.
You keep thinking in your great freedom
a finger on your temple
free to have a free conscience.
Your head bent as if half-cut from the nape,
your arms long, hanging,
your saunter about in your great freedom:
you're free
with the freedom of being unemployed.
You love your country
as the nearest, most precious thing to you.
But one day, for example,
they may endorse it over to America,
and you, too, with your great freedom-
you have the freedom to become an air-base.
You may proclaim that one must live
not as a tool, a number or a link
but as a human being-
then at once they handcuff your wrists.
You are free to be arrested, imprisoned
and even hanged.
There's neither an iron, wooden
nor a tulle curtain
in your life;
there's no need to choose freedom:
you are free.
But this kind of freedom
is a sad affair under the stars.
Nazim Hikmet
————————————————–
THE STRANGEST CREATURE ON EARTH
You're like a scorpion, my brother,
you live in cowardly darkness
like a scorpion.
You're like a sparrow, my brother,
always in a sparrow's flutter.
You're like a clam, my brother,
closed like a clam, content,
And you're frightening, my brother,
like the mouth of an extinct volcano.
Not one,
not five-
unfortunately, you number millions.
You're like a sheep, my brother:
when the cloaked drover raises his stick,
you quickly join the flock
and run, almost proudly, to the slaughterhouse.
I mean you're strangest creature on earth-
even stranger than the fish
that couldn't see the ocean for the water.
And the oppression in this world
is thanks to you.
And if we're hungry, tired, covered with blood,
and still being crushed like grapes for our wine,
the fault is yours-
I can hardly bring myself to say it,
but most of the fault, my dear brother, is yours.
Nazim Hikmet – 1947.Trans. by Randy Blasing and Mutlu Konuk (1993)
———————————————————–
LETTER TO MY WIFE
11-11-19933
Bursa Prison
My one and only!
Your last letter says:
"My head is throbbing,
my heart is stunned!"
You say:
"If they hang you,
if I lose you,
I'll die!"
You'll live, my dear-
my memory will vanish like black smoke in the wind.
Of course you'll live, red-haired lady of my heart:
in the twentieth century
grief lasts
at most a year.
Death-
a body swinging from a rope.
My heart
can't accept such a death.
But
you can bet
if some poor gypsy's hairy black
spidery hand
slips a noose
around my neck,
they'll look in vain for fear
in Nazim's
blue eyes!
In the twilight of my last morning
I
will see my friends and you,
and I'll go
to my grave
regretting nothing but an unfinished song…
My wife!
Good-hearted,
golden,
eyes sweeter than honey-my bee!
Why did I write you
they want to hang me?
The trial has hardly begun,
and they don't just pluck a man's head
like a turnip.
Look, forget all this.
If you have any money,
buy me some flannel underwear:
my sciatica is acting up again.
And don't forget,
a prisoner's wife
must always think good thoughts.
—————————————————————
LAST WILL AND TESTAMENT
Comrades, if I don't live to see the day
– I mean,if I die before freedom comes –
take me away
and bury me in a village cemetery in Anatolia.
The worker Osman whom Hassan Bey ordered shot
can lie on one side of me, and on the other side
the martyr Aysha, who gave birth in the rye
and died inside of forty days.
Tractors and songs can pass below the cemetery –
in the dawn light, new people, the smell of burnt gasoline,
fields held in common, water in canals,
no drought or fear of the police.
Of course, we won't hear those songs:
the dead lie stretched out underground
and rot like black branches,
deaf, dumb, and blind under the earth.
But, I sang those songs
before they were written,
I smelled the burnt gasoline
before the blueprints for the tractors were drawn.
As for my neighbors,
the worker Osman and the martyr Aysha,
they felt the great longing while alive,
maybe without even knowing it.
Comrades, if I die before that day, I mean
– and it's looking more and more likely –
bury me in a village cemetery in Anatolia,
and if there's one handy,
a plane tree could stand at my head,
I wouldn't need a stone or anything.
Nazim Hikmet, 27 April 1953, Moscow, Barviha Hospital
————————————————————
I love my country . . .
I love my country . . .
I swung in its lofty trees, I lay in its prisons.
Nothing relieves my depression
Like the songs and tobacco of my country.
. . . and then my working, honest, brave people.
Ready to accept with the joy of a wondering child,
everything,
progressive, lovely, good,
half hungry, half full.
half slave . . .
(Memleketimi seviyorum [I love my country].
——————————————————————————–
Organized Rage
http://www.organizedrage.com/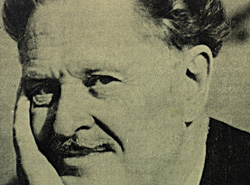 Veteran journalist David McKittrick was interviewed on BBC Radio 4's 'The Westminster Hour' (26th July) and related a conversation with a Tory MP who thought the British government had won the hunger strike, though McKittrick soon corrected that perception. The following is an account of the exchange and is then followed by a full transcription from that part of the BBC programme by Olivia O'Leary. O'Leary interviewed various journalists and politicians about the Irish lobby within the British parliament – 'Strangers in the Lobby' – on how the role of Irish journalists was affected by the Troubles.
David McKittrick: "I went to London in 1981 – the hunger strikes were just ending at that point – ten republicans were dead. The British, they weren't triumphant but they thought they had won. And I remember saying to a Tory MP – we were speaking at a conference and saying – who do you think won this? And he looked at me  – didn't know what I was talking about and I said  – look, clearly Bobby Sands didn't win the hunger strike, he's dead.  But the people that won it are his party Sinn Fein and his violent group the IRA. They won that because they're doing very well. And I got incomprehension about this. They thought that the IRA had pitted itself against Margaret Thatcher and had been defeated.  And I was saying – no there's a big political backlash here – Sinn Fein is going to get into politics and it's going to get a huge vote. So I was thinking this was a terrible time because the IRA is making advances. They thought that they had done very well in the hunger strikes and they thought, I think some of them thought that a corner had been turned and that terrorism would soon been defeated and the IRA would go away."
Full transcription:
Olivia O'Leary: A vivid recollection from Brian O'Connell, a Westminster based London correspondent for the Irish state broadcaster, RTE.
Brian O'Connell: President Chirac had come to London. There was a news conference. I got a call from Downing Street asking me if I would go and ask a question about Northern Ireland.  I said – what question would you like me to ask – and they said – well, any question you like.
Tony Blair:  Right. Thank you all very much indeed for attending this press conference at the conclusion of the er …
BO:  It was very, very crowded…
TB:  … of the Anglo-French summit and …
BO:  … but they'd kept me a seat in the front row. When it looked like the news conference was about to wrap up Tony Blair suddenly turned, pointed at me in the front row and said …
TB: Your question … which is … which I particularly wanted to give …
BO:  Brian O'Connell for RTE, a question, Prime Minister on Northern Ireland …
BO: Because for him, Northern Ireland was a good news story.
Olivia O'Leary:  Yes, Brian. The Prime Minister made sure that the Irish state broadcaster RTE's London correspondent Brian O'Connell got a seat in the front row when Ireland was good news.  But even when it wasn't, in my time, when Dublin and London were at odds and the IRA was bombing Britain and British politicians the Irish media were always given special treatment. They were full members of the Westminster lobby with the briefings and the access given only to the British press. It's a left-over from empire. After Irish independence the then pro-British Irish Times was allowed to remain in the lobby and it was felt unfair to leave the others out. Veteran foreign reporter Connor O'Cleary used to be The Irish Times London man.
C O'Cleary: The Irish Times correspondent and other Irish reporters could go to these lobby briefings and sit in with the British parliamentary correspondents. And we could also actually go into the lobby which is beside the chamber and get past the sergeant at arms past and accost MPs and ministers in the lobby. So we were sort of strangers in the House but right at the heart of the beast.
Kevin MacNamara: It was a relic of history and nobody was particularly going to want to make a particular issue out of it.
OO: Former MP and Labour Northern Ireland spokesman Kevin McNamara dealt with them for years. Were the Irish not regarded as strangers and potentially hostile strangers at that?
KM: No, I don't think so… and I don't think so because they were a particularly fine body of men and women. Everybody knew who they were there, they were very helpful, they were highly intelligent, they were fine ambassadors for their papers and for their country. Yes they represented Irish papers and that was known but they weren't stuck out of … harps tattooed on their forehead or having to wear green armbands or anything. They were just taken as being part of the crowd, part of the media that was at the Palace of Westminster.
OO: But how easy was it for the Irish being at the heart of the old imperial power? Connor O'Cleary couldn't quite forget his history.-
C O'Cleary: Well, you know you walk into the House of Commons and you're surrounded by the statues of the villains of your historical make up.
OO: Like?
CO: Well, Churchill and people like that who, you know as an Irish Nationalist Churchill was not a very sympathetic figure. But at the same time I felt an enormous sense of privilege being able to walk into the lobby beside the chamber and stop members of parliament, even ministers and ask them questions about issues of the day. So that feeling of privilege overwhelmed any other feelings I might have.
OO: There was a sense of privilege and, you know, sometimes I wonder if we felt it too much. As an Irish reporter in the 70s coming into Westminster after the IRA had bombed Birmingham and Guildford I was struck by the fact that nobody ever associated me with those IRA attacks, nor should they. But I was so relieved and even seduced by that general British civility and acceptance that perhaps I didn't question enough in wider coverage the convictions of Irish people for those bombings convictions that later proved to be appalling miscarriages of justice.  Representing as we did the Irish media it was important not to feel too comfortable and journalists who asked awkward questions as  Connor O'Cleary and others did occasionally DID feel uncomfortable.
CO: There were times when I felt a bit uneasy … the feeling that other journalists in the parliamentary lobby might be thinking that they would get more get more out of the Prime Minister's  press secretary on issues concerning Ireland if I wasn't there. That there might be more of conspiratorial discussion about what policy was on Ireland if there wasn't an eavesdropper like me sitting in the lobby.
OO: Still, Northern Ireland was the big story for us.  Northern Ireland for three decades was ruled from Westminster and to have the ease of access that we did to Westminster decision-makers was extraordinary.
CO: One of the advantages of being a lobby correspondent was that one could be a member of the Newspaper Society which was an organisation to which London editors belonged and it held lunches for important politicians, occasionally the prime minister of the day.  I remember Margaret Thatcher coming in once and seeing Aidan Hennigan of the Irish press and me and putting her arm round both of us and asking us how the elections were going in Ireland that day.  So you had an intimacy there which you couldn't get otherwise.
OO: And it was an intimacy that didn't go unnoticed by other foreign journalists as David McKittrick, another Irish Times man remembers.
David McKittrick:  People like the Commonwealth Association, they did resent the access we had and they had their own separate room but the thing was they weren't allowed if my memory is correct into the main lobby but they also weren't allowed into the daily briefings which are run by the Prime Minister's spokespeople.
OO: So, we Irish got access to the heart of Westminster. But what did the British gain from us being there?
Kevin MacNamara:  The other side of the coin. The question, the challenge to what was being put out by the publicity machines of the Northern Ireland Office or Stormont or of the British government. The fact that there were people there saying you know – hey – it's not quite like that – just look at this. You only just have to look at the  struggle that we had to try and get equality and fair employment and things like that established in the north, how much more difficult that would have been if there hadn't been other people there questioning what was going on in the north and it wasn't left to a small group of mainly Irish descent members of the Labour party, a couple of liberals who were raising these issues and the fact that there was a lobby there of Irish journalists meant that we weren't cranks, that we were representing and showing that there were other opinions and other issues which had to be raised.
DM:  I went to London in 1981 – the hunger strikes were just ending at that point – ten republicans were dead. The British, they weren't triumphant but they thought they had won. And I remember saying to a Tory MP – we were speaking at a conference and saying – who do you think won this? And he looked at me  – didn't know what I was talking about and I said  – look, clearly Bobby Sands didn't win the hunger strike, he's dead.  But the people that won it are his party Sinn Fein and his violent group the IRA. They won that because they're doing very well. And I got incomprehension about this. They thought that the IRA had pitted itself against Margaret Thatcher and had been defeated.  And I was saying – no there's a big political backlash here – Sinn Fein is going to get into politics and it's going to get a huge vote. So I was thinking this was a terrible time because the IRA is making advances. They thought that they had done very well in the hunger strikes and they thought, I think some of them thought that a corner had been turned and that terrorism would soon been defeated and the IRA would go away.
OO: The Irish left their mark. One Irish journalist, disgusted by Britain's small drinks measure established what he christened 'the family measure' still to be had at Westminster. Indeed it was often outside the formal channels that the Irish made their presence felt at the bars and the restaurants around the outside the House of Commons and as the Guardian's parliamentary sketch writer Simon Hoggart remembers, at the Irish Embassy.
SH: The Irish affairs department as represented through the embassy in Britain never ever attempted to use direct propaganda, never ever attempted to say well this is what we think you've got to understand our point of view. They used a very, very different strategy altogether which was extremely successful. They invited us to parties. Not just because we were going to get drunk, that wasn't the point at all. But they were able to bring journalists and politicians to the Irish embassy where they met not only Irish diplomats but people from Ireland, writers, actors generally the whole cultural life of Ireland as it is lived very richly in London.  And so what we were left with was the impression that Ireland far from being a bunch of criminals who went around murdering people and blowing up people were a bunch of cultured, thoughtful, literate, civilised people and this I think helped to keep the British government and British politicians as well as the British press very much more on the Irish side than would otherwise have been the case.  It was a brilliant piece of p.r. basically by the Irish using Ireland as the best publicity that the Irish government could possibly have, and it worked triumphantly.
OO: Veterans of the Irish hospitality war like Hoggart worked out counter-strategies.
SH: I always stick to the Guinness because it means that if I'm going to have another drink I have to actually leave the conversation I'm in, walk to the other end of the room and get another drink, which slows me down quite a bit. It's the only possible strategy for dealing with the Irish Embassy party which I may say are without doubt the most loved and the most popular of all embassy parties in London.
OO: That good cheer and good publicity were needed when the troubles and the headlines were at their worst. But ironically as things improved and the peace process took hold the story became more complex. RTE's man Brian O'Connell explains.
BO: I remember one instance when I asked at a lobby briefing some technical question to Alastair Campbell about a meeting that the then Taioseach Bertie Ahern had had with Tony Blair and what had come out of it and the understanding – Bertie Ahern's understanding was obviously at odds with Tony Blair's understanding of what had happened at the meeting.  Alastair Campbell answered the question as best he could and afterwards on the way out he accosted me and said – for God's sake don't do that – and I said – it's a perfectly legitimate question to ask. He said  – No, no I'm not saying don't ask me the question, but don't ask in front of them – he said pointing over his shoulder at all the other lobby correspondents disappearing  – he said,  – because now they think there's a story in it. Now I've got to go and talk down that story. It just goes to illustrate how Northern Ireland really had to be put under their noses before they would agree to run it. Partly because they were afraid of it and partly because they didn't really understand it anyway.
OO: The change in Northern Ireland could not have happened without the change first in relations between London and Dublin. That has transformed the way that both countries see one another. And it's changed the job of the Irish lobby at Westminster.
David McKittrick: It used to be that the Irish were forever saying to the British – you should change your policy you need to do a bit more of this and a bit more of that. What we've had for the last ten years is really a confluence of interest and a confluence of approach. You have London and Dublin, disagreeing on various issues, but on none of the big major issues. They both got together in the peace process, they both regarded the peace process as the thing to do, they both regarded it as wholeheartedly in their own interests and they both pursued it. And in my day there wasn't a sense of partnership. But for the last ten years there has been an amazing sense of London/ Dublin partnership – something entirely new, something that has transformed Anglo/Irish relations.
OO: Westminster for all its recent scandals is still a place where history is made and where much of Irish history has been made. And Irish journalists who've worked there have found that it still has something to teach them.
OO: I certainly gained a greater appreciation of the power of oratory to settle big national issues. I also learned that Ireland wasn't the number one issue in the minds of British politicians every hour of the day as one might be inclined to think looking at it from the other side of the Irish Sea.
O O'Leary: And that's true. It was a salutary lesson to us coming from Ireland to find how little we figured in the great British scheme of things. Tony Blair was an exception to that and his efforts are reflected in Northern Ireland today. The process of peace there has allowed Irish people and Irish journalists at Westminster to move away from the old wounds and concentrate on a more normal relationship with our nearest neighbour on ordinary things like trade, on relations within the EU, on the sporting and cultural and family links that bind all of us on these islands. We're not such strangers any more, you see. Maybe we never really were.