A vigil and wreath laying ceremony is to take place in West Belfast on Sunday, 2nd August, at 12 noon to mark the 28th anniversary of the death on hunger strike of Volunteer Kieran Doherty TD.
Speaking in advance of the vigil and wreath laying ceremony, Sinn Fein MLA Paul Maskey said:
''Kieran Doherty's involvement in the Republican movement began in 1971 when he joined the Fianna.
''He was interned by the British in Long Kesh from February 1973 to November 1975 and was among the last internees released.
''In August 1976 he was arrested again, charged with possession of firearms and explosives and remanded in Crumlin Road Jail.
''In January 1978, he was sentenced to 18 years and was brought to the H-Blocks where he joined his comrades on the blanket protest immediately.
''Kieran commenced his hunger strike on Friday, 22nd May, 1981.
''In June '81 he was elected by the Irish people as a TD for the constituency of Cavan/Monaghan, receiving 9,121 votes.
''Kieran, from Andersonstown, died on 2nd August 1981, aged 25, after 73 days on hunger strike.
''He is remembered as a loving son and brother to his family, a valued and popular member of the Andersonstown community, a great friend and an exceptional comrade.
''His dedication and determination epitomise the spirit of freedom that lives on today in West Belfast and throughout Ireland.
''So, on Sunday, 2nd August, at 12 noon, we are gathering outside Casement Park where we will hold a vigil. We will then walk up Slemish Way to the Kieran Doherty monument at Commedagh Drive where a short wreath laying ceremony will take place.
''We would ask people to come along and remember Kieran and all the Hunger Strikers with pride.''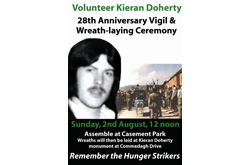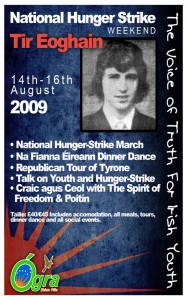 For the first time the National Hunger Strike march will be taking place in County Tyrone, remembering all the hunger strikers and in particular Tyrone's Martin Hurson who was the sixth prisoner to die, on the 13th July, 1981. The march will assemble in Galbally at 3.30pm and is part of a commemorative weekend that includes a Youth Weekend.
The weekend is open is open to young republicans aged 16 – 29, and will include the march, public talks, a republican tour, Na Fianna dinner dance, plaque unveiling to Na Fianna, and craic agus ceol with Poitín and 'The Spirit of Freedom'.
The cost of the weekend has been kept to an absolute minimum of £40/45E which needs to be paid no later than Friday 31st July. Hostel accommodation and all meals and entertainment (including dinner dance) are provided as part of the weekend cost, though people are asked to bring a sleeping bag. All those attending who are not marching as part of a band are asked to bring a white long sleeve shirt, black trousers and black shoes/boots (we will provide Green Beret and yellow neckerchief) as Ógra will be forming up as a large Na Fianna Éireann contingent for the National Hunger Strike March. For more information, contact Kerry McColgan on 07885569940, or email osfnational@yahoo.ie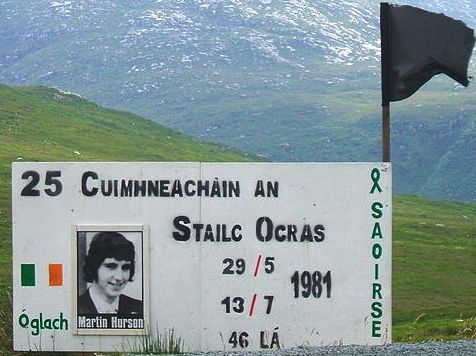 On this day, Monday 13th July 1981, 24-year-old Martin Hurson from County Tyrone died after forty six days on hunger strike. Martin had joined the hunger striker in late May, replacing Brendan McLoughlin who had been forced to drop out because of a burst stomach ulcer. However, Martin's condition unexpectedly quickly deteriorated around the forty-day mark and four days later he died.
Martin had been tortured and framed by the RUC at the time of arrest and convicted in a Diplock kangaroo court.
The Hursons are one of the most respected republican families in Tyrone. One of Martin's brothers, Francie, a Sinn Fein activist, also died young, in his thirties in December 1984. See Martin Hurson profile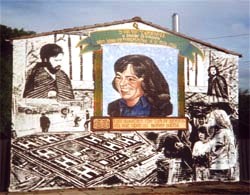 A series of anniversary vigils will take place across Belfast on Wednesday, 8th July, to mark the 28th anniversary of the death on hunger strike of IRA Volunteer Joe McDonnell. Joe, a 30 year old married man with two children from the Lenadoon area of West Belfast, died after sixty-one days on hunger strike and was the fifth hunger striker to die.
Former POW and West Belfast Sinn Fein MLA Jennifer McCann in a tribute said: "Joe McDonnell was a deeply committed IRA Volunteer. He was a loving father to his children and a good friend and comrade to many, many people.
"Joe was interned twice in the early 1970s and was arrested again while on active service in 1976 along with Bobby Sands and a number of others. He was sentenced to 14 years and upon entering the H-blocks he refused to wear the prison uniform and joined his comrades on the blanket protest.
"On 9th May, 1981, he commenced his hunger strike, taking the place of his friend and comrade, Bobby Sands, who had died four days earlier on 5th May. In June 1981, during his hunger strike, Joe stood as a candidate in the Sligo/Leitrim constituency during the general election and came very close to being elected.
"Joe McDonnell was a great Irishman and today his name and the names of all the other hunger strikers inspire people in Ireland and across the world. He was a brave and courageous volunteer and that is why we will remember him with pride on Wednesday. I would encourage members of the community to come out and attend the vigils."
The assembly points for the Joe McDonnell anniversary vigils on Wednesday, July 8th, are:
Falls Road Sinn Fein Centre – 5pm
Bottom of Whiterock Road – 5pm
Connolly House Sinn Fein office, Andersonstown Road – 5pm
Stewartstown Road (Front of Dairy Farm Centre) – 5pm
Top of New Lodge Road/Antrim Road junction – 5.30pm
Mountpottinger Road/Short Strand – 5pm