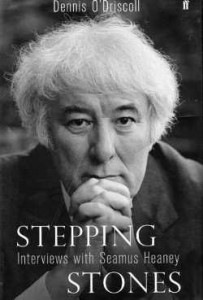 The depiction of a meeting between poet and Nobel Literature Laureate Seamus Heaney and Danny Morrison prior to the 1981 hunger strike has been disputed by the former Sinn Fein Director of Publicity.
Recently, a new book, 'Stepping Stones – Interviews with Seamus Heaney' by Dennis O'Driscoll , was published in which Heaney speaks about his reaction to the situation in the northern jails. Bobby Sands had famously written about poets:
The poet's word is sweet as bird,
Romantic tale and prose.
Of stars above and gentle love
And fragrant breeze that blows.
But write they not a single jot
Of beauty tortured sore.
Don't wonder why such men can lie,
For poets are no more.
In the book Seamus Heaney is reminiscing about old train journeys when he is asked a question by O'Driscoll: Another memorable journey, clearly, was the one you memorialized in 'The Flight Path', where you're hectored by the Republican spokesperson about not writing something for the Republican cause. The poem is stated to be 'for the record', so I assume you described the encounter as it happened.
Heaney replies: "The account of what went on in the train is as it happened, yes. I make the speaker a bit more aggressive than he was at the time, but the presumption of entitlement on his part, which was the main and amazing aspect of that meeting, is rendered faithfully.
How public was the confrontation?
"It was all done pretty discreetly, actually. My interlocutor was the Sinn Fein spokesman, Danny Morrison, whom I didn't particularly know at the time. He came down from his place in the carriage and sat into the seat in front of me for maybe eight or ten minutes. There was nothing loud or noticeable about it; it was as if two people who discovered themselves on the same train by coincidence were getting reacquainted. I didn't feel menaced. It was a straightforward fact-to-face test of will or steadiness. I simply rebelled at being commanded. If anybody was going to pull rank, it wasn't going to be a party spokesman. This was in pre-hunger-strike times, during 'the dirty protest' by Republican prisoners in the H-Blocks. The whole business was weighing on me greatly already and I had toyed with the idea of dedicating the Ugolino translation to the prisoners. But our friend's intervention put paid to any such gesture. After that, I wouldn't give and wasn't so much free to refuse as unfree to accept."
Danny Morrison contradicts this version of their meeting.
"If Seamus wrote a contemporaneous account of what happened, for example, a diary entry, and is quoting from this and not memory then I will bow to his opinion. However, in a letter published about fifteen years ago in a newspaper, I think I am right in saying that he at first said it was Kieran Nugent [the first blanket man] who had approached him. My recollection of our meeting is different. In 1979 and 1980 I had approached many people in public life to ask them to make some kind of statement objecting to the treatment of the blanket men and the women in Armagh Prison. For example, I saw Douglas Gageby, the late editor of the 'Irish Times', in Dublin Airport as both of us were returning from abroad and I lobbied him. He agreed to meet up and I had a meeting with him in Westmoreland Street which resulted in Gageby writing an editorial in the paper.
"I saw Seamus Heaney sitting two seats down across the carriage from where I was. I went over and asked if he minded me sitting down and talking to him. He was very polite. Back then I would not have had the media profile I later had so I explained who I was. I told him about the dire situation in the jails and the fact that the prisoners were talking about going on hunger strike. I asked him to consider if there was anything he could do on their behalf, if he could add his voice to the growing complaints. For example, Archbishop O Fiaich had, by this time, visited the H-Blocks and, to the embarrassment of the British government, had compared the prison to the sewers of Calcutta.
"Seamus told me he was writing a poem and had been thinking about the prisoners. He told me the story from Dante's Inferno of Count Ugolino who was imprisoned with his children and grandchildren underground and left to starve, Ugolino's eating his dead children's flesh to delay his own starvation. Seamus said he imagined that this could be some sort of metaphor for hunger striking though I was lost as to what he meant.
"In 'Stepping Stones' he says that he felt he was being 'commanded' and for that reason changed his mind and didn't dedicate his Ugolino translation to the prisoners. I find that explanation hard to reconcile with the fact that after our conversation we parted with a handshake, he gave me his address and telephone number and agreed to read the poetry of Bobby Sands [which included criticism of artists and poets for their silence in the face of oppression] and which Sinn Fein was later to publish as the pamphlet 'Prison Poems'. I sent him the poems and he brought them back to the Sinn Fein offices in Parnell Square, Dublin, a week or two later and left a message for me in which he said that the H-Block Trilogy read like or was derivative of Wilde's 'The Ballad of Reading Gaol' [which, of course, its metre was based on].
"And that was the extent of our contact. The collection he had been working on was later published as 'Station Island' and in the eponymous poem he refers to Ugolino and, indeed, there is a reference to Francis Hughes. I mention 'Station Island' in my introduction to the essays on the Hunger Strike the Bobby Sands Trust published in 2006.
"Apparently, given that the poem 'The Flight Path' was not published until 1996 in the collection 'The Spirit Level', it was sixteen years after our discussion before Seamus creatively reacted and in a way, given his explanation and claims in 'Stepping Stones', that I feel has distorted and exaggerated the nature of our exchange."
In 'Stepping Stones' Seamus Heaney elaborates further on 1981. O'Driscoll says: During the H-Block hunger strikes, it must have been impossible not to feel something like guilt at not being able to help alleviate the situation or contribute to its resolution.
"It was impossible, yes. This was during the time when 'Station Island' was being written, and the self-accusation of those days is everywhere in the sequence. Also in individual poems such as 'Chekhov on Sakhalin' and 'Sandstone Keepsake' and 'Away From It All'. Because of my earlier brush with Mr Morrison on the train, during 'the dirty protests', I was highly aware of the propaganda aspect of the hunger strike and cautious about being enlisted. There was realpolitik at work; but, at the same time, you knew you were witnessing something like a sacred drama. If I had followed the logic of the Chekhov poem, I'd have gone to the prison, seen what was happening to the people on the hunger strike and written an account of it, 'not tract, not thesis'. In truth, I was 'away from it all' during those months: at a physical remove, living in Dublin, going on holiday in France.
In 'Frontiers of Writing', you touch on the evening when the body of Francis Hughes – a neighbour's son and the second hunger striker to die – was being waked in his home in County Derry. You were not only in Oxford when he died, but staying – of all places – in a British cabinet minister's rooms.
"It was bewildering. Charles Monteith had brought me as his guest to that year's Chiceley dinner in All Souls College. The Fellow's room I was assigned for the night was one that belonged to Sir Keith Joseph, the then Minister of Education in the Thatcher government. It took me ten years to come back to that occasion and see it as emblematic of the general stalemate. Francis Hughes was a neighbour's child, yes, but he was also a hit man and his Protestant neighbours would have considered him involved in something like a war of genocide against them rather than a war of liberation against the occupying forces of the crown. At that stage, the IRA's self-image as liberators didn't work much magic with me. But neither did the too-brutal simplicity of Margaret Thatcher's 'A crime is a crime is a crime. It is not political.' My own mantra in those days was the remark by Milosz that I quote in 'Away From It All'; 'I was stretched between contemplation of a motionless point and the command to participate actively in history.'
Whatever your proper doubts about the 'propaganda aspect' of the hunger strikes, had you some sympathy for the men, even some admiration for their courage?
"Of course I had. That was part of the cruelty of the predicament. At the same time, I was wary of ennobling their sacrifice beyond its specific history and political context. Uneasy, for example, about seeing it in the light of Yeats's The King's Threshold, his play about a hunger strike in the heroic age, in the other country of the legendary past. Anthropology didn't get you out of the moral corner you were backed into. One thing that had some point, if not great resolution to it, was when I attended the wake of Thomas McElwee, the eighth man to die. He was a cousin of Francis Hughes and lived adjacent. It happened that I was up in County Derry when his remains were returned to his home. I remember the sunny August afternoon when I walked across their yard, into the room where the corpse was laid out. The usual ritual of paying last respects. It gave some relief, to me at least. The family would have known that I wasn't an IRA supporter but they would also have known that this crossing of their threshold was above or beyond the politics that were distressing everybody.
Did they, or the Hughes family, seek your intervention or intercession?
"Never. By that time, I'd been away from the Bellaghy area for twenty years and probably didn't figure much in their minds as a local who could be appealed to."
Did literary friends like Seamus Deane and the Australian poet Vincent Buckley encourage an overt pro-hunger-strike stance?
"I don't recall being pressed by them to change my ways but equally they left me in no doubt that they took a different view. I realized that Vincent Buckley had an unflinching loyalty to the hunger strikers when he began a sequence of poems about them, even naming them individually. As far as I was concerned, Vincent was romanticizing the situation that pertained by then. He was caught in a time loop and was holding on to a late-1960s, early-1970s vision of 'the struggle'. He'd been involved early on in Australia, I think, in fundraising for the internees' families, and had retained contacts with various Republican sympathizers in Ireland. I don't mean IRA volunteers, although Vincent was closer to being a political activist than I could ever have been."
'Stepping Stones – Interviews with Seamus Heaney' is published by Faber and Faber Ltd  at £22.50 and can be ordered through Amazon
For reviews of 'Stepping Stones' see the Sunday Observer ; the Daily Telegraph ; the Scotsman and the Times
The 'Morning Star' newspaper published a feature on last weekend's meeting in London addressed by former IRA prisoner Seanna Walsh after a showing of the film 'Hunger'. Here is the article in full.

STEVE McQueen's film Hunger, which is about former IRA prisoner Bobby Sands's fast to the death in 1981, has been widely acclaimed, but Seanna Walsh offered an emotional insider's critique of the film at the Rio Cinema in London's Dalston on Saturday, highlighting the weaknesses that prevented a good film being truly great.
Walsh was a friend of Sands and is a former IRA prisoner. He endured the "blanket" and no-wash protests between 1976 and 1981 and he was prison OC (commanding officer) in the immediate aftermath of the hunger strike.
McQueen's piece focuses almost entirely on the physical and mental suffering caused by the isolation and boredom of prison and the ordeal of the protests and the slow torture that is a hunger strike. But Walsh's analysis and anecdotes fill in the gaps to give a more complete perspective.
He first points out the most obvious omission. Hunger is devoid of any meaningful political and historical context.
After the onset of The Troubles in 1969, jails filled with republican prisoners and the conditions led to a 1973 hunger strike through which the IRA won prisoner-of-war status for its captured volunteers.
But, in 1976, the then Labour government removed what they named Special Category Status in an attempt to criminalise the republican struggle and defeat the IRA. The protests were a reaction to this.
Walsh dutifully explains all this, but his main critique of the film focuses on the prisoners themselves, their solidarity and motivations. What kept them going for five whole years in such horrendous conditions? The answer, in a word, was comradeship.
Walsh recounts with nostalgia and emotion the solidarity and bonds that kept the men in jail going while "locked in a cell 24 hours a day with four walls and your mind."
In between the beatings and while living in their own shit would be story-telling, Irish lessons, political discussion and debates.
"We even used to play bingo," he says, laughing out loud.
But the most poignant moment in the discussion comes when Walsh identifies what the protest was about and what McQueen hardly picked up on at all.
"What you couldn't see in the film were the bells on the walls of the cells," describes Walsh, adding: "All prison cells have them and, if a prisoner rings one, a screw must come to see what they want, no matter what. It could be due to sickness or any other reason.
"What you don't get from the film, which is crucial to understanding the blanket protest and the hunger strike, is that, at any time over those five years, any prisoner could ring the bell, say, 'right, I've had enough.' The screw would then take them down to the showers, give them prison clothing and they would be issued with a clean cell."
They would also get the 50 per cent remission for conforming to the regime. That is, they would only serve half their sentences for behaving. The brutal conditions would end in a whisker.
Hunger misses that. The protest was about suffering and punishment, but it was also about resistance, protest and a fight for freedom.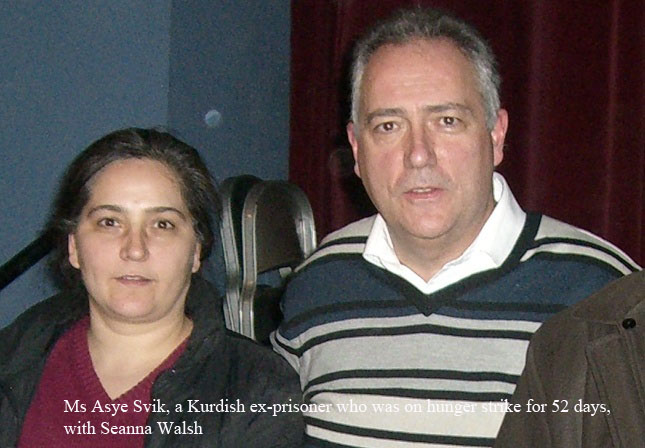 Despite protests and vigils across London against the Israeli war on the Palestinian people drawing large numbers of activists, there was still a good turnout – 200 people – for last Saturday afternoon's screening of 'Hunger', followed by a talk given by former IRA prisoner Seanna Walsh.
'Hunger' was shown in the Rio Cinema, Dalston, and there was hardly a sound until the end of the film. Dalston has a large Muslim population and Diane Abbot is the local Westminster MP. The crowd was made up of a mixture of Irish and London-Irish, active on the politics of Ireland; people from a variety of progressive solidarity groups and causes; and lawyers and barristers who are interested and active in human rights cases in Britain and further afield.
"One of the most interesting groups," says Seanna Walsh, "were from Turkey, both Turks and Kurds, some of whom have suffered terribly at the hands of the Turkish state forces. One woman had suffered 52 days on hunger strike in one of Turkey's infamous F-Block prisons."
After the film there was a broad discussion which ranged from Belfast to Gaza, from the partition of Ireland to the Good Friday Agreement. One audience member asked what lessons could be learned from Ireland. Seanna Walsh made the case that any solution required political pressure on Israel to commit to non-military means and a willingness to negotiate with Hamas as the elected representatives of the Palestinian people.
"There were questions about where we are at now, the power-sharing coalition with the DUP and of course our hopes and plans for a united Ireland."
The audience was well pleased to be informed of the current situation in the struggle. The postcards produced by the Bobby Sands Trust were quickly snapped up with requests for further information about Bobby and the other hunger strikers.
Gary Mitchell, described by the News Letter as a "local Protestant playwright", has complained about the attention the award-winning film 'Hunger' has received. The film has recently been nominated in several categories for this year's Irish Film and Television Awards.
Mitchell complained that films such as 'Hunger' are stopping cinema-goers from seeing "the other side of the story", though what he means by that is unclear given that the majority of film makers have themselves chosen to avoid the 'loyalist' story through a basic lack of sympathy for that cause. [See Why are all the Troubles' films about republicans? ]
Mitchell said: "If you approach people about movies set in the Protestant community in the 70s, 80s, 90s, you're told you're just dragging up badness and you're harping back to the bad old days. But when a film like Hunger comes out it's nominated for awards everywhere. If it's not harping back to the Troubles, or is going to start trouble, what is?"
Belfast-born actor Stuart Graham, who with little or no dialogue manages to portray the complexity/dilemma of a troubled H-Block prison officer, Ray Lohan, has been nominated as Best Actor in a Supporting Role. His co-stars Liam Cunningham and Michael Fassbender, who plays Bobby Sands, are also up for acting awards. The film is nominated in the script, original score, production design and sound categories.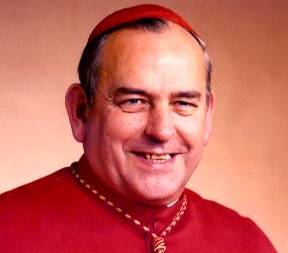 British state papers revealed under the thirty-year rule detail the concern of doctors that beatings were taking place in the three main interrogation centres in the North, and British annoyance at Archbishop O Fiaich's remarks after his visit to the H-Blocks of Long Kesh where he spoke to prisoners on the no wash protest.
At the time, the British government dismissed the allegations of police brutality and RUC Chief Constable Kenneth Newman claimed that prisoners were inflicting the injuries on themselves. Much of the media – with a few honourable exceptions – broadcast these rebuttals as 'fact'. Prisoners who were beaten and signed 'confessions' were subsequently convicted in the non-jury Diplock Courts and sent to the H-Blocks where many joined the hundreds then on the blanket protest and to Armagh Women's Prison.
The doctors involved monitored prisoners at Castlereagh [Belfast], Strand Road [Derry] and Gough Barracks [Armagh]. Their complaints fell on deaf ears and even the Police Authority felt powerless. At a meeting between Newman and the Police Doctors' Association in October 1977 they expressed their concern. At a further meeting in April 1978 between Dr Robert Irwin and senior civil servant Maurice Hayes, Hayes reported that Irwin struck him as "a completely credible witness . . . concerned about his own professional standards and aware of the difficulties of the police. He is not a troublemaker or an agitator but is concerned with the public good . . . and with the human rights of persons in custody…
"Dr Irwin said that the recent report to the Police Authority had effected no change. He was alarmed at the number of prisoners showing signs of injury which could not be self-inflicted. These were continuing and were associated with a group of eight or 10 policemen who were consistently described to the doctors by injured prisoners and were familiarly known as the 'Goon Squad'. He was convinced that these officers were maltreating prisoners under interrogation as a matter of policy approved by the chief constable." More importantly, Hayes added: "The surgeons also feel that they were used to secure a favourable report from Amnesty International and are determined not to be so used again. If asked by Amnesty, they were not prepared to stand over the present practice.
"It is very obvious to me that the doctors are nearly at the end of their patience and getting little satisfaction from the Police Authority and less from the chief constable. Some have been subjected to personal threats by anonymous phone calls."
The papers also show that in December 1977, Joe Cooper, the chairman of the Armagh Prison Board of Visitors wrote to the Northern secretary of state Roy Mason. He said that the board had interviewed six female prisoners at Armagh Jail who had just returned from court, escorted by a detail of the RUC.
"The prisoners were in a very distressed and shocked condition. A couple had torn clothing and others had bruises and marks of having been recently physically assaulted by the RUC escort party at Armagh courthouse…The Board of Visitors were very concerned at the condition of the prisoners who were seen in the prison hospital where they were examined by the Prison Doctor and nurse. It was unanimously decided to minute this concern and to request that the allegations be investigated to prevent a re-occurrence."
Women prisoners continued to be assaulted.
After a damning report by Amnesty International the British government set up the Bennett Inquiry which in March 1979 confirmed medical evidence of ill-treatment at interrogation centres.
H-BLOCKS
The state papers also report on the close monitoring of the blanket protest in the H-Blocks which in March 1978 had escalated into a no-wash/no slop-out protest involving over 320 prisoners after prisoners were assaulted and forced to go naked when slopping out their pots in the toilets. One file on IRA Volunteer Kieran Nugent, the first man on the blanket, shows that he had lost 519 days remission for refusing to wear the prison uniform.
On August 1st, 1978, the Primate of All-Ireland Archbishop [later Cardinal] Tomas O Fiaich visited the H-Blocks and spoke about what he saw: "One would hardly allow an animal to remain in such conditions, let alone a human being," he said, comparing the situation to the slums of Calcutta. "The stench and filth of some cells was unbearable," he added.
Archbishop O Fiaich argued that, contrary to the British government's contention, these prisoners were "in a different category to the ordinary. Many are youthful and come from families which have never been in trouble with the law, though living in areas which suffered great discrimination."
The Northern Ireland Office (NIO) expressed surprise at Archbishop O Fiaich's statement and reiterated the British government's determination to "stand firm in its policy on Special Category status".
Other leading Catholic churchmen had already expressed concern at the deteriorating situation. In May, Bishop Edward Daly of Derry wrote to the NIO proposing a form of 'emergency status' but this was rejected by Junior Minister Don Concannon who said that "there are going to be no concessions on the question of special treatment for prisoners, no matter how such treatment may be described". Emergency status, said Concannon, seemed to imply an amnesty at some stage. [After the hunger strike the prisoners won their five demands and under the Belfast Agreement there was an amnesty.]
In a candid memo to Roy Mason from a prison official, E. Hannigan, dated 20 October, he warns that, "The determination of the protesting prisoners seems strong…They may believe they are winning the propaganda battle which is being controlled by the PIRA… The government's determination is at least equal to the protestors', but the secretary of state needs to take into account the risks which PIRA shrug off. Responsible people and bodies who profess little sympathy with the object of the protest are worried about the disgusting conditions in the H-Blocks and the apparent severity of the regime. They hold the government responsible for doing something about them." In conclusion, the official warned ministers: "Humanitarian concern makes the present regime vulnerable, especially if something goes suddenly wrong, and human concern can turn into political pressure, especially if it emerges that we may be vulnerable at the European Court."