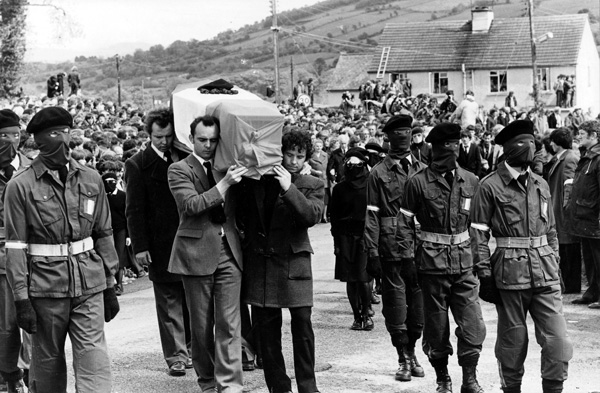 Here are some events taking place in the next two days to commemorate the 35th anniversary of the death on hunger strike of Raymond McCreesh who died at 2.11 a.m. on Thursday, May 21st, 1981, after 61 days on hunger strike.
Friday, 20th May
: There will be a talk in Doyles Bar, Camlough at 9pm, at which Breandan O'Luaois, former comrade of Raymond's and former SF Councillor will reflect on his life. Michael McCreesh, Raymond's brother, will also read some of his letters from the H Blocks.
On Saturday evening
, following 6.30pm mass in Camlough, there will be a commemoration in the graveyard where Megan Fearon MLA will be the main speaker. This will be followed by a parade from the chapel to the hunger strikers monument on Newry Road, Camlough. There will be a function and a showing of a 1981 CD in Shane O'Neills GFC afterwards.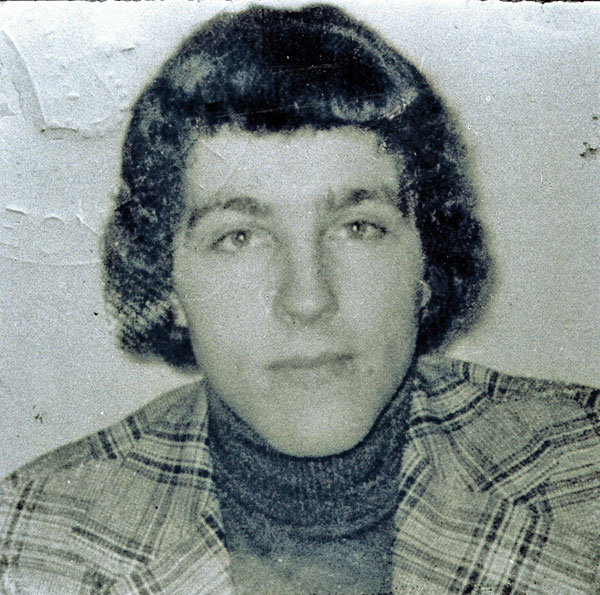 There was a large turn-out in Bellaghy, South Derry, to mark the 35th anniversary of the death of IRA Volunteer Francis Hughes. Supporters and relatives assembled at Gulladuff Road before parading behind bands through Bellaghy to the cemetery of St Mary's on the outskirts of the town where Francis is buried alongside his cousin and fellow hunger striker, Thomas McElwee. Among those in attendance were Pauline McElwee (sister of Thomas McElwee); Bridie Lynch (sister of Kevin Lynch); Mary Davey (widow of John Davey, a former internee and Sinn Féin Councillor assassinated by British agents in 1989); John's daughter Pauline (a former Sinn Féin Councillor); Ian Milne MLA (former PoW); Sean McGlinchey (former PoW), Sinn Féin Councillor; former comrades of Francis, including Seanna Walsh, Tomboy Loudun and Peadar Whelan; and Danny Morrison (Secretary Bobby Sands Trust). Outside the gates of the cemetery a large stage had been erected. Actors in period costume performed scenes from the Easter Rising, including a re-enactment of the court-martial and execution of James Connolly. The main speaker was Sean McGlinchey who spoke simply about the lives of young people, their innocent mischievousness, before the state brought the conflict to their lanes and roads and punished a community for seeking basic justice and civil rights. He paid tribute to the courage of Francis Hughes and his comrades, their sacrifice was the price paid for resisting British rule but inspiring the struggle that continues today for an end to British rule in Ireland.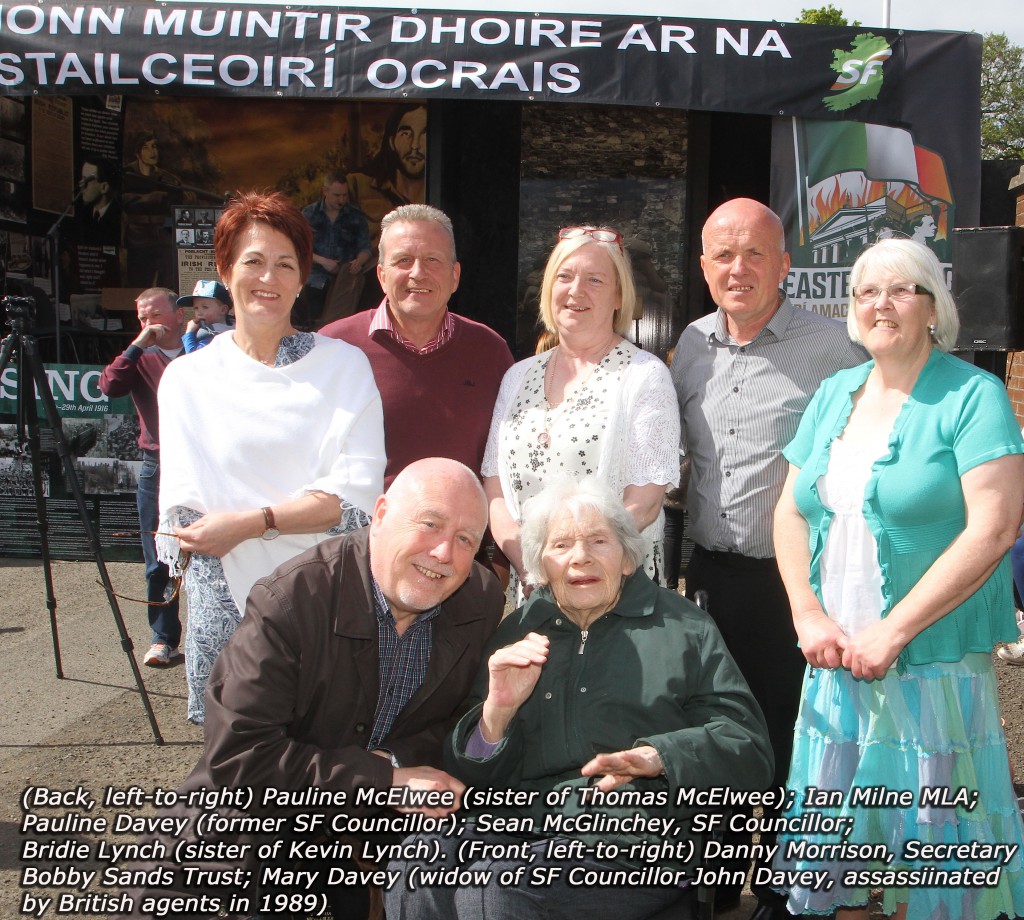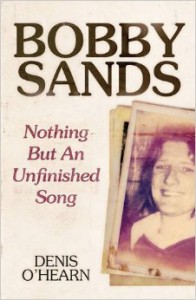 Pluto Press has just published a new edition of
Bobby Sands: Nothing But An Unfinished Song
, the best-selling biography by Denis O'Hearn that originally came out on the 25th anniversary of the 1981 hunger strike (see former edition on home page). For a limited time, the book is available at 50% off. All you need to do to apply the discount is to go to the Pluto Books website
here
.
Republican News
. Their son had gone missing. They didn't know where he was. He had been sentenced to three years in jail a few weeks before. It's hard to believe but we hadn't followed the case. We knew about the Diplock Courts. We knew that anyone convicted for an offence committed after March 1st would not get political status - but it hadn't really dawned on people outside the jails. But it had dawned on the remand prisoners. I think it was Sean Morris who had used the defiant headline in
Republican News
from a Crumlin Road comm, 'They'll Have To Nail It To My Back'. 'It' being the prison uniform. I don't know if it was Kieran Nugent who said it but at the time of the 1981 hunger strike I interviewed him for a video and he said that if they had thrown him a towel after they stripped him of his clothes he would have started 'the towel protest'. As it was those cocky prison administrators tossed a blanket into this man's bare cell on September 14th 1976, expecting him to "see sense" in a short period, or see their fists. And the rest is history. Bitter. Sore. Angry. Defiance. Our 1916. Giving rise to defiance and courage. So here was Mr and Mrs Nugent and their daughter in our office trying to find out if we knew anything about their Kieran. A few weeks before, the British army had shot dead IRA Volunteer Danny Lennon at the wheel of a car which had then careered across Finaghy Road North and crashed into Mrs Anne Maguire and her kids. Joanne (8) and Andrew (six weeks old) died instantly and John (2) died the following day. Out of this incident the controversial Peace People were formed and the confusion and low morale within working-class nationalist areas meant that the blanket protest and, indeed, the first two years of the H-Block and Armagh protest movements on the streets were seriously retarded. Yet, from the jails names emerged. We began to hear that a Ned Flynn was on the blanket, and, later, that Fra McCann, Gerard Murray, Jimmy Duffy and Joe Maguire were on the blanket in the Crum. Those were lean days. Uphill battles. Poor publicity. There is a great description in Peter Taylor's book,
Beating The Terrorists
, of the gung-ho atmosphere in the Monday morning briefings in Stormont Castle involving direct-ruler Roy Mason, RUC Chief Constable Kenneth Newman and the GOC of the British Army. Each of them became orgasmic as the statistics of the previous week's arrests, interrogations and chargings were outlined. But in our Falls Road office we were receiving smuggled statements from the jails about the beatings in Castlereagh and Gough, about how this one had his ear perforated or a finger broken or an eye blackened or a rib cracked. Could we get the media to carry these statements! Could we get the SDLP to protest! Four years. No letters. No books. Batons. Beatings. Forced scrubbings. It would make you, even now, want to murder. Kieran Nugent. The first blanket man. Tom Hartley gave a fine oration and talked about the simplicity of his defiance. Just before that, Fra McCann had described Kieran, who died suddenly and shockingly last week, as 'larger-than-life'. And wasn't it poignant that he should leave this earth on the nineteenth anniversary of the death of his comrade, Bobby Sands. I have a few memories of Kieran. There is film of him on the day he got out of jail. Pale white face - not having seen the sun in three years. Later, he stood on a platform opposite Dunville Park and clenched hands with that other hero of prison protest, Billy McKee, whose 1972 hunger strike won political status recognition. One night in 1983 Kieran, Fra McCann and myself were on the Dublin-to-Belfast train, returning from a Sinn Fein meeting. I was recognisable from my public appearances. A rugby club from Portadown was also on the train and some of them spotted me and started giving us abuse at the bar (well, where did you think we would be). One of them said, "Get Big Stevie. He'll sort the bastards out!" So the word went down the train, "Get Big Stevie!" Big Stevie had to bend down four feet to get through the door and became quite cannibal, salivating when he spotted me and started growling now that we were passed Kilnasaggart. Kieran set his bottle of beer on the table and said, for everyone to hear, "First one to touch you, Dan, loses an eye with this." Big Stevie grunted and groaned, huffed and puffed, bent down four feet to retreat, and to this day can see his kids. So, we buried Kieran Nugent last Saturday. Friends and family. Comrades. A guy who didn't have a lot. Who life messed about. The first H-Block blanket man. Kieran Nugent.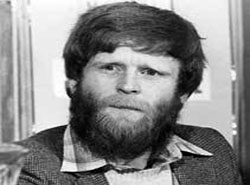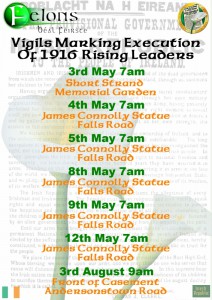 There are many events taking place this week to commemorate the executions of the 1916 leaders and the 35th anniversary of the death of Bobby Sands and the H-Block hunger strike of 1981 when ten men died over a seven month period. For updates please follow us.
Guardian's
Ireland correspondent in the late 1970s and early 1980s and was only one of two journalists who met Bobby Sands in prison. Beresford approached the Republican Movement after the hunger strike and asked for their cooperation in his writing a book about the prison struggle. The Movement agreed and - to his surprise - allowed him access to the archive preserved by Tom Hartley who chaired the H-Block Information Centre during that period. Tributes to David Beresford and the story of David's
Ten Men Dead
can be found at the following links. http://www.dannymorrison.com/?p=3679 http://www.anphoblacht.com/ http://www.theguardian.com/media/2016/apr/27/david-beresford-obituary http://mg.co.za/article/2016-04-27-investigative-reporter-david-beresford-saw-the-big-picture http://mg.co.za/article/2016-04-26-david-beresford-the-man-who-taught-me-how-to-write/ http://www.theguardian.com/world/2016/apr/22/award-winning-guardian-reporter-david-beresford-dies-aged-68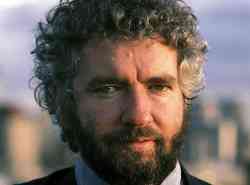 The following events will be taking place in West Belfast from Thursday 28th April until Sunday 1st May.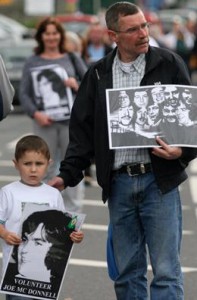 Thursday 28th April, 7.30pm
The Devenish Complex The Untold Story - The National Hunger Strike Exhibition & Panel Discussion. Chaired by Alex Maskey. Speakers: Pat Sheehan, Mary Doyle, Raymond McCartney.
Friday 29th April, 8pm - late
Felons' Club Five Years of Resistance 1976-81 - From Protest and Hunger Strikes to Funerals The National Hunger Strike Exhibition & Panel Discussion. Chaired by Rosie McCorley. Speakers Pat Sheehan, Fra McCann, Jennifer McCann and Bobby Storey.
Saturday 30th April, 7pm
The Sally Garden Community Centre The 1916 & Hunger Strike Exhibitions Screening of the award-winning film,
HUNGER
, followed by a panel discussion with Jennifer McCann, Pat Sheehan & Rosie McCorley. Chaired by Councillor Charlene O'Hara.
Sunday 1st May, 8pm
Andersonstown Social Club The Bobby Sands Lecture The 1916 & Hunger Strike Exhibitions. Chaired by Councillor Stephen Magennis. Main Speaker, Jennifer McCann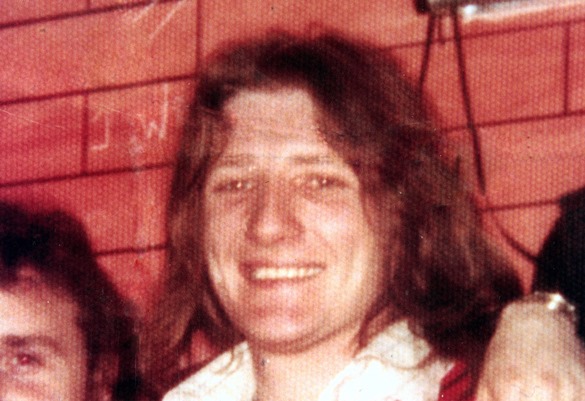 Thirty-five years ago today, the great Bobby Sands started his hunger strike demanding political status for he and his comrades. His death came after sixty-six grueling days. Bobby Sands is a hero not just to Irish people but to freedom-loving peoples around the world.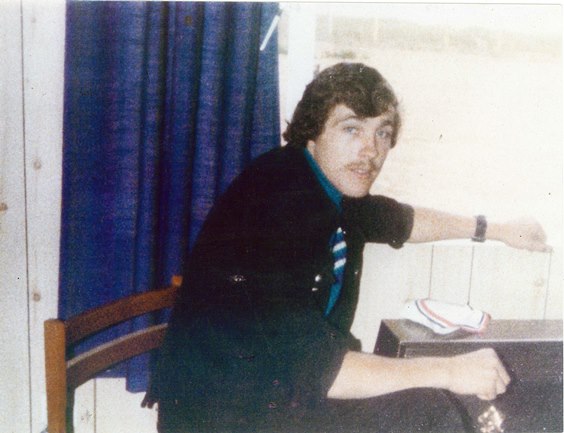 2016
is the 35th anniversary of the hunger strike in the H-Blocks of Long Kesh. There will be many commemorations this year, which is, of course, also the centenary of the Easter Rising in 1916, an event that inspired Irish republicans throughout the twentieth century, particularly in the 'abandoned' North. In 1981, over a seven-month period, ten young men from the Six Counties, two of whom were married, Joe McDonnell and Bobby Sands, others of whom had girlfriends, including one hunger striker whose loved one was imprisoned in Armagh Jail, died protesting against the British that their struggle for freedom and independence was noble and legitimate and that if there was any criminality and illegality it was committed by the British government. The world watched in awe and came to condemn Thatcher and her government. The truth of the Irish struggle for freedom was undeniable from whatever period in history is arbitrarily chosen. That painful period of 1981 - coming after the suppression of the Civil Rights Movement; the pogroms of 1969; the British army curfew of the Falls; the torture, the hooded treatment of internees in 1971; the street murder of 13 teenagers and men in Derry - is seared in the minds of this young generation in Ireland, north, south, east and west, a generation without borders, who, despite never even have been born during this time, hold dear the years 1916 and 1981. The Bobby Sands Trust protects the memories of our ten men dead; promulgates their declaration of freedom. One might think the story is exhausted. Never. Just this week we received a 'new' photograph of Francis Hughes which we don't think was ever published before. In this photograph Francis is 23 or 24. He has left the family home for good. Left behind his mother and father, his nine brothers and sisters. He is daring. He is extraordinary. He takes to the fields. Heaney later mentions him in a poem, which does not do justice to his life, his pride, his courage, his self-sacrifice. No one could do justice to his life, his sacrifice on hunger strike in that awful prison hospital. No one could imagine what Francis Hughes goes through. Christy Moore later writes a song about him,
The Boy From Tamlaghtduff
. Like Tom Barry and Dan Breen, Francis Hughes wages armed struggle against the Brits. His decision to fight puts him on the run. The RUC issue a 'wanted' poster of Francis and two fellow republicans, Dominic McGlinchey and Ian Milne, in which Francis is named as the 'most wanted man' in the North. He is resting in the home of a supporter and, reluctantly, agrees to be photographed, before he again takes to the fields and the roads. He has no idea of what was before him, being shot, escaping over fields, being caught, going to the Crum and the H-Blocks where prisoners are being tortured daily. But not once did he balk. Not from the blanket. Not from hunger. Not from death.
Francis Hughes was born sixty years ago on February 28th, 1956. He died on the fifty ninth day of his hunger strike on May 12th 1981, seven days after Bobby Sands.