The Bobby Sands Trust regrets to learn of the death of Rosaleen Sands, mother of our comrade Bobby. Deepest condolences to her daughters Marcella, Bernadette and son John, and their families; to her grandson Gerard Sands and family; and the wider family circle.
Go ndéana Dia Trocaire ar a anam uasal Gaelach.
Mrs Sands was predeceased by her husband John who died in June 2014.
In a statement Sinn Féin President Gerry Adams said:
"I was extremely saddened to learn of Rosaleen's death and, on behalf of Sinn Féin, I extend condolences to the entire Sands' clan.
"Roasaleen was a strong, inspirational woman who, like all families of the hunger strikers, bore immense pain but stood by her son Bobby during the darkest of times.
"The dignity and strength she displayed was a testament to her character and her belief in standing up for what was right and just, even if that meant great suffering for herself, Bobby's father John and their family.
"In many ways she epitomised what all the mothers of the hunger strikers endured and her sacrifice will never be forgotten.
"Ar dheis Dé go raibh a anam."
One of the most heart-breaking images during the 1981 hunger strike was when Mrs Sands appeared on television, interviewed in the car park of Long Kesh, and prayed for her son Bobby, and asked Margaret Thatcher to compromise and resolve the hunger strike. Thatcher refused and Bobby died two days later.
One of Bobby's most moving poems was Dear Mum which he wrote whilst on the blanket and no-wash protest two years before his death.
Dear Mum
Dear Mum, I know you're always there
To help and guide me with all your care,
You nursed and fed me and made me strong
To face the world and all its wrong.
What can I write to you this day
For a line or two would never pay
For care and time you gave to me
Through long hard years unceasingly.
How you found strength I do not know
How you managed I'll never know,
Struggling and striving without a break
Always there and never late.
You prayed for me and loved me more
How could I ask for anymore
And reared me up to be like you
But I haven't a heart as kind as you.
A guide to me in times of plight
A princess like a star so bright
For life would never have been the same
If I hadn't of learned what small things came.
So forgive me Mum just a little more
For not loving you so much before,
For life and love you gave to me
I give my thanks for eternity.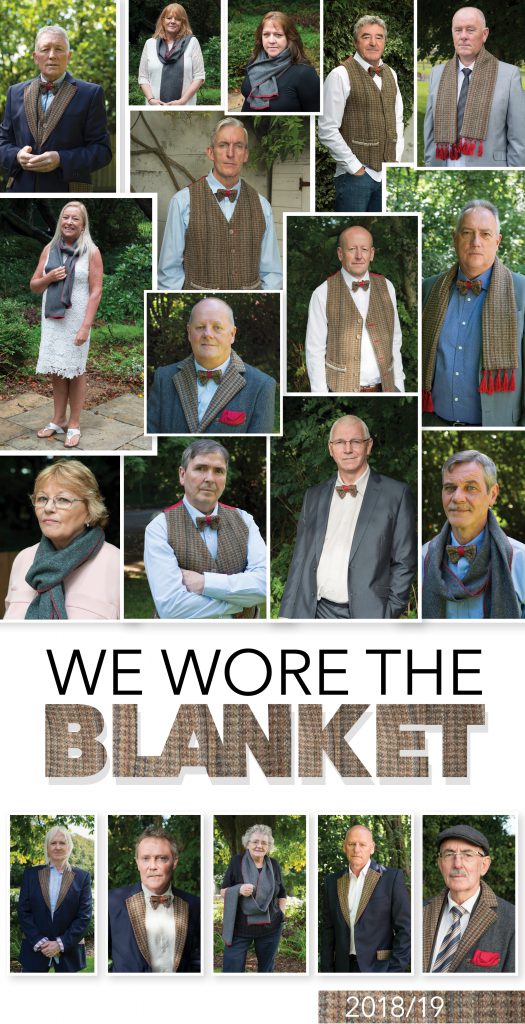 Laurence McKeown is a former republican prisoner. He spent sixteen years in the H-Blocks of Long Kesh, was on the blanket protest for four and a half years, and on the 1981 hunger strike for seventy days.
Laurence is currently an author, filmmaker, and playwright. He is currently working on a project We Wore The Blanket, the output from which will be a multi-media exhibition. As part of that project Laurence has recently published a calendar featuring nineteen participants; male and female former prisoners who engaged in the blanket protest, and those who wore the blanket on the outside in support of the prisoners' protest. Laurence describes (below) the origins and thinking behind the project.
WE WORE THE BLANKET
On 14th September 1976 Kieran Nugent, aged 18, became the first Irish republican prisoner to be sentenced under the newly introduced British Government policy of 'criminalisation'. Kieran was already no stranger to prison. Aged 16, he had spent 5 months on remand in the Crumlin Road Prison and was 17 when interned without trial in Long Kesh for 9 months.
When taken to the H-Blocks Kieran was stripped and ordered to wear the prison uniform. He refused. "You'll have to nail it to my back," he said. He was beaten and thrown naked into a cell where he wrapped himself in a blanket. Thus began the 'Blanket Protest'.
Hundreds of republican prisoners followed Kieran onto the protest in subsequent years. In Armagh Gaol, female republican prisoners were allowed to retain their own clothes but otherwise experienced the same conditions as their male comrades and struggled for the same objective – the return of political status. On the outside, relatives – mainly the mothers, wives, partners, sisters, and girlfriends of the prisoners – began to protest on their behalf. All of them together, whether inside or outside of a prison, became the 'blanket protesters'.
The protest ended five years later on 3rd October 1981 following the death of ten prisoners on hunger strike. The prisoners secured one of their demands – the right to wear their own clothes. Thus ended the 'blanket protest'.
In subsequent years, through a variety of campaigns and protests, all the prisoners' outstanding demands were achieved. Intended to be the British Government's 'Breakers Yard', by the late 1980s the H-Blocks became one of the most politicised guerrilla training and education camps ever seen in the history of the Irish republican struggle.
To commemorate the 40th anniversary of the commencement of the protest I began an arts project. It will combine a range of artistic elements. It is still very much 'a work in progress' but a start has been made and even the longest journey begins with the first step! I had 'obtained' an original blanket from the H-Blocks when they closed in July 2000 and asked a professional dressmaker to make me a number of items of clothing from it; a bowtie, a tie, a waistcoat, a Crombie coat, and several scarves. I also requested she alter a dress jacket I had to include elements of the blanket.
The idea was to subvert the usual image of the blanket protest – of beards, long hair, prison cells, street protests – by photographing a number of those involved in the blanket protest wearing these items of clothing. They would be elegant photos; photographs of people who were proud of the contribution they had made and who today 'wear the blanket' as a mark of honour. The photos were taken outdoors, amidst nature – grass, flowers, trees – in stark contrast to the grey concrete and steel doors of a prison cell.
It was a soul-searching decision to decide to cut up the blanket but I wanted to transform it to the present day, just as I think the 'Blanket Protest' transformed life for so many of us and also altered the shape of politics and struggle on this island.
Given the subject matter of the project it will not attract funding from any of the usual sources so this calendar is an attempt to recoup some of the monies already spent on it and to gather funds for the on-going development of the project.
Being an Irish Republican the traditional calendar format had to be subverted, of course! It does not follow the usual pattern of 12 months commencing with January and ending December but instead begins in March (the 'criminalisation policy' commenced 1st March 1976 and Bobby Sands began his hunger strike on 1st March 1981) and ends 19 months later in September 2019. I chose this time period as it takes in the hunger strike, the changes in the prisoners' strategy and their modus operandi post-hunger strike, and concludes with the 'Great Escape' of September 1983. Many who had been on the blanket protest took an active part in the escape – either as escapees or providing the vital backup support – and whilst the hunger strike smashed 'criminalisation' the escape buried it.
The contributors were drawn from those who came forward when I issued a public call in mid-2016. We held photographic sessions in Belfast, Derry City, South Derry, and South Armagh. Due to restrictions on time and space, not all those photographed in the initial sessions could be photographed again for the calendar but they will all feature in any future exhibition. My warmest thanks to everyone who gave of their time so willingly.
Laurence McKeown September 2017
Contributors: Feargal McGuigan, Séanna Walsh, Seamus Kelly, Jimmy Torney, William Doherty, Mary Nelis, Kevin McCoy, Sean McGuigan, Henry Cushinan, Kathleen McCann, Pius McNaught, John Hunter, Breige Brownlee, Sinéad Moore, Ann Marie Quinn, Éilis O'Connor, Laurence McKeown, Paddy Agnew, Paddy Quinn.
Dressmaker: Yvonne Murphy, Newry.
The calendar is available in the Sinn Féin Arts and Crafts Shop on the Falls Road, Belfast, An Cheathrú Póilí bookshop in An Culturlann, Falls Road, and in Checkpoint Charlie Derry City bookshop.
Copies can also be purchased directly by messaging Laurence on Facebook or email at laurence.mckeown@btinternet.com.
Payment can be made either through PayPal (UK, or Ireland) or bank transfer.
Price: €12/£10
Postage and Packaging:
South of Ireland €5.80
North of Ireland, Scotland, Wales, England, Channel Isles, Isle of Man £3.70
EU countries, US, Canada, Australia, New Zealand €6.85
Anywhere else in the world – get in touch, we'll figure it out!
The calendar contains 11 pages, including the front cover which is laminated and is of a heavier grade which serves as the stiff back when the calendar is in use. The photo attached shows the front cover and the text that appears on the back of the cover describing the origins of the calendar and its place in the wider project.
NATIONAL TREASURES & WE WORE THE BLANKET
There is currently a project called 'National Treasures' being carried out by RTÉ and the National Museum of Ireland (https://nationaltreasures.ie/roadshows). I had heard about it the other day while travelling. They are going to various locations around the island photographing items that people take to them that are of historical and/or social value, or which tell a story and they were going to be at the Titanic Quarter, Belfast yesterday, the 22nd October. I had thought no more about it but then my friend, Paula McFetridge, encouraged me to take along the items made from the blanket. Paula particularly loves the waistcoat! I decided to do that and yesterday I went along to the event.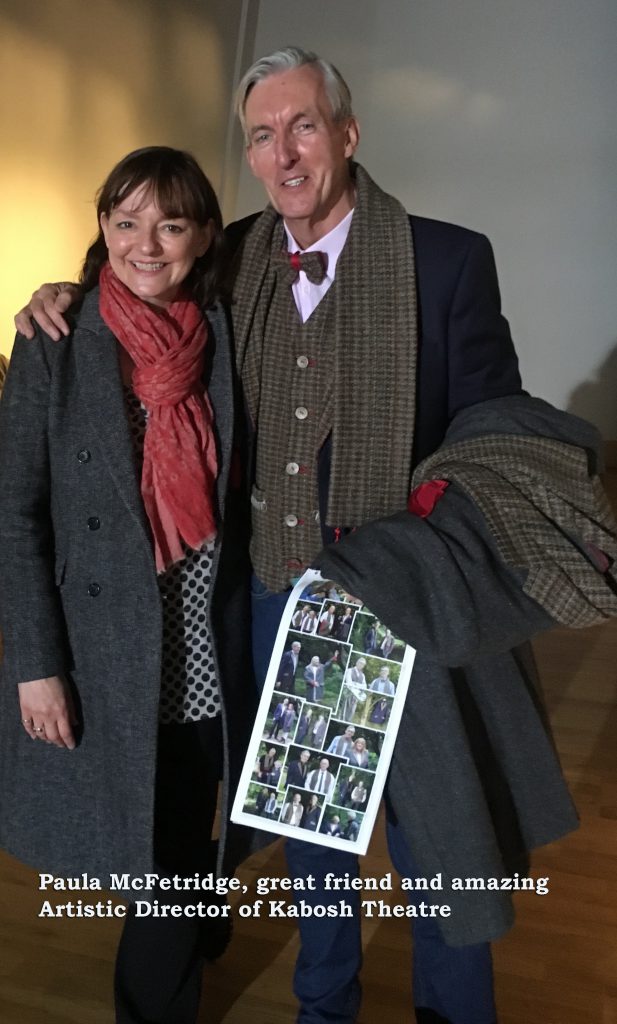 Rather than carry all the items I decided to wear most of them; the bowtie, waistcoat, and dress jacket, and to carry the other items. I have to confess to feeling a little bit self-conscious as I strode through the entrance to the venue! It was the first public, as opposed to photographic, appearance of the items but as I strode over to the lift to take me to the second floor the young, male lift attendant looked at my apparel and commented, "You looking very dapper, sir." I smiled and replied, "I make an effort."
I met Paula upstairs. She was there to take along the medals her mother won for being on the Antrim Camogie team that won two all-Ireland finals, 1956 and 1967. She had also won 13 inter-county titles and 1 inter-province one another little piece of history that is forgotten about because if you ask most people which county in the north (as opposed to Ulster) won the first all-Ireland they will say, Down, referring to the Down senior (male) footballers. Paula, in her own way, was helping to uncover that history and the fact that her mother, and the other women, had been 'written out of history'.  That was why Paula was there yesterday. That was why I was there; we wanted to ensure that her mother and the blanketmen and women would be very definitely included in any project that looks at the history of Ireland.
I spent several hours there, most of it sitting waiting as the various members of staff documented and photographed materials. There was a large crowd in attendance, the biggest they had had from any of their one-day events. What was intriguing was that word quickly spread through the staff about this guy who was there with items made from a prison blanket and one by one they came over to introduce themselves. Some wanted photos taken with me. One told me of how as a child of 7 years of age she went to school in Galway wearing a black armband during the hunger strike. Another told me of his father teaching art in Portlaoise Prison. Another told me that he thought H3 the best film ever made! Another asked me my views on 'Maze', the recently released film about the 1983 escape from the H-Blocks. All of them thought the project was amazing and wanted to know how to get a copy of the calendar.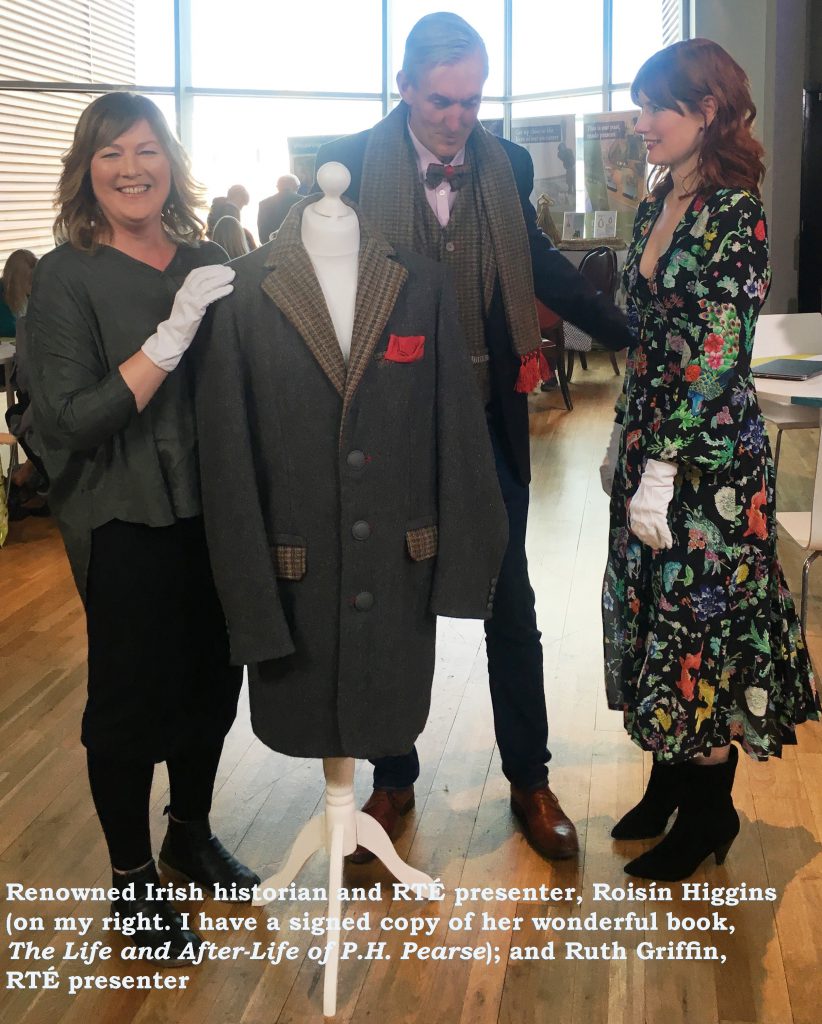 But the most precious moment for me was with a member of the public. I was waiting to be interviewed on camera and a woman, probably in her late 70s, came over to me and said, "Sir, I just want to say you look extremely elegant." I thanked her and then said, "You'd hardly believe they were made from a prison blanket." She was shocked. I went on to tell her the story and my own background. She knew a little about that period – her name was not of Irish origin but had lived here a long time. She then said, "They were tough times. You have been through a lot. But I just want to say again sir, you look extremely elegant."
This was the second time in a few hours I had been referred to as 'sir' and the term was not used by way of deference or inferring authority but out of respect and affection. The tile of Bobby's poem came to me, 'I am Sir, you are 1066', but here were people in the Titanic Quarter, Belfast speaking to me 'wearing the blanket' and addressing me as 'sir'.
But what was the most touching for me, and actually quite emotional, was that the woman had used the word 'elegant' to describe how I looked. It's not a word I use often and yet it is the word I use in the text in the calendar to describe the photos I wanted to take. I wanted elegant photos. I wanted the subject of those photos, the men and women of the blanket protest, to look elegant; standing erect in the beautiful surroundings of nature, their heads held high, unbowed, unbroken, proud of the role they had played in our liberation struggle, proud to 'wear the blanket' and to tell their story to a new generation.
My philosophy in life as that nothing has any meaning other than the meaning I choose to give it. Some may look at the calendar, or anything else, and choose to see it in a particular, negative manner. I think that both sad and unfortunate but that is their choice. What nourishes me and gives me encouragement is when I see joy and pride on the faces of those who look at the calendar or listen to the words they utter, such as, "God doesn't Mary look great and after all these years. That woman's an inspiration." Or, "Isn't Paddy a real character." Or, "God those men look sexy!"
I once said in an address to an academic conference that for the struggle I've worn a combat jacket, a blanket, gone naked, worn a suit and shirt and tie; whatever was needed in the moment. It's not the clothing that's important but the politic and intent. So I'll walk in the Titanic Quarter wearing a blanket '2017-version' and go in front of a camera and tell an audience, "What you see me wearing today was made from an original blanket taken from the H-Blocks of Long Kesh and I want to tell you about the time of the blanket protest there ……"
Many commemorations were held across Ireland to mark the centenary of the death of Thomas Ashe, who died as a result of force-feeding five days into a hunger strike in Mountjoy Jail in 1917. There was a march last Saturday from the GPO in O'Connell Street, Dublin, to Ashe's grave in Glasnevin Cemetery, at which Sinn Féin's Mary Lou McDonald TD spoke. The following day there was a march and rally at the Ballymurphy Memorial Garden which was addressed by Sinn Féin President Gerry Adams.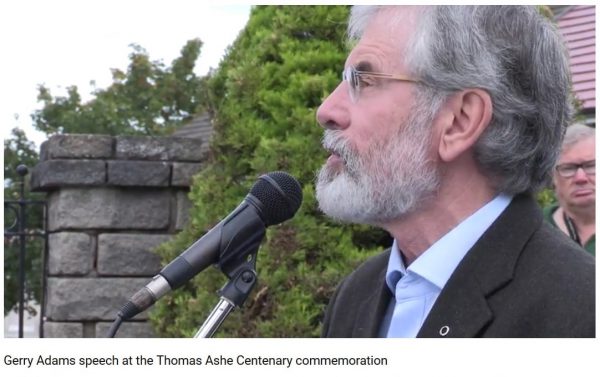 The latest commemoration was held in Clonakilty, County Cork, last Monday evening. It was jointly organised by the Easter Commemoration Committee and Hunger Strike Commemoration Committee and paraded from Ashe Street to Asna Square for a commemoration ceremony.
In Asna Square, Sinn Féin Councillor Paul Hayes chaired proceedings.
Ashe Street resident Pat Flynn laid a wreath and this was followed by a lament on the pipes.
Fionnuala Ní Chonchubhair, a native of Lispool, west Kerry, where Thomas Ashe hailed from, read the patriot's famous poem Let Me Carry Your Cross for Ireland, Lord.
Cionnaith Ó Súilleabháin recalled the life of Thomas Ashe from his native Kerry to school principal in Lusk, to Irish Volunteer and leader during the 1916 Rising, and to his imprisonment in the summer of 1917 which led him to go on hunger strike, when he died after five days as a result of force-feeding.
Thirty thousand people attended Ashe's funeral in Glasnevin at which Clonakilty's Michael Collins delivered the graveside oration.
At Monday night's event, Michael O'Donovan read the names, dates of death and number of days on hunger strike of the other 21 Irish republicans who have died while on hunger strike up to 1981.
The ceremony concluded with Amhrán na bhFiann played by the piper.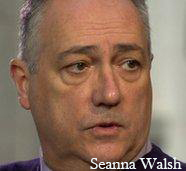 Labhair Séanna  Walsh dluth-chara de Bobby mar príomh-chainteoir ag an seoladh leabhair.
Sé  bliana is tríocha i ndiaidh á scríobh, sheol muid an leabhar beag cumhachtach i gCultúrlann MacAdam Ó Fiach. Tá sé ar fáil anois as Béarla, Francais, Iodálais agus Gailísis le níos mó ná 30 bliain agus bhí sliochtanna de ar fáil as Gaeilge. Ach go dtí seo, mar a dúirt Seán MagUidhir a d'aistrigh, ní raibh leabhar iomlán déanta. Mar sin, is le bród agus le grá gur aontaigh mé bheith páirteach san imeacht. Socraíodh an seoladh mar chuid den fhéile 'Liú Lúnasa' agus labhair Caoimhe Ní Chathail ar dtús fá na himeachtaí eile fud fad na cathrach. Ansin chuir Dónal Mac Ghiolla Choille mé féin in aithne don lucht féachanna chun labhairt ar Bobby Sands – An fear. Chríochnaigh muid le smaointí Sheáin Mag Uidhir ar na fathanna agus an inspioráid a spreag an t-aistriúchán.
Labhair mé fá dtaobh den chéad uair a bhuail mé le Bobby, muid beirt inár ndéagóirí agus 'stádas polaitiúil' ag cimí Poblachta an tuaiscirt, i bpríosún na Ceise Fada.
Mhínigh mé nach duine as an choitianta é Bobby ag an am sin, fear óg cosúil leis na céadta, na mílte eile fir óga. Bhí an-tsuim aige sa Ghaeilge, ag freastal ar ranganna Phroinsias Mac Áirt agus ansin ag teagasc na ceachtanna sin do bhunfhoghlaimeoirí.
Chuir sé suim sna réabhlóidí ó Mheiricea Theas don Aifric don Áis Theas.
Nuair a scaoileadh saor é i Mí Márta '76 bhunaigh Bobby Cumann Sinn Féin, Slua na Fianna, na 'Auxies' agus ghlac muintir s'againn smacht ar an Choiste Tionnantaí áitiúil. Thosaigh sé 'oíche shoisialta' chomh maith agus i measc na n-amhráin reibiliúnach bhí an corr-raiteas ó na hóglaigh sa cheantar. Bunaíodh nuacht-litir 'Liberty' agus go fírinneach cé go raibh píosa nó dó scríofa aige agus muid faoi ghlas sna Cásanna, b'é seo an tús dó ag scríobh go rialta.
Ach taobh istigh de trí mhí rugadh orm arís le raidhfil agus ar ais arís sa Chrum domh. Dhá mhí ina dhiaidh shiúil Bobby agus a chomrádaithe isteach sa chlós den Chrum chomh maith. Dhírigh sé isteach sa streachailt le stádas polaitiúil a bhaint amach le fuinneamh 'is diongbháilteacht. Bhí Keiran Nugent ar an agóid pluide cheana féin.
Thosaigh Bobby ar fheachtas litreacha chuig na nuachtáin. Lean sé leis an nuachtlitir áitiúil ar feadh tamaillín. Sheas sé chun tosaigh mar cheannaire. Nuair a daoradh é bliain ina dhiaidh os rud é gur thuig sé tabhacht an fhocail scríofa, thosaigh sé ar alt rialta san APRN, faoi ainm 'Marcella' (deirfiúir s'aige) Ba léir do chách a bhuail leis nó a labhair leis ag an am seo gur fear óg tiománta agus cróga a bhí ann. Athrú ollmhór ón lead óg 'Devil may care' a bhuail mé leis 5 bhliain roimhe.
Nuair a theip ar an chéad stailc ocrais agus ar an idirbheartaíocht ina dhiaidh d'ullmhaigh Bobby don darna stailc. Thuig sé go mbeadh sé ina 'throid chun bhás' nuair a dúirt rialtóir an phríosúin leis 'What are you gonna do now, Sands? Another hunger strike? I don't think so…' Chreid siad go raibh na cimí buailte, níor thuig siad meoin na gcimí, níor thuig siad Bobby Sands.
Mar a deirtear as Béarla, 'Cometh the hour, cometh the man' agus sheas Bobby chun tosaigh, sa Bhearna Baoil, é féin ar an chéad duine. Fear le fís, daingne, agus misneach.
Bhí sé ina cheannaire againn, cara, bráthair, óglach go smior, agus é ina MP nuair a d'imigh sé uainn. Ní bheidh a leithid arís ann, léigh a scéal féin nó cuid de sa 'Cín Lae Bobby Sands.
Ag an deireadh, chuir Seán Mag Uidhir comhtheacs leis an scéal agus leis an aistriúchán. Labhair sé fán ionsporáid a fuair sé ó Bobby is na leaids eile agus é féin faoi ghlas.
Thug sé buíochas don Bobby Sands Trust as cead a thabhairt don togra agus do Phádraig Ó Snodaigh is Coiscéim as an leabhar a chur i gcló.
The Bobby Sands Trust has sent a letter of solidarity to the Palestinian prisoners currently on hunger strike and to their families, expressing support for their cause and wishing them success in achieving their just demands. These include the right to family visits which Israel, on paper, allows but then refuses permits for families to cross into Israel.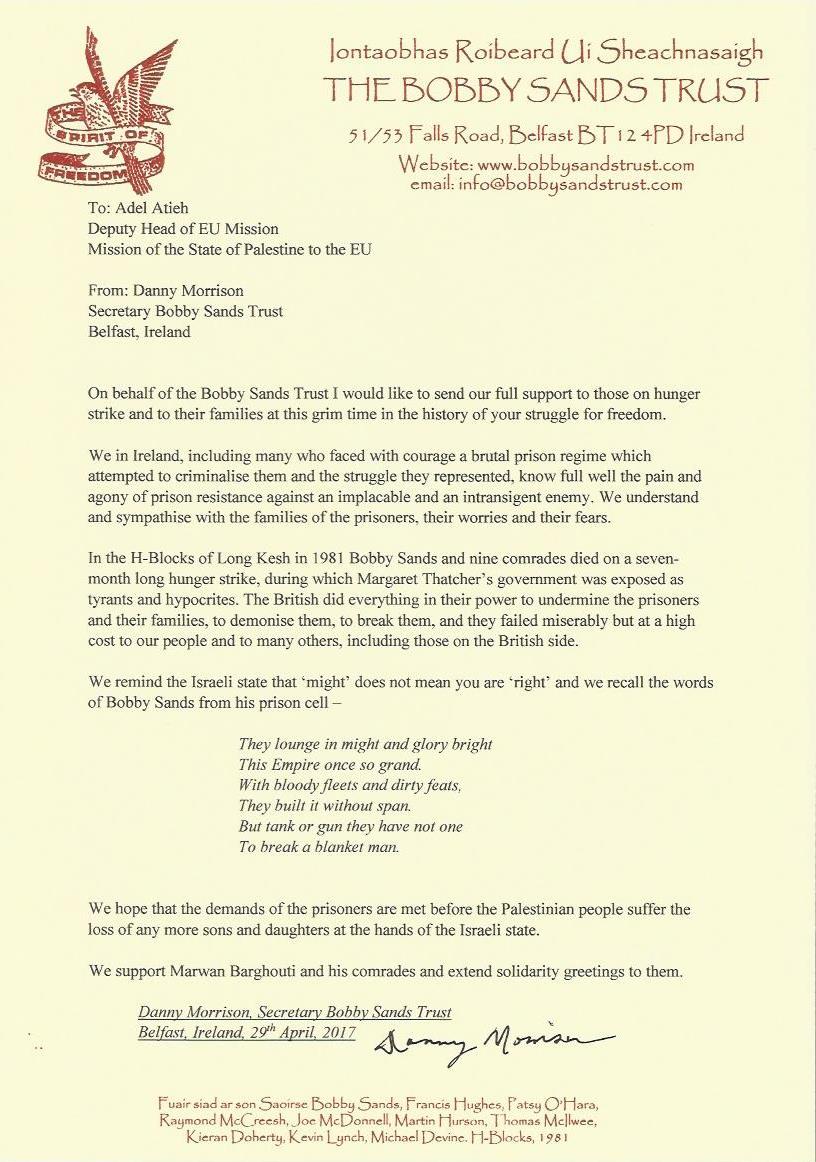 This is the text of the letter for those who wish to quote from it:
To: Adel Atieh
Deputy Head of EU Mission
Mission of the State of Palestine to the EU
From: Danny Morrison
Secretary Bobby Sands Trust
Belfast, Ireland
On behalf of the Bobby Sands Trust I would like to send our full support to those on hunger strike and to their families at this grim time in the history of your struggle for freedom.
We in Ireland, including many who faced with courage a brutal prison regime which attempted to criminalise them and the struggle they represented, know full well the pain and agony of prison resistance against an implacable and an intransigent enemy. We understand and sympathise with the families of the prisoners, their worries and their fears.
In the H-Blocks of Long Kesh in 1981 Bobby Sands and nine comrades died on a seven-month long hunger strike, during which Margaret Thatcher's government was exposed as tyrants and hypocrites. The British did everything in their power to undermine the prisoners and their families, to demonise them, to break them, and they failed miserably but at a high cost to our people and to many others, including those on the British side.
We remind the Israeli state that 'might' does not mean you are 'right' and we recall the words of Bobby Sands from his prison cell –
They lounge in might and glory bright
This Empire once so grand.
With bloody fleets and dirty feats,
They built it without span.
But tank or gun they have not one
To break a blanket man.
We hope that the demands of the prisoners are met before the Palestinian people suffer the loss of any more sons and daughters at the hands of the Israeli state.
We support Marwan Barghouti and his comrades and extend solidarity greetings to them.
Danny Morrison, Secretary Bobby Sands Trust
Belfast, Ireland, 29th April, 2017
Thirty five years ago today, at 3pm, Pat Sheehan (at that stage the longest on hunger strike and the most critically ill), his comrades, Jackie McMullan, Hugh Carville, John Pickering, Gerard Hodgins and Jim Devine, ended the epic H-Block hunger strike which had lasted seven months. During that time ten of their comrades had died in a struggle which astonished the world and won the admiration of millions of people.
Rather than isolate and defeat the republican struggle – which was the aim of the British government's criminalisation policy – the resistance of the prisoners, their suffering, sacrifices and the prison deaths, led to a huge increase in support for the Irish Republican Army and for Sinn Féin.
The election of Bobby Sands as MP for Fermanagh and South Tyrone in April 1981, the elections to the North's councils of a variety of anti-H-Block/Armagh Prison candidates in May, the election of hunger striker Kieran Doherty and Paddy Agnew to Leinster House in June, and the election of Owen Carron, again to Fermanagh and South Tyrone, after the death of Bobby Sands, in August 1981, pointed the way to the addition of an electoral strategy to the overall republican struggle.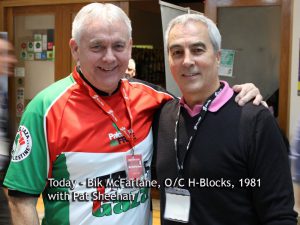 Pat Sheehan was first imprisoned in 1978 at the age of nineteen and fought the prison system on the blanket protest and the hunger strike. After his release he was again arrested and sentenced for IRA activities and served a total of almost 18 years in jail.
Today he is a Sinn Fein MLA for West Belfast and in this short film he recalls the year of 1981, the atmosphere and what the prisoners endured because of their republican principles and commitment to resistance against British rule in Ireland.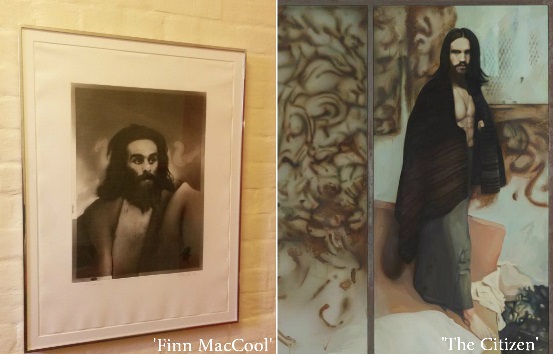 H-Block themes and hunger striking feature in a new Oscar Wilde exhibition which opened in Reading Prison last Sunday. Artefacts on display acknowledge the Irish struggle for freedom. There are aerial drawings of the H-Blocks of Long Kesh by Rita Donagh, and two paintings by the late Richard Hamilton based on the blanket protest and the first H-Block hunger strike.
These are 'The Citizen' – an image based on blanket man Hugh Rooney, painted in 1988 and inspired by a 1980 Granada Television episode of the World in Action programme, titled 'The H-Block Fuse' – and 'Finn MacCool', based on hunger striker Raymond McCartney, who is now a Sinn Féin MLA. Other art work includes an installation by filmmaker Steve McQueen whose award-winning 2008 film 'Hunger' was about Bobby Sands and the H-Block prison protest.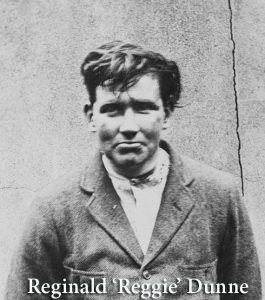 Nine writers were commissioned to write 'imagined' letters around the subject of imprisonment. Among them was veteran republican and author Danny Morrison. He wrote a letter from Reggie Dunne (who assassinated Sir Henry Wilson in London in 1922) to the leader of the IRA in London explaining the operation, the capture and trial of he and his comrade. A handwritten version of the letter is on display in a cell and has been recorded by an English actor, Will Howard. Dunne and his co-accused Joe O'Sullivan were born in London and spoke with English accents. Morrison's letter is available in audio through a set of headphones, as are recordings of the other letters.
Among the other writers who contributed is Gillian Slovo (daughter of Joe Slovo and Ruth First, who was killed by South African apartheid agents), who has written a very moving piece addressed to her dead mother.
Oscar Wilde greatly influenced Bobby Sands who based the metre and style of The H-Block Trilogy on Wilde's The Ballad of Reading Gaol.
For full details of Morrison's letter go to An Phoblacht.
For a recording of the letter go to here.
For full details of the exhibition go to here.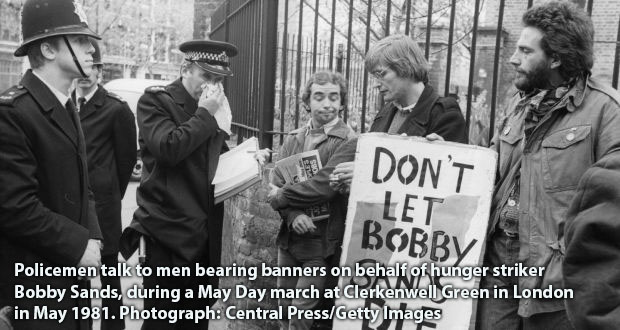 The Irish Times this week has quoted from newly released British government papers relating to the 1981 hunger strike which includes an important interview given by Sir John Blelloch to author/historian Padraig O'Malley five years after the deaths of ten Irish republicans in the H-Blocks of Long Kesh.
Blelloch, the deputy under-secretary at the Ministry of Defence (in reality, a senior MI5 officer), had been the key advisor to Prisons Minister Michael Allison during the hunger strikes.
Blelloch bluntly says 'No' to the question of whether there was scope for an accommodation, stating that there was too huge a gulf between the Thatcher government's position and the prisoners' demands.
This interview was in fact first published in an exclusive by the Bobby Sands Trust in March 2009, but was ignored by the mainstream media because it contradicted claims made by Richard O'Rawe that the republican leadership had squandered 'a deal' on the eve of Joe McDonnell's death. That untruthful claim deeply hurt the families of the hunger strikes whose appeals to O'Rawe to desist were ignored.
In the interview, Blelloch rubbished such claims that the British government compromised or softened its position before the death of Joe McDonnell. He said:
"I think I would like to come back to the fundamentals here. There was absolutely no change in the government's position on why it stood where it was, what was available to the prisoners and, insofar as one could say this in advance, what would happen as the protest ended. That position remained in all material respects, unchanged."
The Irish Times story can be read here
The full Blelloch interview can be read here at the Trust's website.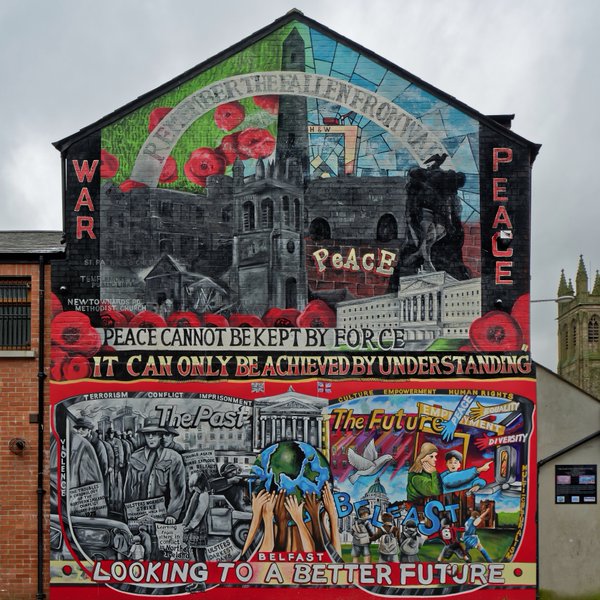 Stuart Borthwick's book, The Writing on the Wall: A Visual History of Northern Ireland's Troubles, was given its Belfast launch during Féile an Phobail last week. Danny Devenny, an ex-political prisoner who served time in Cage 11 with Bobby Sands, is a former graphic designer of An Phoblacht/Republican News and is one of Belfast's best-known muralists. In this very personal review he talks not just about the book and murals but also Bobby Sands and The Beatles!
I first met Stuart when I and young Mark Ervine (son of the late David Ervine, leader of the PUP) were invited to 'Ireland's second capital' in 2008. A group of Liverpudlians, led by big Peter Morrison, had visited Belfast the previous year to attend a Damien Dempsey concert at the Odyssey Arena. While in Belfast they did a tour of the murals and were so affected by their power and vividness that they decided to offer us an invitation to cross the Irish Sea and create a series of Beatles' murals as part of Liverpool's selection as European Capital of Culture.
When a Belfast newspaper reported on the proposed project I was criticised for declaring my delight to be afforded the opportunity at last to paint my real hero, John Lennon! My critics' logic was because I had painted another great hero, Bobby Sands on the famous Falls Road mural, I was undermining his memory by naming the famous mop top Lennon as my hero!
If only my accusers knew!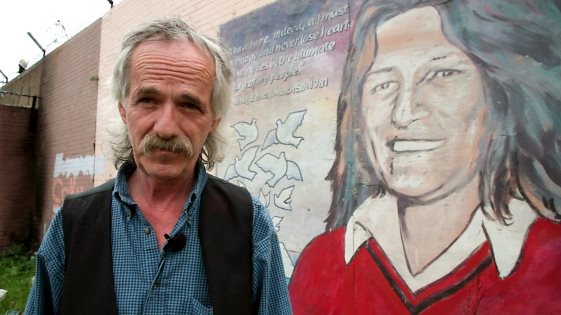 Bobby was a big Beatles fan, particularly of Lennon. So, let's rewind to 1975, Cage 11, after we were back in huts after 'the Fire' of October 1974, when we burnt down Long Kesh. Among the LPs sent in was a replacement copy of Wings' Band on the Run. Next door to mine and Dee's 'cell' was that of Tomboy (Loudon), Roon (Gerard Rooney) and Bobby's. And it was there, guitar in hand, that Bobby proceeded to play in a loop the entire album, determined as he was to learn every track off by heart!
Which brings me to another Liverpool mural visit connection! (I will get to your book in a moment, Stuart!) Thanks to Stuart we were invited by Peter Morrison and Phil Hayes, and others, back to the lovely city to launch another mural to celebrate the city's Irish connections. And it was there that I was introduced to Mike McGear, Paul McCartney's younger brother who played with Scaffold (and got to Number 1 in the pop charts with Lily the Pink in 1968). Mike used the stage name McGear so that he could not be accused of trying to piggyback on the name of his famous brother. Now a practicing photographer he was very interested in the visual impact of murals and mural culture here in Ireland. Our conversation developed into the subject of Irish Liverpool solidarity down the years and he seemed real chuffed to highlight his father's pride in his Irish roots. Inevitably, our conversation moved on to the Troubles and to the prison conflict. Mike was genuinely interested and truly amused when I told him how Bobby in his perfectionism had eventually taught himself the chords of the entire album, Band on the Run, and had treated us to a six-hour rendition of Mamunia (normal duration 4mins 50 secs – I just Googled it!), till he got it right.
That was Bobby – a perfectionist. Mike was intrigued by this story. He said it was his favourite track too, and said he wanted to learn more about Bobby and the hunger strike. Interestingly, for all you McCartney fans – what was the name of one of the best-loved nighttime stories among the blanket men that Bobby would tell, out through the narrow crack in his H-Block cell door, and which features in the film 66 Days?
You got it – Jet! from Band on the Run.
Ah, good memories.
I must also mention the night in Cage 11 Bobby sang Rod Stewart's Mandolin Wind, accompanied by Big Rab and Tomboy on mandolin. Everyone who was there remembers the magic of that moment – when none of us knew of the nightmare ahead.
Bobby Sands, codladh sámh.
And so, to Stuart's book. Before I proceed I have to put my hands up and admit that before I turned a page I was totally delighted with this publication. Many times I've enjoyed Stuart's fine company and consider him a friend. His book is a remarkable work and testimony to the possibilities of art being used as a weapon. Mandela said, "Education is the most powerful weapon which you can use to change the world."
Well, this book educates, and more.
The layout is superb. I say that as a one-time 'cut-and-paste' graphic artist for An Phoblacht/Republican News back in the day, and as someone familiar with the skills of blending written word and imagery to create a single narrative. I'm momentarily back in Cage 11 again as I recall the first time I got interested in this. We had received a lot of Palestinian books and pamphlets from some friendly supporters on the outside (possibly Danny Morrison and Tom Hartley). I was struck by their layout, so easy to consume, the visuals and written information slipping into the subliminal mind with the ease of Eine Kline Nacht serenading the senses. So unobtrusive. The perfect education tool.
And that, to his credit, is what Stuart has achieved here. His ability to fuse mural imagery – whether on the walls or, in this case, on the pages of his book – with his narrative, and subsequently trace the history of this British 'Troubled' but beautiful wee island from competing perspectives.
Stuart's masterly and perfectionist approach to his photography not only dumbfounded me but shocked many of his other Belfast friends with his totally insane excursions! He would alarm his hosts, rising pre-dawn, to go out to get the perfect camera angle or lighting effect! What he sought, I think you'll agree, was worth those inhospitable expeditions. The photographs stand alone as beautiful works of art regardless of the murals within.
Some of his work is so stunning that I felt a little pride in my own work… and to achieve that in another artist is remarkable.
And so, a final word. Looking back through Stuart's book you realise none of this was accidental. Every word, every photograph is premeditated, planned to perfection.
That is the talent of the little man from Hastings.
Keep on rockin', Stuart! Your day has come! Tá do lá tagtha!
The 35th anniversary of the 1981 hunger strike was commemorated nationally in a huge march and rally through West Belfast last Sunday. A video report on the parade and speeches can be viewed here.
Here are some photographs (courtesy Peadar Whelan) from last Sunday's march, and, another, taken thirty-five years ago.