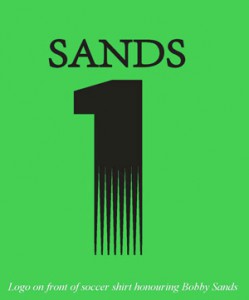 Last Sunday by visiting his grave, by commenting on social media such as Facebook and Twitter, many people marked the 60th anniversary of the birth of Bobby Sands. In the run-up to Bobby's anniversary he and his fellow hunger strikers were recalled at events in Geneva, Switzerland, and Vincenza, Italy. Last Sunday, within the space of a few hours, over four thousand people visited our website.The Bobby Sands Trust is proud to record all events, large or small, which honours our brave comrade.
So with this in mind, if you live in San Diego, California, then feel free to go along this Sunday where people who were not even born when Bobby died will be wearing jerseys bearing his name at a 6v6 Indoor game. Organiser Janice Jordan says: "If you have any extended family or friends in San Diego, please let them know they are welcome to come to our game. We shall be honoring Bobby Sands at our 6v6 Indoor game.The lads will be wearing the name Sands on their jerseys. The game is on Sunday, the 16th of March at 6.45pm. The address is: 2720 Howard Avenue, San Diego, California, 92104 in the North Park area of San Diego. FREE ADMISSION!
Janice Jordan, The Und1sputed Ones, California Wellness, LLC
http://www.undisputedusa.com/NorthPark/ud1soccer.html
http://www.youtube.com/user/Und1sputedOnes
http://www.facebook.com/Und1sputedones
"Today marks the 60th birthday of Bobby Sands. His name we'll always remember, his sacrifice we'll never forget. Today, I think of his parents and his siblings, his son Gerard and his grandchildren. I remember too his comrades, all of whom held Bobby in such high esteem. His smiling face is known the world over and his fight for freedom remains an inspiration wherever people rise up to face injustice. His poetry and songs still resound. Let us remember…
" – Christy Moore"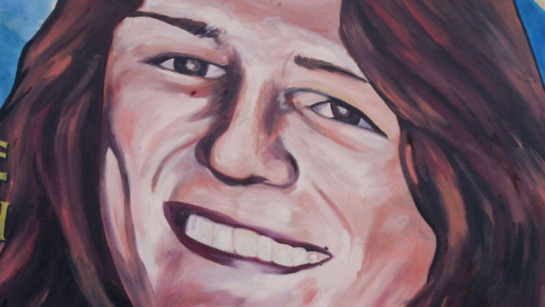 RT (Russia Today), the international multilingual Russian-based television network carries a feature by writer and commentator John Wight comparing Bobby Sands and Nelson Mandela. The feature can be read here.
RT has a worldwide audience of 630 million people in more than 100 countries and in 2011 was the second most-watched foreign news channel in the U.S. after BBC World News. In 2013 RT became the first TV news channel in history to reach 1 billion views on YouTube.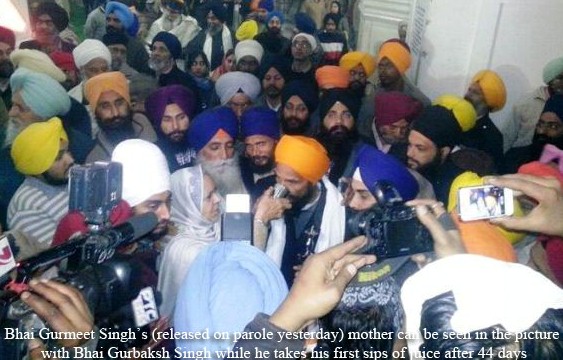 The six Singhs whose release Gurbaksh Singh Khalsa demanded have been released and Bhai Sahib Gurbaksh Singh Khalsa has ended has hunger strike after 44 days. This news has been sent to the Bobby Sands Trust by Inderjeet Kaur in a statement which said:
"He is still alive and in high spirits (chardi kala) and doing fairly well, but is, of course, much weakened physically. We pray for his complete recovery and anticipate many more years of inspiration from him. He will go down in Sikh history as a great hero whose willingness to undergo martyrdom achieved justice for these six.This concludes Phase One of the Morcha (campaign) to obtain the release of all those prisoners detained in India after completion of their sentences. There are many more still being held and we will continue to fight for their release, both Sikhs and non-Sikhs.
"We thank the Bobby Sands Trust for your support of us in this matter and pray that we can achieve our goal without the need to again resort to such drastic measures."
A link to the news story of this can be read here.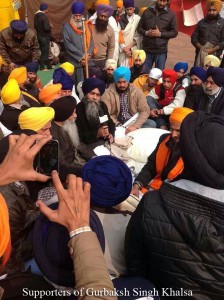 Gurbaksh Singh Khalsa, a Sikh, has been on hunger strike since November 14, in Mohali, protesting against India's refusal to release six Sikh Political Prisoners that have served their terms, but remain imprisoned for political purposes. Campaigners and supporters have asked the Trust to publish details of the protest and a Facebook website where people can sign a petition calling upon the Indian government to act. The following is from Inderjeet Kaur:
Sisters and Brothers of the Bobby Sands Trust,
Please put this information on your International page. This is a very serious matter about a Sikh brother on a hunger strike unto death. Indian newspapers refuse to publish what is happening and his sacrifice is virtually unknown outside of the Sikh Community. He mustn't be allowed to die unnoticed by the world. I have links to articles in Sikh online publications, if you want them. Here is a Facebook page supporting him: We Support Bhai Gurbaksh Singh Khalsa. Please post about this very good and dedicated man who is giving his life to try to get prisoners who have served their sentences released.
DETAILS
Gurbaksh Singh Khalsa has been on a hunger strike since November 14, 2013, in Mohali, India. The purpose of this strike is to raise awareness about Sikh political Prisoners languishing in Indian prisons after serving their given sentences. His health has deteriorated considerably; his body is shutting down and he could die within days. His cause has received no media coverage in Punjab, India or elsewhere due to the Indian government's lack of interest in its minority populations. Prominent newspapers in Punjab and nationally in India, even when given outside funding, have refused to publish any stories Gurbaksh Singh Khalsa and his hunger strike. His cause and message is simple, peaceful, straightforward: free those political prisoners that should be legally free.
Prisoners whose release is immediately sought: Gurmeet Singh, Lakhwinder Singh, Lal Singh, Shamsher Singh, Waryam Singh, Gurdeep Singh.
DR Avtar Singh's Medical Report: 14 December, 2013:
"I have reviewed Bhai Gurbaksh Singh's latest blood test reports of 12 hours ago. Bhai Sahib allowed the blood test to be done at the sangat's request. His Potassium level has dropped to 3.1. The level was 3.3 less than 48 hours ago. Any level less than 3.5 is abnormal. Our body will use all the stored amounts of Potassium in us before the level starts falling below 3.5. Bhai Sahib's Creatinine level has improved . This shows that he is drinking a lot of water . BUT he is not taking any fruits or vegetables or Dal for the last 30 days and that is from where Potassium is obtained. Potassium level less than 3.0 is termed Severe Hypokalemia ( The risks to body start showing their effects and can be life threatening ). The risks are of Arrythmia ( Irregular heart beat with heart going into dangerous rhythm resulting in sudden death even ). At level less than 2.5, Bhai Sahib's respiratory muscles will stop working and he will die of being unable to breathe. In a nutshell, Bhai Sahib is at risk of having a heart attack due to abnormal heart beat as potassium will fall below 3 in the next 24 hours and he will likely die of being unable to breathe in the next 3-5 days ( It seems his potassium level keeps falling by 0.1 every 24 hours ). Bhai Sahib's Kidneys have recovered but his heart is going to be at risk now. I warn Badals, Akal Takhat Jathedaar as well as Bhai Sahib's supporting organizations to ALL work as a team and get those six Singhs out of the Indian Jails ASAP so that Bhai Sahib can be given Fruit juice immediately as his body is in desperate need of Potassium. Bhai Sahib is at risk of Sudden Death ANYTIME now due to his low Potaasium and this risk will increase tremendously as his Potassium level falls below 3.0 in the next 12-24 hours. If he dies anytime, it will be a proof of the Society's inability to listen to a genuine human being like Bhai Gurbaksh Singh."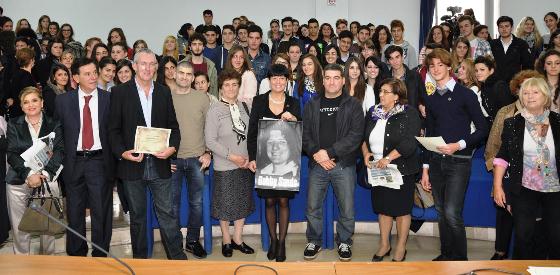 An Italian translation of 'The Diary of Bobby Sands', Il diario di Bobby Sands. Storia di un ragazzo irlandese, by Silvia Calamati, Laurence McKeown and Denis O'Hearn has won yet another prize, this time in Cassino, Italy, on October 19th last. Young students made up the majority of jurors of the award which was made by the Italian Cultural Association LETTERATURE DAL FRONTE (Cassino). The association was set up in 2006 to continue the activities carried out by the 'Committee to remember the Battle of Monte Cassino,' a famous battle during WWII.*
Present for the award ceremony were Silvia Calamati (third from left in front page photo) and former hunger striker and writer Laurence McKeown (second from left). The aim of the prize, beyond the purely literary, is to involve young people in the reading of texts by European writers who are regarded as 'carriers of testimonies of crises of humanity, wars, disease, persecution, and violence. Each year the award focuses on a different country and the literature from that country. In 2013 the chosen country was Ireland.
The selection process to decide the winner of the award is unique in that students from high schools in four Italian cities (Rome, Trieste, Cassino and Pico), together with a scientific panel consisting of representatives of the world of information and culture (including two public libraries and a jury presided by the Trieste Association 'Radici e Futuro'), have the opportunity to vote for the book of their choice.
Seamus Heaney's Fuori campo was second place in the vote with Roddy Doyle's The Dead Republic and Joseph O'Connor's The Star of the Sea coming third and fourth respectively.
The 'MOTIVAZIONE UFFICIALE', written and agreed by all the Award jury members, formally explained why they decided to give the award to the book on Bobby Sands.
"After reading the book the students were asked to answer the question, 'What idea comes out of this book?' Their response was, 'the belief in values'. And when asked, 'To whom would you recommend it?', the unanimous answer was, 'anybody'. These two answers are symptomatic to understand to what extent the reading of this book had such an emotional impact on the students and why they awarded the editors with the "Premio Internazionale Letterature dal Fronte – Conoscere le Crisi dell'Umanità per Costruire la Pace".
"Northern Ireland's history is marked with the sacrifice of young lives such as, amongst many, those of Bobby Sands and his comrades in his sadly infamous jail of Long Kesh: the conflict consumed their youth; Bobby Sands and his comrades their lives.
"Many of the students have confessed they did not know the history of Northern Ireland and we must credit Silvia Calamati, Laurence McKeown and Denis O'Hearn for having uncovered for us this sad chapter of our European history and having done so with a freshness in the language spoken by young people, and in a narrative style which is meaningful and clear at the same time. Their merit lies also in having reported the facts, using their pen as a scalpel to cut into the open wound of the contrast between British institutions and politics and the consequences of those policies on a people. If it is true that we build our freedom remembering how much it has cost, then Silvia, Laurence and Denis have given a meaningful contribution to the freedom of us all. We thank them gratefully for having transmitted with this book that 'belief in values' that our students so heartily have highlighted."
Speaking at the ceremony Silvia Calamati said: "In spite of the strong attempt which is now taking place in the Six Counties to cancel the historical memory of the sacrifice of Bobby Sands and of his young comrades during the period of the hunger strikes, this award, the second award in Italy in three years, and the heartfelt interest for this book shown by hundreds of Italian students, indicates that Bobby Sands' ideals and values that he believed in are still alive and strong all over the world. The decision taken by the Florence City Council to name a street after Bobby Sands is just one of the many examples that show how his ideals, values, and desire for a free Ireland cannot be quenched."
Laurence McKeown, in his address to the assembled students and Scientific Committee, concluded by saying, "Bobby used to write under the pen-name 'An Fhuiseog', 'The Lark'. I like to think of him as a lark, flying high over Montecassino today, feeling the heat of the sun on his body, the sun that he did not see when incarcerated in a concrete tomb in the H Blocks of Long Kesh; and looking down on this gathering of young students who thirty-two years after his death are inspired by his words. Bobby once wrote, 'let our revenge be the laughter of our children', and I can ensure you that today our children, a new generation, are laughing, are proud, are confident."
On Friday 18th October, H – the feature film co-written by Laurence McKeown – was screened (with Italian subtitles) in a nearby college and followed by a Q & A event with the students, professors, and journalists.
*The Battle of Monte Cassino, 17th  January – 18th  May 1944 (also known as the Battle for Rome and the Battle for Cassino) was a costly series of four assaults by the Allies against 'the Winter Line' in Italy held by the Germans and Italians during the Italian Campaign of World War II. At the beginning of 1944 the western half of the Winter Line was being anchored by Germans holding the Rapido, Liri, and Garigliano valleys and some of the surrounding peaks and ridges. Together, these features formed the Gustave Line.
Monte Cassino, an historic hilltop abbey founded in AD 529 by Benedict of Nursia, dominated the nearby town of Cassino and the entrances to the Liri and Rapido valleys but had been left unoccupied by the German defenders. The Germans had, however, manned some positions set into the steep slopes below the abbey's walls. Fearing that the abbey formed part of the Germans' defensive line, primarily as a lookout post, the Allies sanctioned its bombing on 15th February and American bombers proceeded to drop 1,400 tons of bombs onto their target.
The destruction and rubble left by the bombing raid now provided better protection from aerial and artillery attacks, so, two days later, German paratroopers took up positions in the abbey's ruins. Between 17th January and 18th May, Monte Cassino and the Gustav defences were assaulted four times by Allied troops, the last involving twenty divisions attacking along a twenty-mile front. The German defenders were finally driven from their positions, but at a high cost.
Hundreds of prisoners across Californian jails have entered their second month on hunger strike protesting against inhumane conditions. Their key demand is an end to indefinite solitary confinement in 'Security Housing Units'. Some of the prisoners have been held there for decades. Amnesty International, amongst other organisations, has condemned the conditions and called for prison reform.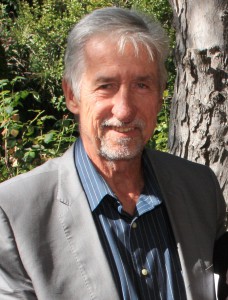 In this feature the veteran activist and long-time Irish supporter Tom Hayden* looks at the influence of the 1981 hunger strike on the thinking of the prisoners, who are not political, but who have been radicalized as a result of the way they have been mistreated:
Word from within is that California's prison hunger strikers have been studying the Irish hunger strike of 1981 led by Bobby Sands, in which 10 Irish Republicans died because of the stubborn refusal of Margaret Thatcher to recognize them as anything but human.
California Governor Jerry Brown and California prison officials could learn from the Irish hunger strike as well, which is told in Denis O'Hearn's book, Nothing But An Unfinished Song: The Life and Times of Bobby Sands, and Danny Morrison's book, Hunger Strike.
To be clear, there are sharp differences between the two hunger strikes. The main difference is that the Irish Republicans were arrested as armed combatants against British rule over Northern Ireland. The California hunger strikers originally were convicted as violent criminals and steadily have become political under the punishing regimen of the prison system, especially the system of solitary confinement. In both cases, however, the British and California prison authorities considered them as nothing but criminals. As one prison guard remembered years later, "at first we thought they [the Irish] were dirty animals," as did much of the public.
Similar perceptions rule the minds of California officials and many observers today. But such perceptions can be blinding and easily become the rationale for an indifference toward the possibility of death.
The first Irish hunger strike began in 1980 and lasted 53 days. It was suddenly called off to save the life of one of the hunger strikers who was close to death. According to Danny Morrison: "The British side promised to introduce progressively a liberal prison regime. However, as soon as the hunger strike ended, they reneged and the 'concerned' politicians all but disappeared, some smug with the impression that the morale of the protestors and the back of the protest had been broken."
Because of the failed promises, the prisoners decided on a second hunger strike, which resulted in the ten deaths.
That is where things stand in California at the moment. The governor, through his prison czar Jeffrey Beard, has conducted a campaign to demonize the hunger strikers as nothing more than criminals who want to seize and control the institutions on behalf of their violent gangs. There can be no negotiations with these terrorists, the California officials insist, until they unilaterally end their hunger strike. On the other side, having been disappointed with the results of their 2011 hunger strike, the striking prisoners are reluctant to end their fasting in exchange for words.
The tide is turning against California's position. The conservative U.S. Supreme Court has ruled that California is in violation of the Eighth Amendment ban on cruel and unusual punishment. The steam has run out of the 30-year crusade to impose mass incarceration, including solitary confinement, on so many at such taxpayer cost. California voters oppose spending more on prisons and have voted to reform the Three Strikes Law.
Margaret Thatcher and her prison guards once were proudly adamant of the policies that demonized, incarcerated and executed so many Irish Republicans. That pride has faded into embarrassment today among most citizens of the UK, as they watch former IRA prisoners and even their Loyalist paramilitary adversaries take part in peacefully reforming the old order.
It is time for California officials to practice the subtle arts of conflict resolution instead of acting with arrogant impunity by imposing unbearable conditions on inmates, most of whom already are being punished for life.
*Tom Hayden is a former State Senator and leader of sixties peace, justice and environmental movement. Director of the Peace and Justice Resource Center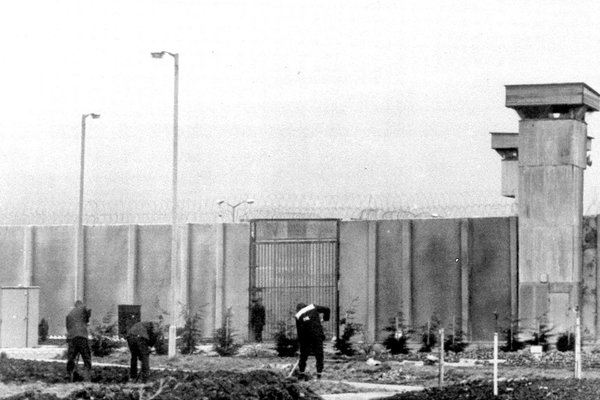 The New York Times, which during the conflict, and despite pressure by Britain, referred to IRA fighters as guerrillas, carries a considered piece on the preservation of some buildings at Long Kesh/H-Blocks and interviews two former hunger strikers. The full feature can be read here.
CNN, the popular Cable News Network, carried a feature on the 1981 hunger strike in response to the hunger strike by one hundred prisoners at Guantanamo Bay. In it are interviewed Brendan 'Bik' McFarlane and Denis O'Hearn who wrote the biography on Bobby Sands, Nothing But An Unfinished Song. The feature can be heard here.
http://cnnradio.cnn.com/2013/05/09/the-legend-of-hunger-strikers/
 Extra medical staff have been sent to the US military prison in Guantanamo Bay, Cuba, where almost two-thirds of the detainees are on hunger strike, with many being force-fed. to help address a hunger strike that has spread to nearly two-thirds of the detainees.
The strike is into its twelfth week. Twenty-one prisoners are being force-fed and five of the prisoners have been hospitalized though it is unclear how advanced is their condition. The protest began on February 6th when inmates claimed prison officials searched Korans in a way they considered blasphemous, according to their lawyers. Prison authorities denied the allegations. But the strike turned into a larger protest by prisoners against their indefinite incarceration without charge or trial over the past eleven years.
Although President Barack Obama promised to close the prison in the US base in Cuba where 150 al Qaeda suspects are being held without charge or trial, the number has increased under his watch.
More and more critics have called for the immediate closure of the facility. Among them is former chief prosecutor at Guantanamo, Air Force colonel Morris Davis, who warned that "unless President Obama acts soon, I believe it is likely one or more of the detainees will die."