Last Sunday, 1st March, was the 34th anniversary of the day in 1981 that Bobby Sands began his hunger strike which lasted sixty-five days until his death. Recently, another former hunger striker, Laurence McKeown spoke at two events in Italy to commemorate the ten men who died in the struggle against criminalisation.
On 16th February Laurence spoke at an event in Verona (sponsored by Amnesty International and Verona's Travel Agency Travel Team) and on 17th February in Vicenza (sponsored, again, by Amnesty International). The 2001 film H-3, written by the late Brian Campbell and Laurence McKeown, and directed by Les Blair, was also shown. Laurence gave an extensive interview to the newspaper Il Giornale di Vicenza.
The meetings were chaired by Silvia Calamati who has written extensively on Irish republicanism, on republican women in struggle and has written about and translated the writings of Bobby Sands.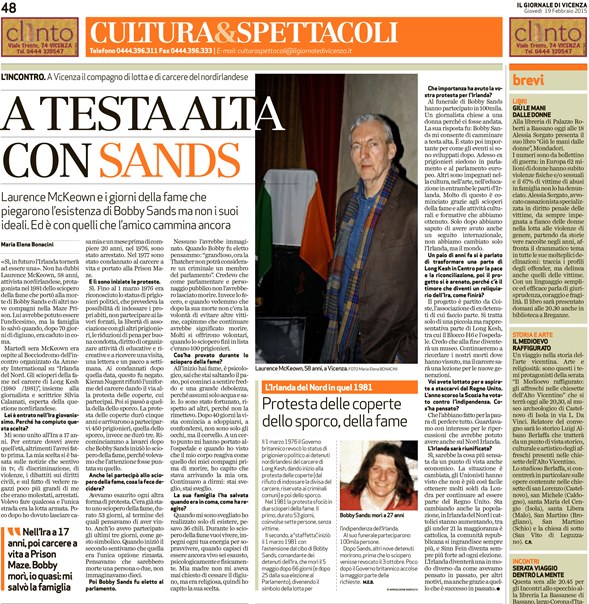 There is a certain irony that while the SDLP has declared its intention of supporting unionists in changing the name of a park in Newry named after hunger striker Raymond McCreesh, the namesake of a Belfast SDLP Councillor, a councillor in Queensland, Australia, named a street Sands Court after IRA hunger striker Bobby Sands!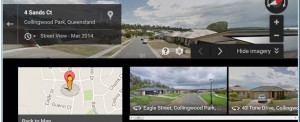 Councillor Victor Attwood has had other streets named after republican icons from the 1916 Rising (Connolly and Pearse) and the Tan War (Collins and De Valera), as well as more modern republican heroes.
Councillor Atwood said: "When I became a councillor for Division Three in Ipswich I had a new subdivision in Collingwood Park that I had to provide street names for.
"I thought because there are a lot of Irish people who immigrate to Australia it would be good to bring a bit of Ireland here and recognise the Irish heroes from the 1916 uprising and then the early 1920s war of independence against the English, and honour them where I now live."
Compare his attitude to that of the SDLP's Alban Maginness who yesterday stated that party headquarters would ensure that SDLP councillors support unionists in stripping Raymond McCreesh Park of its name.

Former IRA prisoner Seanna Walsh was interviewed by Ethnos Sunday, one of the biggest newspapers in Greece, about the 1981 hunger strike, against the background of a Greek teenager who is now into his 25th day on hunger strike over his right to education. Seanna, who is a Legacy and Outreach worker with the ex-prisoners' group Coiste na n-Iarchimí, spoke about the history of hunger striking in the Irish context and that no one ever enters into a hunger strike on a whim. He said that the way to avoid or resolve a hunger strike is for the authorities to respect the dignity and humanity of a prisoner.
Below we print a feature from from the online journal Roarmagazine written by Danai Limneou, an activist in the anti-authoritarian/anarchist movement in Greece:
NIKOS Romanos' name is closely tied to the equally well known Alexandros Grigoropoulos, the 15-year-old boy who was shot and killed by police officer Epaminondas Korkoneas in Athens, on December 6, 2008. Only 15 years of age himself, Romanos witnessed his best friend die in front of his eyes. The murder sparked weeks of nationwide rioting.
Several years later, Romanos was caught together with four of his comrades while trying to flee from a bank robbery in Velvento. Following their arrest they were beaten up under police custody to such extent that the photographs released by the police had to be overtly photoshopped to hide their injuries.
Nikos Romanos, Andreas-Dimitris Bourzoukos, Giannis Mihailidis and Dimitris Politis openly stated that they are anarchists and revolutionaries. They were subsequently convicted on the charges of armed robbery, while the initial terrorism charges failed to stand in court. Many refer back to the speech delivered by the State Attorney Grigoris Peponis during the trial for the robbery in Velvento: "It is the first time I see a robbery in which they [the perpetrators] set the hostages free, while during the police chase, they did not use the heavy weapons they had, neither did they shoot the policemen, nor did they use the hostage as a human shield in order to escape."
Last spring, while in prison, Nikos Romanos succeeded in passing the Greek entrance exams for university and was admitted to a faculty in Athens. Since September 2014, the beginning of the academic term, he has been eligible for educational furloughs (exit permits) to regularly attend classes.
The Ministry of Justice and the President of Greece, Karolos Papoulias, wanted to award Romanos and other inmates for their academic success. However, Romanos, being an anarchist, refused to attend the ceremony as this would go against his principles. The rejection of this invitation from the head of state and the refusal to accept the €500 prize money resulted in a clearly vindictive denial, by the prison council, of Romanos's application for prison furlough to attend classes.
Many believe this is part of a more generalized vengeful tactic of the state to those resisting the new prison system. The type-C prisons in Greece have some similarities with the F-type prisons in Turkey. They are intended for "dangerous criminals" and the "ideological enemies of the state," which includes revolutionary, political and rebellious prisoners — as well as those who voice their protest against injustices in jail.
On Monday, November 10, 2014, with anarchy forever in his heart (as he wrote), Nikos Romanos commenced his hunger strike. He thereby reaffirmed his anarchist principles and explained his motivation in a statement that laid claim to his lawful entitlement to educational leave from prison.
In his own words:
"In addition to being instruments of control and repression, laws are also used for maintenance of balances or what is otherwise called social contracts; they reflect socio-political correlations and partially form certain positions for the conduct of the social war.
"This is why I want to make my choice as clear as possible: I am not defending their legitimacy — on the contrary, I use them as political blackmail to gain breaths of freedom from the devastating condition of incarceration."
On November 24, Romanos was transferred to the Athens General Hospital Gennimatas, where he remains — under strong police surveillance — to this day. His transfer was accompanied by an official document of the prison prosecutor, who audaciously stated that the hospital doctors bear responsibility for whatever happens to him, thus indirectly urging the hospital staff to enforce force-feeding.
Nikos Romanos's physician, Pantelia (Lina) Vergopoulou, reported on November 28 that he is in critical condition, faced with life-threatening complications. His doctor warns that "it is no longer his health that is in danger, but his life," given that "from one day to the next he may suffer a kidney or a heart failure."
According to Romanos' lawyer, Fragkiskos Ragkousis, Romanos has lost 17 kilos (over 35 pounds) and is now fighting for his life. With a heart rate of 170 bpm, Ragousis said that unless there is a change, cardiac arrest is considered "to be expected." He also denounced the forced-feeding ordered by the district attorney director of the prison, stating that "this is equal to torture of the prisoner."
During Romanos' battle, other prisoners joined him as a sign of support and comradery. On November 17, anarchist prisoner Yannis Michailidis went on hunger strike as a sign of solidarity with the struggle of Nikos Romanos and as of November 28 he in turn also needed to be hospitalized in Piraeus general hospital Tzaneio, after he was diagnosed with bradycardia.
On November 30, Andreas-Dimitris Bourzoukos and Dimitris Politis, anarchist prisoners and comrades of Romanos, released a statement saying that:
"As a minimum token of solidarity with Nikos, we will also go on a hunger strike as of Monday December 1 — like comrade Yannis Michailidis, who is conducting a hunger strike since the 17th of November — until his claim is met. Together until the end, together until victory."
With fears that the health of the two initial hunger strikers may be imminently and irreversibly damaged, many solidarity actions have taken place both within Greece and in other parts of the world. Nikos' comrades declared to stand by his side in his struggle and support every move he desires and must take to accompany his battle, and will support every expression of aggressive solidarity that is needed. Romanos also declared that "solidarity means attack" and added an interesting post scriptum: "To all the armchair 'fighters', the professional humanists, the 'sensitive' intellectuals and spiritual personages: I say to you good riddance in advance."
Rather than defend the legitimacy of state laws, Nikos Romanos is using one of the few means of struggle at his disposal in a state of captivity: placing his body as a barricade to get a breath of freedom. All comrades stand firm and continue their hunger strike.

The passion for freedom is stronger than all prisons!
Next week sees the publication in Turkish of Denis O'Hearn's biography of Bobby Sands, Nothing But An Unfinished Song. The book will be published in time for the Istanbul Book Fair, November 8th -11th . The book, under the Turkish title, Yarim Kalmış Bir Şarkı: Bobby Sands'in Hayatı ve Dönemi, is published by Yordam Kitap of Istanbul.
The publication of the biography of Bobby Sands in Turkish is especially poignant because more than 100 political prisoners and their supporters died on hunger strike in Turkey during 2000-2007, an action which they claimed was in the tradition of Bobby Sands and his comrades. In 2012, Kurdish political prisoners went on hunger strike for 68 days, again citing the influence of the Irish hunger strikers of 1981. Students were arrested when they followed an Irish tactic of the H-Block protests, writing, "Kurdish prisoners are on hunger strike in F-type Prisons" on Turkish banknotes.
The original title of the book, Nothing But an Unfinished Song (Yarım Kalmış Bir Şarkı) comes from a poem written in Bursa prison in the 1930s by Turkey's greatest poet, Nazim Hikmet.
In his preface to the Turkish edition, Denis O'Hearn writes:
It is especially moving to me for this book to be published in Turkish. The title, of course, is taken from a poem that was written by Nazim Hikmet while he was in Bursa prison. The degree to which Hikmet's image of the "unfinished song" fits the life of Bobby Sands is uncanny. Not only was Bobby's life filled with music – songs of other people that he sang and songs that he wrote himself – but his life itself was and is a wonderful song. It was often sung in the most horrible places and circumstances, and his physical song was left unfinished when he and nine other courageous young men died on hunger strike in 1981. The H-Blocks of Long Kesh prison outside of Belfast, where Sands and hundreds of men suffered and died for their ideals, was the site of one of the most horrible episodes in prison history. For five years hundreds of men were kept naked in their cells, with only blankets to wear. They were beaten and abused. They were the "blanketmen." Yet through all of the horrors of that period, which you will read about in this book, Bobby Sands sang his song, with great power and joy. And although it remains unfinished, it lives on through other free men and women across the world and new verses continue to be written.
This is another reason why this book should be available in Turkish, and hopefully one day will be read in Kurdish. The English-language version of this book was published in 2006, at the end of a horrible death fast in Turkey, a fast that was undertaken by prisoners and their supporters who said they were acting in the tradition of Bobby Sands and his comrades.
In the intervening years this book has been into many dark places like those endured by the Irish prisoners in the H-Blocks and the Turkish death fasters.
"Supermax" prisons in the United States are dark places where tens of thousands of men spend years and even decades locked into small cells the size of a parking space, never touching another living thing, human, animal, or plant. Some have been there for decades, watching their loved ones grow older in rare visits, never touching, having to shout their love to one another through panes of security-glass or over a telephone headset. Like Bobby Sands, these men struggle in ingenious ways to practice mutual aid and solidarity, to make contact with each other through word and deed, even though they cannot make physical contact. They find ways to communicate. They share knowledge. Like Bobby and his comrades, they find ways to open the "windows of their minds," even as their torturers close off the windows to nature and life that nourish all of our spirits in more normal places.
After this book was published, things began to change. A light began to glimmer in the darkness. The book never made the best seller lists, nor has it made its author a rich man in monetary terms. But it has provided much greater riches. Soon after this book was published it made its way into the hands of an African-American man who had been in a supermax prison in the American state of Ohio living in the conditions I have described above for fifteen years. That man, Bomani Shakur, wrote a letter to me and we have since become the closest of friends; no, we are brothers. Bomani found in this book a spirit that helped him and his comrades, sentenced to death for their alleged part in a prison uprising in 1993, to begin thinking about how another world was possible, even in the horrible conditions of solitary isolation.
I began visiting Bomani at Ohio State Penitentiary, a six hour drive away from my home in New York. We talked about many things, but mostly about the meaning of freedom. In 2009 he suggested to me that I should teach a course on prisons at my university, and that supermax prisoners could also participate, both as students and expert consultants. The class included students from assorted ethnic and class backgrounds, and ten prisoners held in long-term isolation in supermax prisons across the United States. They included Bomani Shakur but also two remarkable men from the most infamous prison in America: Pelican Bay State Prison in California. In fact, Danny Troxell and Todd Ashker were not just from the "Secure Housing Unit" (SHU) at Pelican Bay, they were from a small part of the SHU called the "short corridor," where the state of California keeps two hundred prisoners it wants most to silence. They are men of different races: whites, African Americans, and Latinos. According to the state of California, these men are supposed to hate each other. But, instead, they formed a "short corridor collective," where they built a community by shouting to each other from cell to cell. They shared ideas of freedom from writers like Thomas Paine and the radical historian Howard Zinn…and Bobby Sands.
According to Todd Ashker, "we've come to recognize and respect our racial and cultural differences…while recognizing that we're all in the same boat when it comes to the prison staff's dehumanizing treatment and abuse – they are our jailers, our torturers, our common adversaries."
In 2009, these men participated in my course on "prison experiences." They read the same books and articles as the students. Then the students wrote to them, asking questions about how life really is in prison. They asked whether famous academic prison experts, like the French social theorist and philosopher Michel Foucault, "got it right" (a short answer: no, they usually didn't get it right).
The prisoners all read this book in the class, which you can now read in Turkish. The experiences of Bobby Sands and his comrades, though they happened thirty years previously, spoke to them across the years. They studied the Irish experience and they thought about how they, too, could fight the supermax and its tortures through non-violent actions including hunger strike.
In 2010 thousands of prisoners in the state of Georgia went on a general strike, refusing to obey the orders of the prison authorities or to do prison work (if, indeed, they were allowed to work). In early 2011, Bomani Shakur, Jason Robb (a white man), and Siddique Abdullah Hasan (a Sunni Muslim) went on hunger strike. Like Bobby Sands and his comrades they had five demands. At the top of the list was to have open visits with their friends and family and to be able to exercise together. Also like Bobby and the "blanketmen", they reached out to supporters outside of prison and built a network of people who could undertake actions in their support: attending public demonstrations, writing editorials in newspapers outlining their case.
After twelve days without food, the men won all of their demands. A week later, I went to visit them along with my Turkish wife, Bilge. We hugged, kissed and broke bread together, the first time these men had been allowed human contact in almost twenty years. Bomani Shakur and Jason Robb (who are, incidentally, best friends even though the prison authorities insists they should be enemies because they are from different races) have both told me that Bobby Sands gave them their freedom. He and his Irish comrades showed them the way, gave them a vision of how they could win their rights. And they struggle on, but now living a life that is richer because they discovered how they could fight for their rights.
Meanwhile, our friends back in Pelican Bay also read about Bobby Sands and they heard about prisoners winning their rights in Georgia and Ohio. In the "short corridor collective," men of mixed races who are supposed to hate each other discussed freedom. From their readings of Mayan cosmology (the Mayans are an indigenous people in Mexico and Central America) they learned about time and space, and how to identify opportunities to move to a better and higher way of living. The talk across the corridor was often loud and confused; some spoke in Spanish and some in English. But Todd Ashker says, "when Danny and I started talking about Bobby Sands and the Irish struggle, things went quiet…everyone was listening."
The men of the short corridor slowly began to make plans for a hunger strike against California's system of prison torture. Slowly, they got the word of their plans to prisoners all across the state of California. In 2011 and again in 2013, more than 30,000 prisoners in California went on hunger strike. Again, like the Irish, they had five simple demands. First among them was to end the system of isolation, where a man could only get back among other humans if he snitched on other men.
They launched a legal campaign against the prison system and forced the California legislature to hold hearings about the conditions at Pelican Bay and other prisons in California. The struggle continues.
In the state of Illinois, more prisoners took the class on Prison Experiences in 2014. They all read this book. Later that year they launched their own hunger strike against the prison system in that state. One of them wrote to me saying that, like the Northern Irish prison authorities, the Illinois authorities were putting metal over their windows, shutting out their only contact with nature. But he said that the men were standing firm. They would not be deterred from their fight for freedom. The spirit of Bobby Sands and the "blanketmen" of Long Kesh prison continues to speak to prisoners, across continents and across millennia.
A French edition of this book came out in 2011. It found a special audience and had special meaning to Basque prisoners in the southern parts of France, also known as the Basque Country. After some months, two prisoners from that region wrote to say that they were translating this book into Basque so that their own people in struggle can find encouragement from Irish comrades of times past.
In 2012, we shared the Prison Experience course with a remarkable group of students at Bogazici University in Istanbul. Also participating in the course were many leftist and Kurdish men and women prisoners, most of them enduring that other infamous system of prison torture and isolation: the F-type prisons. We stayed as close as we could to the same pattern of learning and sharing that we had developed in the United States with prisoners in the supermaxes. In Turkey, we found the same spirit of freedom that we found in the United States. We shared some of the life and work of Bobby Sands with prisoners in F-type, although we were hampered by problems of translation. We sent this book to a few Kurdish prisoners who spoke English.
Now, in this translation, all free men and women in this territory—captives and noncaptives; Turkish and Kurdish and Roma and Armenian; Sunni and Alevi and Christian and atheist—can share in the life of Bobby Sands and his remarkable comrades. Many already know and practice the same ideals of freedom that Bobby practiced. I know that it will enrich you to read of Bobby's experiences, as it has enriched people all across the Americas, Europe, and Australia. Most of all, I hope that those of you who read this book will send copies into the prisons of Turkey. The captives in Turkey are Bobby's people. They will understand.
This week Al Jazeera broadcasted a documentary on Palestinian prisoners held in Israeli prisons and the tactic of hunger striking. The film, which was made by Al Jazeera Arabic/Focus film is about the tactic of 'open' hunger strikes which have often been used in different parts of the world to draw attention to political and humanitarian causes.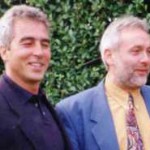 The film examines the strategic use of individual or group-initiated hunger strikes, what motivates hunger strikers, their survival under sustained pressure, and the mistreatment of detainees.
Interviewees include 1980s Irish hunger striker Pat Sheehan (pictured left) and IRA leader Brendan McFarlane (right).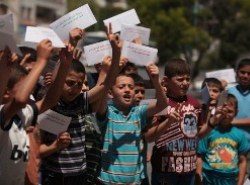 Basil Farraji, whose father is on hunger strike in an Israeli Jail, is visiting Belfast this week with the Path to Peace Project and meeting with solidarity groups and political activists. Abdul Razzaq Farraj, 51 years old, the administrative and financial director of the Union of Agricultural Work Committees is being held in administrative detention, in other words he is interned without charge or trial. Recently, Basil Farraj, gave a moving interview to Electronic Intifada, which can be heard here and which can be read below.
Basil Farraj: My father, Abdul Razzaq Farraj, is the administrative and financial director of the Union of Agricultural Work Committees. He is 51 years old. He is from al-Jalazone refugee camp, which is a refugee camp in Ramallah city. This refugee camp was established in 1948. My father's family fled from Lydd during the Nakba.
My father is a very — I always describe him as a silent man, but behind that silence there's a lot of determination, a lot of love, a lot of motivation, a lot of devotion for the cause of Palestine and for justice in its purest sense. Some would say that [it's] because he's my father — but I think a lot of people agree in Palestine that he is one of those people in Palestine who have devoted all of their life for Palestine. But actually one of the few ones who has remained true to his principles as things have changed.
I'm not sure how much detail I should go into here, but I think a reflection of that would be the current hunger strike that he is undertaking with the other nearly 125 other Palestinian administrative detainees. My father has entered his 48th day on the hunger strike. It's not the first time he's gone on a hunger strike, but this one in particular is his longest. And every message we get from him — actually, we only got one message — it's been a message of hope and inspiration. We feel like we are the prisoners, not him. But we know at the same time that his body is very weak, that he has lost more than 12 kilograms of his weight. We know that he is in a hospital bed and probably shackled to the hospital bed, but still he manages to send us messages of hope and inspiration, even from these circumstances.
He's a fighter for justice, but at the same time, he has an immense love for life that is making him do this. And I think we've never doubted this for a second — that his love for life is why he's doing this right now. And he and other hunger strikers are an inspiration to all of us.
Nora Barrows-Friedman: Basil, as you said, this is not the first time your father has been in Israeli jail; he was jailed for six years in 1985, and was arrested five more times over twenty years from 1994 to this past February; each time he was put in administrative detention. This is also not the first time he went on hunger strike to protest his detention without charge or trial. Can you talk about his most recent arrest last February, what happened when he was arrested last February, and why he is on hunger strike again now?
BF: Yes. So he was arrested on 25 February this year. The Israelis came to our house at 2:30am, a lot of them — a lot of the military soldiers came into the house. Usually they would take longer, but this time they came to the house, they looked for my dad, and they said, "Come with us." He asked, "Where is the officer in command? I want to see my arrest warrant," and they said, "We don't have one, just come with us."
It's usual. He knew he was going to be put under administrative detention, because that's how he's been arrested, as you have mentioned, for the past five times. But this arrest is different, because, as you have noted, he is on hunger strike and he's doing this now with other hunger strikers. They are demanding an end to administrative detention. This is a policy that reaches every Palestinian. It could place me and any other Palestinian on the street under arrest for an indefinite amount of time, without charge, without trial, based on information that the Israeli commander and the Israeli judge as well, [points] to the "secret file."
And neither the lawyer nor the prisoner can see the secret file, so they are unable to revoke or to use it to say that these accusations are not correct, because you cannot see them. So in this hunger strike, they are demanding the end to the use of this policy that defies international law. Under international law, this is only allowed under emergency situations, and only when the prisoners are allowed to see why they are being held, and only when they are subject to a definite amount of time. Clearly, Israel is in defiance of all these norms, and this is not unusual for the Israeli state; but for this policy in particular, it's a cornerstone for the Israeli occupation. It has led to the arrest of thousands of Palestinians since 1967, and onwards. Yesterday they arrested 150 people from Hebron and Nablus, and they were put under this policy.
That's why they are doing this hunger strike right now, and I think it's important to know that this hunger strike is not for the prisoners themselves. They are doing it for me and for other Palestinian people, because really this policy can reach any Palestinian, at any time, in any place. This is different from the other hunger strikes in the past, because the other ones were — the prisoners would demand, for example, an extra TV channel, or they would demand having an extra book allowed per month. But this one is a political hunger strike, and that's why we're worried as the families of hunger strikers, because we know that the Israeli state is not showing any concern for the lives of these hunger strikers and they are continuously violating their rights.
The reports that we have had, Nora, is that the hunger strikers were shackled to the hospital beds, their right hands with their left legs to not allow movement. And some of the hunger strikers in hospitals — the numbers say that there are seventy hunger strikers in hospitals — some of them have had to drink dirty tap water, which led to a lot of bleeding in their stomachs. We have also had reports that when my father was in isolation, his cell was being raided and he was violently beaten, even though he's on hunger strike. The lawyer told us that they are not allowed a one-hour walk outside. Usually they get a one-hour walk outside and they are being denied that. So I would assume that they are in their cell or their hospital beds 24 hours a day.
As you know, family visits are denied and were denied the first day of the hunger strike. We have not been able to see my father, or the other hunger strikers for that matter, since the beginning of the hunger strike. The Israeli state — all these measures are punitive measures that the Israeli state is using to pressure the hunger strikers to end their hunger strike. But the hunger strikers are very close to their second month. They are clearly defying these punitive measures. But on the humanitarian level, it's in defiance of international law and international norms. Why are we not permitted to see our loved ones? They are on the verge of death.
A lot of them — we have got reports that they are on their hospital beds, they are bleeding, they are nauseous, some of them might face full-body paralysis, and so we're very concerned about this. And the Israeli state, again, even with their force-feeding bill, they are showing no sign of listening to the hunger strikers and no intention to negotiate with them. And it's very worrying for us, as families of hunger strikers.
NBF: Basil, what kind of impact has the repeated arrest and administrative detention and now this hunger strike [of your father] had on you and your family?
BF: This policy in particular, it's very cruel. Again, it's nothing unusual from the Israeli occupation, but in particular, this policy has put us in a continuous state of waiting. We do not know when my father is going to be released, we do not know when we are going to be able to see him again in the house. Our moments of joy have been stolen away from us, because my father has been stolen away from us — during my graduation, my brother's graduation, my cousin's first son, my cousin's wedding — it goes on and on.
Again, this is the daily life of a lot of Palestinians, but this policy in particular — because it's very cruel, it intentionally leaves us in this state. The Israeli state could easily try these prisoners or release them. But they intend to put us in this state, because this policy does not only target the prisoners, but it also targets the families. And it's also very important — my family has suffered immensely from this. Because as you have noted, since 1994, my father has been arrested five times, and all of them under this policy.
I remember in 2002, when his second arrest came through, he was arrested for four and a half years under this policy. And I remember clearly waiting next to the phone, all my family would gather. My uncles, my cousins, my brother, all of us — we would gather an hour before his release date, and then we'd get a phone call, sometimes one minute before, from my father saying that "I'm sorry, I have got six more months." I could sense the sadness in his voice. He wanted to tell us, "I'm going to be with you really soon." But then he gets the detention renewal warrant, sometimes seconds before his arrest is over.
I think it has a lot of psychological impact on the family and on the prisoner as well, and the Israelis well intend to do so. It's part of their systematic violations of Palestinians' rights. And I think that's why the hunger strikers are doing this now, because they're fed up with it, and most importantly, as they have told us in their messages, they are doing this for us, for the Palestinian people. Because it is a cornerstone of the Israeli occupation, and it has to end. They are putting their lives on the frontlines for this, and they should be praised — they are a cause of inspiration for all of us. All of us should at least give five minutes of our time to understand why they are doing this. Because they are really showing us the true meaning of life, and the true meaning of sacrifice — not for themselves, but for someone else.
This reminds me of the Northern Irish hunger strike, the famous Bobby Sands. He said "our revenge will be the laughter of our children." And we don't want our loved ones to come back dead. We want our father to come back walking the same way he left and the same way he always leaves the house. He leaves the house as confident as an olive tree in Palestine, but we also believe 100 percent in their determination. It's very worrying that they might come back dead. We don't want to carry them on our shoulders. We want to hug them, we want to kiss them. We want to live whatever moments are left with them. And I imagine Bobby Sands because it's a very similar hunger strike to the one that's happening now — it was a political hunger strike. It is a cause of worry — because Margaret Thatcher's government did the same thing — they gave no concern to the lives of the hunger strikers. That makes us very worried.
But I think an uplifting message from my father was — in his earlier arrest in 2012, he sent us a message when he was on hunger strike — he said, "my determination reaches the furthest point of the sky." And we believe that the determination in all of them is even higher than the furthest point in the sky, we have no doubt in that. It's very hard for all of the families of the hunger strikers at this stage, especially when there's not a lot of attention. And that's why I want to thank you guys for doing this. But I would urge the listeners to — there's not much we can do from afar, but one of the things we could do is to keep in mind that what these people are doing is a very inspirational thing that could help us at least find our own ways of fighting.
I would actually go farther and say they're doing this for humanity — because they are teaching us what life really means. The Palestinian prisoners in general are teachers, in that sense. They love life so much that they have given so much of it away just for me and for other Palestinians to live their life. That is the true meaning of justice and love.
Iranian human rights lawyer and Sakharov Prize winner Nasrin Sotoudeh was held for three years in Evin prison and was on hunger strike on four occasions, the longest for forty nine days. In an interview with Lara Marlowe in the Irish Times she writes of the influence of Bobby Sands and the Irish hunger strikers and of how the Ministry of Culture censored and removed her introduction to a translation of the writings of Bobby Sands. Despite a ban on her leaving Iran, Nasrin continues to campaign for fair trials and an end to capital punishment.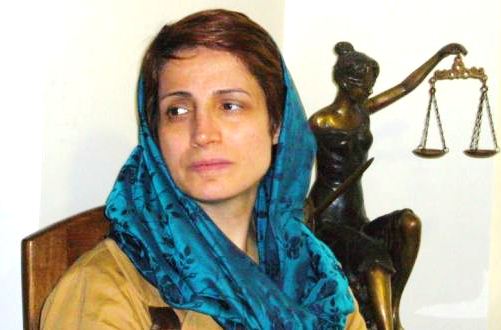 Two hundred and eighty-five Palestinians prisoners are fasting in protest at their detention; 70 have already been transferred to Israeli hospitals because of deteriorating health. Many of them today marked their 49th day of fasting, and some of them have been striking since April 24. Ben Lynfield has written a news report for the most recent edition of the The Christian Science Monitor.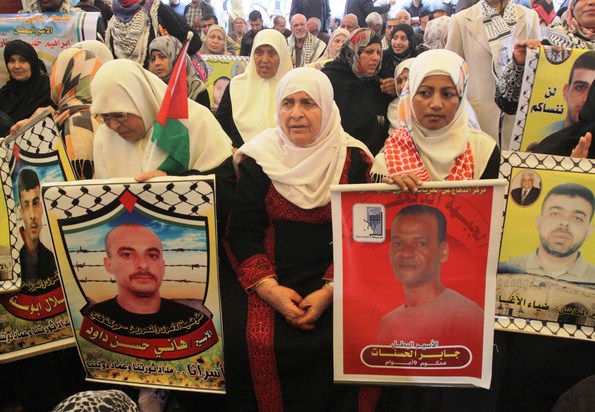 Palestinian prisoners are ready to mount a mass hunger strike, according to The Electronic Intifida, over the continuing Israeli policy of 'administrative detention', which is really internment without charge or trial.
Speaking from Gaza Strip's Jabaliya refugee camp, Ibrahim Baroud, freed from Israeli captivity a year ago after twenty-seven years of imprisonment, was critical of a key failure of the Palestinian leadership to raise the issue of prison releases during the Oslo talks twenty years ago.
"Prisoners were never mentioned in the Oslo accords," referring to the peace agreement signed by Israel and the Palestine Liberation Organization twenty years ago. "This was a disappointment to us, and a failure of the Palestinian leadership."
Nearly two hundred Palestinian administrative detainees, held indefinitely without charge or trial on Israeli military court orders, announced plans to launch a mass hunger strike for their freedom beginning today. The news came as demonstrations across Palestine and events worldwide commemorated the 40th annual Palestinian Prisoners' Day.
Thousands marched from an exhibition at Saraya square, the former site of Israel's Gaza central prison, to rally outside the International Committee of the Red Cross' Gaza office.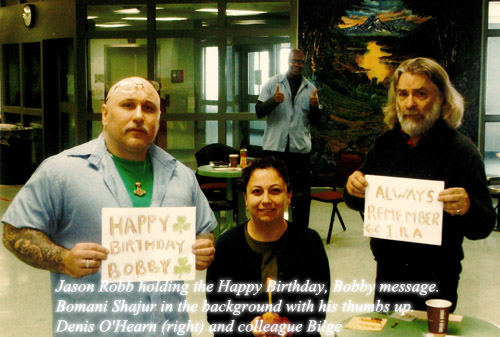 Denis O'Hearn, author of the biography on Bobby Sands, Nothing But An Unfinished Song, is Professor of Sociology at Binghamton University, USA, and has been involved in campaigning for the rights of death sentenced prisoners in US Supermax Prisons. He has sent us this report, about how prisoners in Ohio celebrated the 60th anniversary of the birth of IRA hunger striker Bobby Sands on 9th March, 1954. Here is his report:
You and others may be moved to hear about a birthday party that I attended yesterday. I was in Ohio State Penitentiary, on the 60th birthday of Bobby Sands, visiting my brothers Bomani Shakur and Jason Robb. Bomani and Jason, along with three others, are awaiting execution for their parts in a prison uprising in Lucasville, Ohio in 1993. There is no evidence that any of the five was involved in any killings that took place during the uprising but they led a movement to convince prisoners not to inform on other prisoners regarding any events that took place during the uprising. Bomani and Jason were offered deals by the state of Ohio to get very reduced sentences if they testified against other prisoners but they refused to do so and chose to save their souls at the possible cost of their lives.
As punishment, the state fabricated evidence of guilt and withheld evidence of their innocence and stage-managed a series of trials that resulted in death penalties. The five men remain steadfast friends and comrades. Two are white, two black, one a Sunni Muslim.
In January 2011, after reading accounts of the Irish hunger strikes of 1980-81 and of the life of Bobby Sands, three of the men went on hunger strike to demand contact with each other and open visits, where they could touch their friends and family and break bread together with them. This we have been doing since the victorious end of their hunger strike, although Bomani and Jason remain chained to separate picnic tables during the visits.
Yesterday, we bought a small cake from the vending machine in the visiting room. Jason, who is an accomplished artist, used the crayons and paper from the children's play area of the visiting room to make birthday cards reading, "Happy Birthday Bobby", and "Always Remember." He constructed a birthday candle from paper, with a "flame" on the top, to decorate the cake. Together, we celebrated Bobby's life and his ongoing contribution to freedom everywhere.
After the victorious hunger strike in Ohio, other prisoners around the United States read about Bobby and the Irish hunger strikers. Last year 30,000 men in California's prisons went on hunger strike against solitary confinement. They organized the strike from a small area of isolated confinement called the short corridor that resembles nothing so much as the H-Blocks at their height of inhumanity, although these men do not even have windows in their cells. The men who organized the strike are African-American, Latino, and White. According to one recent report the men held all kinds of lively debates in their "pod" in Pelican Bay State Prison, but whenever the subject of Bobby Sands and the Irish hunger strikes came up the talk changed.
"Every time we'd start talking about it, we'd notice the pod going quiet—we knew people were listening."
The state says that they are leaders of gangs that are at war with each other yet they have shown the deepest comradeship. The hunger strike lasted some 60 days and it may resume again if rights are not granted.
Last month, dozens of prisoners in Menard "administrative segregation" (solitary) unit in the state of Illinois went on a hunger and then thirst strike for their rights. Again, they cited the example of Bobby Sands who, among others, has been responsible not only for politicizing large segments of the US prison population but for showing them a way that they can fight for their rights through nonviolent resistance. Soon, I believe, there will be a nation-wide hunger strike in the prisons here to protest against the inhumane policy of long-term solitary isolation, which since 1983 has put tens of thousands of men into total solitary isolation, some of them unable to touch another human being for decades.
Today we hear that hundreds of undocumented migrants who are being detained in Tacoma in the state of Washington launched a hunger strike – on Bobby's 60th birthday!
All of the Irish hunger strikers and their families, those with us and those who have passed from us, can take great pride in the fact that their struggle continues and that their example has given hope to tens of thousands of men who are still being held in "concrete tombs" in the richest nation in the world.
Happy Birthday, Bobby! Always Remember!
– Denis O'Hearn