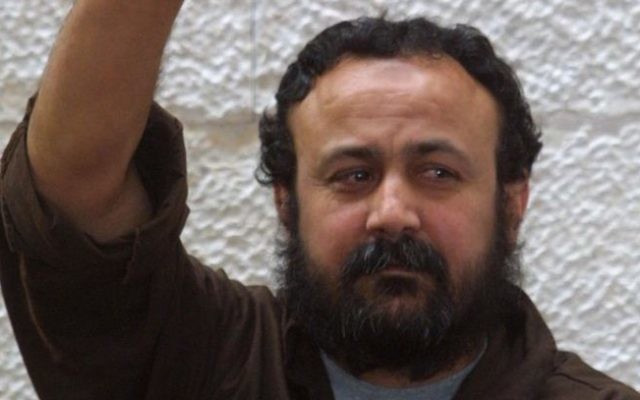 Earlier this year imprisoned Fatah prisoner Marwhan Barghouti led a 41-day hunger strike in Israeli prisons demanding improved conditions. Before and after the hunger strike his family had been denied permits to enter Israel to visit him.
Last month Barghouti's wife Fadwa, who had received a permit via the Red Cross, was then denied a visit with her husband when she arrived at the jail on the grounds that she had supported him while he was on hunger strike. She was told that on security grounds she would be banned from visiting her husband until 2019. Over 1000 prisoners participated in the strike which began in April.
Convicted in 2002, Barghouti is serving five life terms for his alleged involvement in acts of resistance against Israel.
His son, Aarab Barghouti, said: "My father is a man of peace. He always sought peace. The only thing he will not forgo is his people's rights".
When the hunger strike ended in May, Barghouti described it as a "turning point" for Palestinian prisoners.
"The record of the prisoners has been one of unprecedented steadfastness and the Israeli repression failed to break their will," he added.
Some 6,500 Palestinians are currently detained by Israel for a range of offences and around 500 are held under administrative detention.
Palestinian prisoners' leader Marwan Barghouti, who has spent fifteen years in jail under Israel's brutal regime, has spoken about the mass hunger strike currently taking place, now into its fifteenth day. Barghouti said: "Having spent the last 15 years in an Israeli prison, I have been both a witness to and a victim of Israel's illegal system of mass arbitrary arrests and ill-treatment of Palestinian prisoners. After exhausting all other options, I decided there was no choice but to resist these abuses by going on a hunger strike."
(Click here for a bio of Marwan Barghouti, written in 2003 by Danny Morrison, Secretary of the Bobby Sands Trust.)
The Bobby Sands Trust is indebted to Lisa Gleeson (Green Left) for this updated report.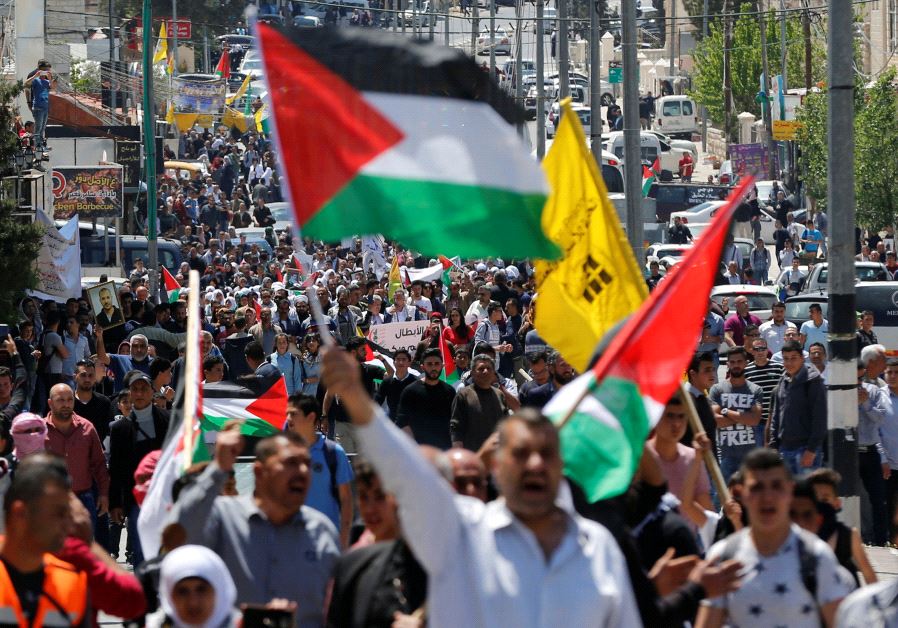 Support for the more than 1500 Palestinian prisoners on hunger strike, which began on April 16, continues to grow across the Occupied Palestinian Territories, despite the more than 1500 prisoners on hunger strike getting almost no reaction from mainstream media.
On April 27, thousands of Palestinians launched a general strike in solidarity across the occupied West Bank and East Jerusalem, shutting down their public transportation services, shops, businesses, banks and schools, TeleSUR English reported.
The Ma'an news service reported that on the day of the strike, the streets were so empty, they were reminiscent of the First Intifada ("uprising"), which started in 1987, when Palestinian general strikes were part of a coordinated civil disobedience campaign against Israeli forces.
The next day, more than 50 Palestinians were injured in clashes with Israeli forces in protests across the West Bank as part of a "Day of Rage" called by Palestinian party Fatah.
Gazans are also protesting in support of the hunger strikers "Freedom and Dignity" campaign, with many camping in the streets of the territory still subjected to a cruel Israel siege.
Meanwhile, there are reports that the health of hunger striking prisoners continues to deteriorate. Some have reportedly begun refusing water.
TeleSUR English reported on April 26: "According to the Media Committee for Palestinian Prisoners' Hunger Strike, a joint committee formed by the Palestinian Prisoner's Society and Palestinian Committee for Prisoners' Affairs, a number of prisoners being held in solitary confinement in Ramla prisons had stopped drinking water.
"According to Qaraqe, Israel Prison Service [IPS] officials have continued to punish participating prisoners for their strike, including preventing them from accessing commissaries to purchase salt — as some prisoners are only consuming salt and water — giving them only dirty sheets and covers and carrying out provocative search raids of prisoners' rooms."
As well as placing identified leaders in solitary confinement, the IPS is separating out hunger strikers as much as possible, and has removed all personal belongings from those taking part.
It is safe to say that, at the very least, the treatment of Palestinian prisoners does not measure up to the so called "Nelson Mandela rules" established by the UN on the minimum standards for the treatment of prisoners. After nearly two weeks on strike, prisoners were starting to be transferred to hospitals and prison clinics.
The hunger strike's leader, Marwan Barghouti, remains in solitary confinement in deteriorating health. Far from being a last resort, solitary confinement is a punishment tool regularly used by the Israeli Prison Service (IPS).
On April 16, an opinion piece by Barghouti entitled "Why We Are on Hunger Strike in Israel's Prisons", was published by the New York Times, and syndicated in other publications.
Barghouti wriote: "Having spent the last 15 years in an Israeli prison, I have been both a witness to and a victim of Israel's illegal system of mass arbitrary arrests and ill-treatment of Palestinian prisoners. After exhausting all other options, I decided there was no choice but to resist these abuses by going on a hunger strike …
"Decades of experience have proved that Israel's inhumane system of colonial and military occupation aims to break the spirit of prisoners and the nation to which they belong, by inflicting suffering on their bodies, separating them from their families and … In spite of such treatment, we will not surrender to it."
The decision of the NYT to run the piece outraged the Israeli media, claiming Barghouti was a murderer and terrorist.
Pressure from Israel led to a later version of the piece, which was only published online, being amended to list the crimes Barghouti was jailed for (murder and belonging to a terrorist organisation).
Barghouti's op-ed aside, mainstream media outlets are otherwise mostly remaining silent. However, international solidarity with the hunger strikers continues to build. A statement of support was issued by former Robben Island prisoners in South Africa, the infamous jail where the Apratheid regime jailed opponents, including Mandela.
In a statement, the Ex-Robben Island Political Prisoners Veterans Association (EPPA) said: "We unconditionally support all the demands made by our brothers and sisters in those dark prison cells and strongly condemn the illegal detention of women and children, as well as all political prisoners incarcerated in Israeli prisons."
On the other hand, Israeli Defense Minister Avigdor Lieberman condemned the hunger strike. Ominously, Lieberman commenting on social media that he would treat the hunger strikers the same way that the British government treated Irish political prisoners who went on hunger strike in the early 1980s.
In 1981, the intransigence of Britain's Margaret Thatcher government, which publicly stated its "refusal to negotiate with terrorists", led to the death of 10 men on hunger strike.
It seems clear the minister has no interest in addressing the prisoners' immediate concerns, nor the implications for stability should Palestinian prisoners die.
His attitude is echoed in the actions of Israeli extremists, reportedly from the youth-wing of Lieberman's right-wing National Union party, held a BBQ outside Ofer prison on April 20 to taunt Palestinian prisoners. The authorities made no attempt to stop the BBQ.
By contrast, widespread arrests of Palestinian civilians across the West Bank have taken place since the hunger strikes began. Arrests and home invasions are a daily occurrence in the Occupied Territories, but the rate appears to be spiking.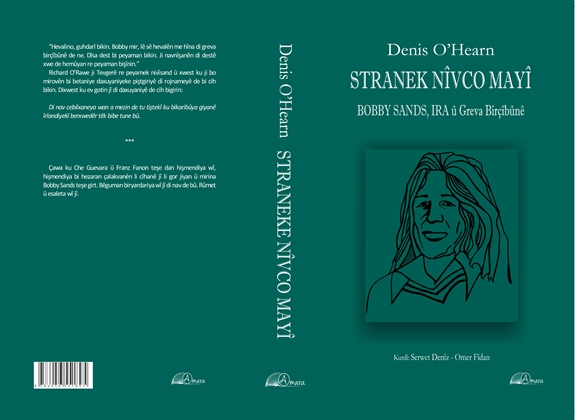 Denis O'Hearn's widely-praised biography of Bobby Sands has now been translated into Kurdish. Nothing But An Unfinished Song will be published this weekend in yet another language of one of the world's oppressed yet risen people.
STRANEK NÎVCO MAYÎ: BOBBY SANDS, IRA û Greva Birçîbûnê is the Kurdish translation of Bobby's life story, published by the Istanbul-based Amara Yayıncılık.
Publication of the book comes at an important time, not only as Kurds in Turkey come under increasing attack by the authoritarian regime of President Recep Tayyip Erdoğan, but also as Kurds and their allies in Rojava (northern Syria) continue to strengthen one of the most important experiments in autonomous governance in the world.
Last year O'Hearn's biography was published in the Basque Country after two political prisoners, Aitzol Iriondok and Jurgie Garitagoitia, translated it into Euskera.
Thirty six years after his death on hunger strike Bobby Sands' memory lives on and  continues to inspire progressives throughout the world.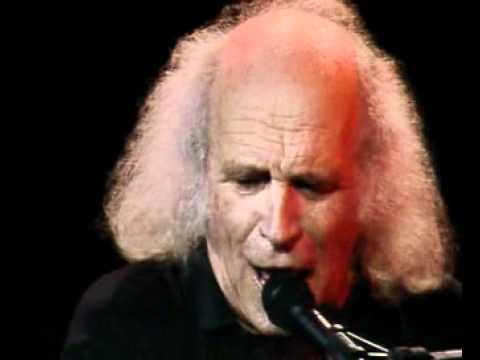 Léo Ferré, the flamboyant French composer, poet and singer, who was born in 1916 and died in 1993, was a pacifist chansonnier and political rebel. His songs of protest and his music are revered to this day as classics in the art of the chanson and have been recorded by Édith Piaf, and Les Frères Jacques, among others.
During the Spanish civil war Ferré supported the anachists in their struggle against Franco though he sympathised with the communists and was a member of the French Communist Party until his death. His song, Le Temps Difficiles, refers to the Algerian war and the torture of Algerians by French soldiers.
In 1961 he wrote a wry, morality song, Thank You Satan, a condemnation of state injustice.
When he was singing this song in Paris, twenty four years later, he stood up and announced, "I dedicate this song to Bobby Sands and his comrades!"
The US edition of Variety, the weekly entertainment trade magazine, carried a review of the film 66 Days about the hunger strike of Bobby Sands. Made by Fine Point Films, 66 Days premiered at the HotDocs Festival in Toronto and was received with wide acclaim. This review in Variety was written by the critic Dennis Harvey: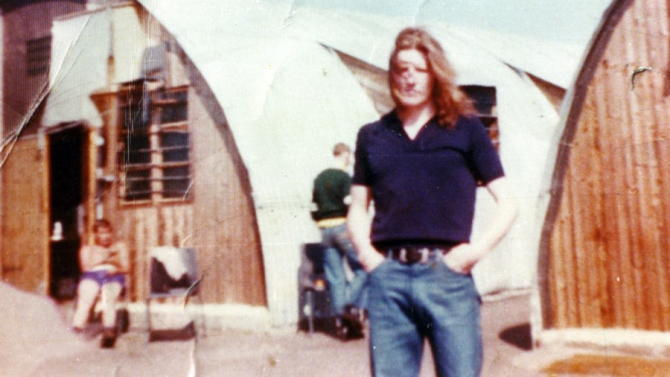 A terminal hunger strike that caught the world's attention — and arguably helped shift the struggle for Irish independence away from terroristic violence — is recapped in Bobby Sands: 66 Days. Veteran documentarian Brendan J. Bryne's feature does an excellent job contextualizing this famous chapter for viewers not already steeped in modern Irish history. He also accentuates the drama of events to create what many may find a more engrossing (as well as complexly balanced) treatment than Steve McQueen's 2008 Hunger, which had Michael Fassbender as Sands. It should prove a viable niche theatrical release in select territories, with slightly wider home-format exposure to follow.
Sands was 27 when he died on May 5, 1981 after refusing food for the titular 66 days. He was radicalized by the rise in Northern Ireland sectarian tension and violence during his youth, which had driven his own Catholic family from their home. At age 18 in 1972 he joined the Provisional IRA, getting arrested later that year on a weapons possession charge. The same scenario unfolded not long after his release from prison in 1976. While during his first stint he and other political prisoners were afforded "Special Category Status" allowing them somewhat different treatment from ordinary offenders, that exemption had been eliminated by the time of his 1977 re-entry.
Republican inmates deployed various tactics to protest that policy change, including refusing to wear prison uniforms and creating grossly unsanitary cell conditions. But these had little desired effect. Once Margaret Thatcher became Prime Minister in 1979, the U.K. government took a hard line of viewing all such activism as "blackmail" demanding "special privileges" for common criminals. It was against such opposition — and, to an extent, the IRA's own disapproval after a prior such action had failed — that Sands commenced his second, final hunger strike, eventually joined by several others.
One voice among the rich array of observers that Bryne has assembled here comments early on that Bobby Sands was "the perfect icon," being a figure of demonstrable passion and sacrifice, yet also a sort of blank slate (due to his youth and largely incarcerated history) onto which almost any qualities or message could be projected. That he was well aware of the martyr role he'd chosen is implicit in the articulate journal excerpts read on the soundtrack by Martin McCann. Even those who knew Sands tend to talk about him less in personal terms than as a sort of conscious symbol.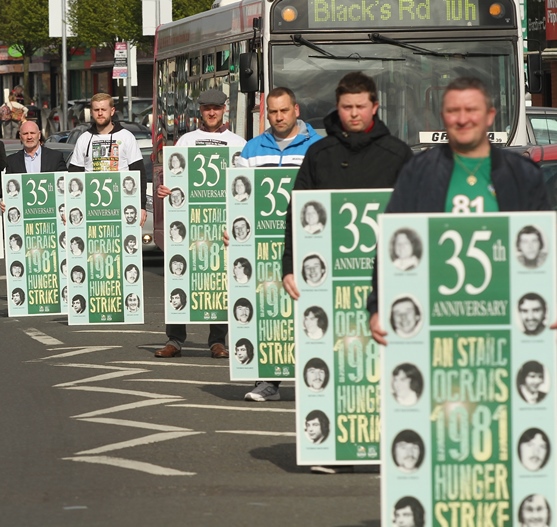 In the end, 66 Days argues, his death not only won most of the contested prisoner rights, but made a significant case for "the power of self-inflicted suffering" as being more effective than violence in serving the cause. (The international-publicity impact was heightened still further when Sands was successfully elected to the British Parliament just weeks before his demise, proving considerable public sympathy lay on his side.)
Structured as a fatal countdown of days, Bryne's docu (with much help from Paul Devlin's inventive editing) manages to sandwich in a lot of diverse, useful errata, from general historical background to pulse-takings of the then disco-crazed popular culture simultaneous to this deadly serious conflict.
Primary package elements are a wealth of archival footage, and latter-day talking-head contributions from various contemporaries, historians, medical experts, et al. 66 also weaves in low-key, wordless reenactment elements, and even a couple impressive animated sequences. Reflecting and further enhancing the film's complicated agenda is an original score by Edith Progue that runs the gamut from duly disco-influenced music to aptly more somber themes.
While hardly the first and unlikely to be the last cinematic word on its subject (which was also notably dramatized by Terry George in the 1996 feature Some Mother's Son), this finely crafted docu may well long stand as the most balanced among such treatments, as it respectfully examines Sands' folk-heroic legacy rather than simply amplifying it.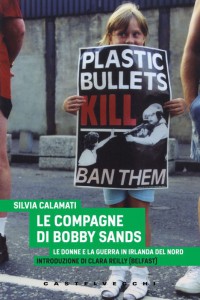 Congratulations to Italian writer and journalist Silvia Calamati who last month was given an international award for her book Bobby Sands' Companions. Women and War in Northern Ireland. The book is dedicated to Kathleen O'Hagan, a mother of five who when seven months pregnant was assassinated in her home in Greencastle, County Tyrone, by a UVF murder squad under Billy Wright who was working for British Intelligence.
The introduction to the book was written by Clara Reilly, Chairperson of Relatives for Justice.
The book was chosen over a list of 722 books from Italy and abroad.
In her acceptance speech for the International Literary Prize 'City of Cattolica 2016', Silvia carried a plastic bullet which she showed to the audience. The prize was awarded to her at the Queen's Theatre, Cattolica. Sponsored by the Presidency of the Italian Council of Ministers, the Emilia Romagna Region and the Municipality of Cattolica, it is considered as one of the most important in the Italian and international scene for literary excellence.
The book tells the stories of many women from the North who experienced deep suffering which they faced with strength and dignity, in a situation where violence, repression by state forces, murders and political persecution were further complicated by issues of poverty and unemployment.
"They deserve my dedication," said Calamati. "My thoughts, too, are for those who defended human rights which were violated, such as the lawyer Rosemary Nelson, blown up with a bomb placed under her car in 1999."
Silvia Calamati is the author of many other books, such as Northern Ireland. A Colony in Europe and Contemporary history of the War in Northern Ireland. She translated and edited One day in my Life by Bobby Sands and Renewing the Irish Church by Father Joe McVeigh.
Her translation of 'I arose this morning': A biography of Bobby Sands for Younger Readers, written by the former hunger striker Laurence McKeown and Denis O'Hearn, won the Alessandro Tassoni Award (2011) and the International Award 'City of Cassino (2013)'.
Calamati is also the author of Snow and mud to quench my thirst. The Diary of Sotiris Kanellopulos, a partisan of the Greek Civil War (1 March -17 May 1949).
Father Daniel Berrigan, the radical priest whom, along with former US Attorney General Ramsey Clark, the British government banned from visiting Bobby Sands on his hunger strike, has died.
Daniel Berrigan visited Ireland on many occasions. His record on civil rights and in defying oppression is legendary. He was jailed for his opposition to the Vietnam War. He believed, fundamentally, that racism and poverty, militarism and capitalist greed were interconnected, were pieces of the same big problem, resulting in an unjust society.
For more see here – http://www.nbcnews.com/news/religion/jesuit-priest-peace-activist-daniel-berrigan-dies-94-n565456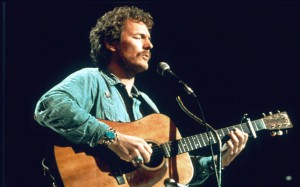 While on the blanket protest Bobby Sands wrote a song, I Wish I Was Back Home In Derry, which he sang out his cell door to the air of Gordon Lightfoot's song, The Wreck of the Edmund Fitzgerald.
Bobby's song has been recorded many times, most famously by Christy Moore. In May 2012 Gordon Lightfoot was asked, in an interview by the writer George Lenker, about the parallels between his composition The Wreck of the Edmund Fitzgerald and Bobby Sands' song. Here is Lenker's interview:
Although it's not a raging controversy among the general populace, there has been a decades-old debate about the origins of Gordon Lightfoot's well-known song, "The Wreck of the Edmund Fitzgerald."
Many folk music fans have long noted an almost note-for-note similarity between Lightfoot's tune and "Back Home in Derry" — an Irish song made famous by Christy Moore and written by Irish rebel Bobby Sands, famous for his death by hunger strike in protest of British policies in Northern Ireland. There are entire Internet threads debating which song came first and who borrowed or stole from whom.
Lightfoot's song was recorded first, but that doesn't mean it was written first. But it seems no one ever has asked Lightfoot about it—until now.
"Oh, 'Back Home in Derry.' Is that the name of it?" he said during a telephone interview in advance of his show at Northampton's Calvin Theatre on May 18. "I've heard about it, but I didn't know much about the similarity until it was pointed out to me by a couple of Irishmen."
When told his version came first and asked why, if he wrote it, he didn't pursue copyright infringement, Lightfoot just chuckled.
"I think the melody is actually just an old Irish folk song; an old Irish dirge," he said. I think I took it from that. It's all folk music and it's all out there for everyone to enjoy."
And that generous, casual attitude perfectly fits Lightfoot's personality, and with good reason: It's hard to get too worked up over small things when you have been in a coma one year, and then heard of your own death on the radio a few years later.
"I was in my car and they were playing 'If You Could Read My Mind' (Lightfoot's 1970 hit) and then they were reading my obituary," he said about the 2010 rumor. "So I put my foot on the gas and got to my office to correct them. I used the old Mark Twain line, 'Reports of my death have been greatly exaggerated.' We had some fun with it, but to this day, I have no idea where (the rumor) came from."
Of course, Lightfoot actually had a close call with death eight years earlier, in 2002. An aneurism put the Canadian folk legend into a coma for six weeks.
"I'm fine now, but I had hearing problems at first," he said. "It took five or six months to know if I could even sing again."
It's a good thing he can, because one of Lighfoot's trademarks is his rich baritone voice, which stands in stark contrast to many singers of his era, and even of today.
"I was never that aware of my voice being different than most because I came from the folk tradition," he said. "But I write in all these keys that fit my voice, so it's a good thing I have a great band that can play in all these keys."
Along with "Wreck of the Edmund Fitzgerald," which reached No. 2 on the Billboard charts in 1978, Lightfoot is best known for his 1974 No 1 hit, "Sundown." He said the song hit everyone as a potential hit almost immediately.
"We had a feeling at time, that it was best one for a single. Sometimes you get the feeling," he said. "It also helped that we used the title as the name of the album. That was the only time I did that. It's also the only song we play every night."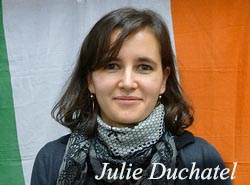 French writer Julie Duchatel recently spoke by telephone with Basque prisoner Aitzol Iriondok who along with his comrade Jurgie Garitagoitia has translated into Euskara (Basque) Denis O'Hearn's biography of Bobby Sands, Nothing But An Unfinished Song.
Julie (with Philippe Paraire) had previously translated the biography into French, Bobby Sands, jusqu'au bout, and has spoken at conferences and meetings on the subject of the 1981 hunger strike. Now, on behalf of the Bobby Sands Trust she has interviewed Aitzol Iriondok about his translating:
Written by Denis O'Hearn and published in 2006 Nothing But An Unfinished Song has already proven to be a powerful book that leaves no-one indifferent as to the subject as soon as one read its first pages. The biography is so special that it was translated into French in 2011, in Turkish in 2014 and in Basque (Euskara) recently by two Basque political prisoners held in France: Aitzol Iriondok and Jurgi Garitagoitia.
Such a barely believable dedication is in fact a fair tribute to Denis's work and especially to Bobby Sands and his comrades who died in 1981, as well as to all the Irish republicans. I spoke on the phone to one of the translators, Aitzol, who is now held in Moulins Yzeure, near Lyon, France.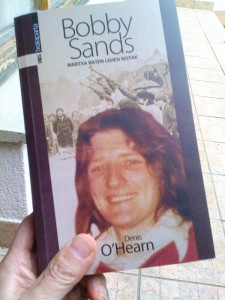 Julie: Could you please, Aitzol, introduce yourself in a few words, as well as Jurgi, your co-translator?
Aitzol: My name is Aitzol Iriondo, I am a Basque political prisoner held in France since 2008. Before being arrested, I lived several years clandestinely. Before that, I studied biology in Bilbao. Jurgi is incarcerated in France since 2009 and is currently studying the Basque linguistic and language in jail. We met at the Bois d'Arcy prison, near Paris, in 2009 and became good friends.
Julie: How did you get the idea of translating into Euskara the Bobby Sands biography? Have you been in Ireland before?
Aitzol: In fact, in 2011, we read in the Iparralde-based Basque newspaper, Ekaitza, an article presenting the French version of the Bobby Sands biography. Another inmate, a Corsican political prisoner held in the same jail as us, bought the book through Ekaitza, read it and passed it along to us. We really enjoyed it and another comrade said, half joking, that we should translate it into Euskara. Our first thought was that it was one of the craziest ideas we'd ever heard! But after some time, we realised that it was actually a very good idea and that it would be important reading for Basque people and especially, at least to me, for all our comrades that are locked in Spanish jails.
I thought that they should get the opportunity to read and experience directly this wonderful book in their mother tongue, i.e. Euskara.
The Basque people are pretty familiar with Irish history especially until the Good Friday Agreement, which inspired the Agreement of Lizzara Garazi in 1998. Personally, I've never been in Ireland but one day, I hope to be.
Julie: Could you tell us a bit more about the translation process considering it has been done under such difficult circumstances?
Aitzol: We started in March 2012 and finished the translation in January 2013. We sent the manuscript outside to be edited by a friend of ours, Mitxel Sarasketa, then the edited translation got back to us. We had a look at it and sent it outside again for a second edit. Mitxel's friends, among them Arkaitz who holds a degree in Euskara studies, did that job. The thing is that while we were translating, we didn't have access to the internet, of course. That complicates the translation since you are not able to check numbers of facts and expressions. We only had a dictionary with us. Our translation is based on the French version but also we had the original version to help us out through the process. Then once the editing was done, through Mitxel, we sent the manuscript to the main Basque publisher, Txalaparta. A huge work has been done and I do know that the people, outside, who edited our translation, gave a lot of their free time and a lot of love, by the way.
Julie: What do you think is so special about the book?
Aitzol: There are many stories in this book: the accounts about freedom fighters, the struggle within the jail, the right to speak your own language, the work among and for the communities when Bobby was free for a few short months. There are some books that are a lifelong inspiration, this one is definitely part of that category.
The chapters I like the most are the ones towards the end of the book, they are very 'strong', the ones where Bobby is sure about going on hunger strike and certain that he's going to die. I also particularly enjoy the sections related to education and the way Denis O'Hearn transcribes the individual and the collective transformation of men and women into devoted activists. The capacity Denis has to synthesize all the accounts and all the relevant elements for the story is amazing.
I am fascinated by the way the Irish political prisoners, led by Bobby Sands, were able to organise themselves under the most strict rules in jail and their capacity to raise and maintain a good spirit there, their capacity too to take autonomous decisions without outside interference.
Julie: What was specifically the reward of doing such a job in jail?
Aitzol: To me it is like a string you've created and you get tied to it for a long time. And it influences your daily routine. During the 10 months we were working on the translation, we worked at it every single day. And we improved our French and English and reinforced our Euskara. At the end of the translation, we were very tired but very happy and satisfied.
Julie: Did you get any feedback regarding the publication of the book in the Basque country?
Aitzol: I know that it has been a best-seller and topped the charts for two weeks according to a right-oriented newspaper El Correo, so that is very good.
A book launch was held two months ago in Donostia along with Mitxel, Eoin Ó Broin (Sinn Féin) , the Txlaparta director of publications, and my mother, and it was a very special day. Some people who visited me told me how moving and important this book is. So that's all good.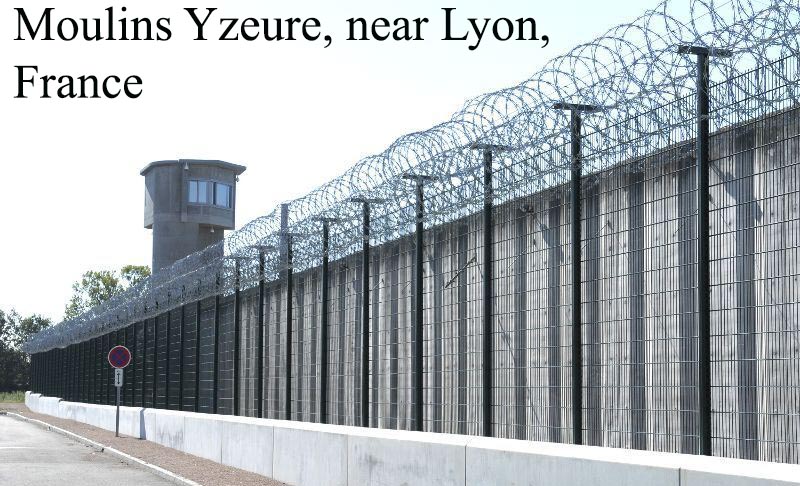 Former hunger striker Laurence McKeown's interview with Anns Sussman on NPR (formerly National Public Radio). NPR serves as a national syndicator to a network of 900 public radio stations in the United States. This is the text of the interview which can also be heard and viewed here.
You're listening to SNAP JUDGMENT, the "To The Brink" episode. Today, we're speaking with people forced past their personal breaking points. And our next story, it's about commitment like you've never heard before. And it comes to us from SNAP JUDGMENT's Anna Sussman.
ANNA SUSSMAN, BYLINE: A young prisoner in Northern Ireland approached a fellow prisoner after mass one Sunday and volunteered for a mission which would guarantee his death within a hundred days.
LAURENCE MCKEOWN: I was 24 years of age. I was single. I put my name forward. After that, there would be people joining it when someone died.
SUSSMAN: Laurence volunteered to join a hunger strike. It was a part of a series of very dramatic protests by Irish Republican Army fighters in prison.
MCKEOWN: I was told after four had died that I was going to be the next one to join it on the 29 of June. I then got a very short communication from the IRA's Army Council, just written on a – on one cigarette paper, which said, comrade, you have put forward your name for the hunger strike. You realize, of course, that this means that you will most likely be dead within the next three months. Re-think your decision – Army Council. So it was very stark – if you had any second thoughts about not going through with it, but I didn't have. And I don't think anybody made the decision lightly. The fact that four people had already died didn't change my opinion on it.
SUSSMAN: Laurence is Catholic. He grew up watching as his family lost more and more of their rights in Northern Ireland. They were treated with increasing hostility by the government and then by their Protestant friends and neighbors.
MCKEOWN: I think it's tragic that I was born into a society where Catholics were discriminated against in the way they were. My parents' generation kept their heads down. I think that my generation weren't prepared keep their head down. They didn't raise up in armed struggle. They rose up in peaceful protest on the streets. And then they were shot off the streets. And I'm proud that just my generation then said, well, we weren't just going to be carried. We weren't going to be broken.
SUSSMAN: Laurence made the choice to take up arms, to join the IRA. He was convicted of causing explosions and attacking a police officer. And when he landed in prison, the British government had just revoked the status of political prisoner it had been giving to IRA inmates.
MCKEOWN: Well, the British are saying we were criminals, we were saying that we were political prisoners and that the struggle on the outside is a political struggle. Then, we seen the need to take us down. And that the idea that we would wear prison clothes, do prison uniform and meekly say that we were criminals was just not something that was going to happen as far as we were concerned. It wasn't done lightly. It wasn't done fatalistically. It was done because we believed that this was something we needed to do.
SUSSMAN: The first striker, Bobby Sands, died after 66 days. And Laurence says when the news of his death spread, the prison went quiet.
MCKEOWN: It was early in the morning after the prison guards come on. And it's a very strange feeling. The wing was very, very quiet. There was no shouting or anything else.
SUSSMAN: Then Francis Hughes, the second hunger striker, died. The third died quickly after him. A fourth man died after 61 days. Then it was Lawrence's turn to join the strike. He wanted to tell his mother before she heard it on the news.
MCKEOWN: The most difficult thing was to say to families that you were going to join a hunger strike and particularly at that stage after four people had died. I was very close – all through my life, I was very close with my mother. I think when I first told her I was going on a hunger strike, more or less, she was resigned to it. Obviously, she was in turmoil at the same time. That was the strongest thing about her. She would never have used her love for me in a way that was – well, you better do this if you love me. Or – I started with the hope that I would live, that something would happen. In terms of fears, there was always the concern – I think everybody, when they're putting their name down thought, what will it be like at the end? Will I have the ability to go through with this? Will I have the commitment to see this through to the end?
SUSSMAN: The first day, the guards brought Laurence his breakfast, and he left it untouched. They brought him a tray of lunch and then a tray of dinner.
MCKEOWN: It became more of a torture rather than anything else. I was – in terms of just the smell of it. For the first three days, I think you still feel hungry. But I think after that – it's hard to describe it. So some of my initial memories was feeling cold, so many aches and pains. And it was very strange as time went on. I just couldn't – I couldn't listen to music at all. And the only music that I could end up listening to was the music that I previously detested, which was country-western music or particularly the Irish version of country-western music.
(SOUNDBITE OF MUSIC)
MCKEOWN: I think it's because the music itself is so thoughtless, you don't have to actually think about it or the lyrics are so stupid you don't have to – apologies to any, you know, country-western fans.
(SOUNDBITE OF MUSIC)
SUSSMAN: Eventually he became so weak, he was moved to the prison hospital with the other hunger strikers.
MCKEOWN: You become aware of just how weak your body is. You start – obviously you see yourself in the mirror, and you're basically skin and bones. You've got to remember is by that stage, you're totally exhausted. So it's not like you're sitting a day and thinking, I'm going to die now. Later on in the day or in a couple of days' time, how do I feel? It's not like that at all. You sort of fall in and out of consciousness. You try to use every ounce of your energy to stay alive and keep going.
SUSSMAN: He only drank salt water – about 10 pints a day. Weeks passed and then he began to lose basic functions.
MCKEOWN: After about 40 days, eyesight starts to go – seeing double vision but very clear double vision. And then after probably about 50 days, double vision went and it became just like a blurred vision.
The other thing I should say went – the sense of smell really dramatically increased, so, like, the smell of food. And the prison authorities would put the food into our cell. Every day, they'd put on breakfast. They would take the breakfast out at lunchtime and put on a lunch. They'd take a lunch out in the evening and put on a supper. So actually as the food sat there and got cold and congealed, like, the smell of it was sometimes overpowering.
One of the smells at one time I was very curious about and sort of looked about the cell to see what was going on. And what I realized, that odor was the smell of my own body where it's disintegrating. Your body is starting to smell like rotten flesh, which was a sort of a stark discovery.
SUSSMAN: Since the day he walked into Long Kesh Prison, Laurence's mother made regular visits to see him. And she kept up her visits once he was moved to the prison hospital. As his body thinned out, the reality of his commitment to the strike dawned on her. Laurence said he could see the pain she was causing her. It was written all over her face.
MCKEOWN: Visits on the hunger strike were very awkward. And all the decisions I had taken was causing my family real grief. And basically it was, on those visits, it's more about what's not said rather than what is said. And we ended up talking about everything other than what's actually happening right in front of you because, in some sense, there's – you know, a conversation's not going to go anywhere. I am on hunger strike. I was again repeating that I was stand – on hunger strike and that was my wish.
SUSSMAN: Then Laurence's father, who had never visited him before, came to see him in the prison hospital.
MCKEOWN: I just love my father. He was shuttered in many ways. My father always wore a cap, but he had the cap off, and he kept squeezing it his hands turning it around his hands. And then finally he burst out about coming off the hunger strike, and did I know the impact it was having on my mother? And I said I did and – but I said I wasn't – I wasn't coming off it. That's the tragic thing about it, too, he – just looking at him and – he's totally powerless. He doesn't know what to do or what to say or – it's like the applecart turned upside down. The sons and daughters are overtaking the parents, even at a very young age, sort of the parents feel powerless.
SUSSMAN: Laurence reached 60 days with no food and then 65. No hunger striker had lived more than 66 days.
(SOUNDBITE OF MUSIC)
MCKEOWN: I'd always had fantasies that, you know, the door is going to suddenly open and somebody's going to say, oh, yes, it's over or – that's the sort of thing you live with, the hope and, you know, visualize how this is going to happen and what you're going to do once it happened and what you were going to eat.
SUSSMAN: At one point, Laurence was called from his cell. He was told there was to be a meeting with three Sinn Fein leaders.
MCKEOWN: They said look, if you sort of call off your hunger strike now, the Irish people will have nothing but admiration for you. If you stay on your hunger strike, what you can be sure of is everybody around this table will be dead within the next few weeks. But our response was, well, we're not – we're not stopping it.
SUSSMAN: Laurence and the remaining hunger strikers – those who weren't bedridden – spent their time on plastic chairs in the hospital yard, staring into space, making occasional small talk, waiting to die.
MCKEOWN: And we were sitting in the yard, a number of us on the hunger strike and started to hear these real strange sounds coming from one of the cells. I've tried to describe it, and it sounded to me like in an animal, like a cow or something who had been in distress. I had grown up in the countryside, and I knew that it was one of the guys on hunger strike, Paddy Quinn. And he was doing this real deep roaring and then it would change into a very high-pitched – almost like a giggle, somebody giggling – but then you hear this – they started laughing and then there would be maybe a period of silence and then this really deep, deep sobbing, heart-wrenching sobbing.
I was in a cell just two doors down from Paddy. And the other sound that I could hear was his mother. She was sitting with him. And I could hear her just – just speaking to him very gently, which was a real juxtaposition of Paddy, I'd say, screaming, bawling, sobbing and then his mother just saying, you're all right, Paddy, stay calm, just generally trying to comfort him.
SUSSMAN: And then came a moment, a decision that changed the fate of the hunger strike and almost every man on it. Paddy Quinn slipped into a coma, and his mother was given power of attorney. She had him moved to a hospital and put on an IV drip.
MCKEOWN: Well, he would have died within a few hours if his mother hadn't have authorized medical intervention. I think there's a part of me that said I'm glad that you did because I knew Paddy well. It's obvious this person was in extreme agony. The other part of me was now what will happen? I mean, this is going to impact on our whole strategy here.
SUSSMAN: The iron will of the protesters had met its match – not in the unforgiving prison system or in Margaret Thatcher, but in the force that erupted from the breaking hearts of their mothers and fathers.
MCKEOWN: We had a closeness with our families. We could understand the tragic nature of it, that they're watching people die one after another. So there's a mixture of emotions. There's a realization that this is – very potentially could undermine the hunger strike.
SUSSMAN: When Laurence reached his 68th day on hunger strike, his family was called in to be by his side.
MCKEOWN: I remember them coming in, being at the bottom of the bed and my mother sitting at the side of it and sister crying. And my father and my brother and sister had again asked me to come off it. I said I wasn't coming off the hunger strike. And I sat there with my mother, and I know she was holding my hand. But what I do remember is her saying, you know what you have to do and I know what I have to do.
SUSSMAN: When Laurence slipped into a coma, his mom had him hospitalized and brought back to life. Days later, in the ICU of the Royal Victoria Hospital, he heard a woman's voice – a nurse.
MCKEOWN: That moment I realized that I was alive; was neither happy to be alive or sad to be alive, I just knew I was alive. I knew what must have happened and allowed me to be there in the intensive care unit. And I had no real sensation of what that meant or how I felt about it.
SUSSMAN: He was transported back to the prison, where some of his comrades were still on hunger strike.
MCKEOWN: And that was a very stark situation because I was still very unstable. I was still very – I could hardly see. I had been walking with the aid of prison guards. We were just passing individual cells where some people were still on hunger strike, and I can hear the noises that you would associate with hunger strike, which is like maybe throwing up water or just sounds of illness. And I knew them – some of them were close friends.
Comments from some of the prison guards was, here's another failed hunger striker. I didn't go back on the hunger strike because I just didn't have the willpower to do that. Anyone who was taken off the hunger strike by their family, none of them went back on it again.
By that stage, there was a realization that the hunger strike would have to be called off. And that caused a lot of soul-searching. You're caught between family and comrades; that's basically down to it. We had a job to do in the jail. We had a job to do as being volunteers in the IRA. But at the same time, we had families who loved us and who we loved. So I think what we did what – we believe we should do – I did what I believed that I should do that day.
(SOUNDBITE OF MUSIC)
WASHINGTON: Laurence McKeown went on to write some fantastic plays about the hunger strike. You can find out more at our website, snapjudgment.org.