Anniversary of Micky Devine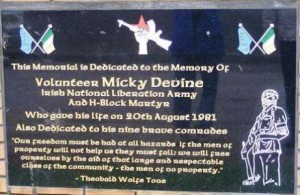 Today, August 20th, is the twenty-eighth anniversary of the death on hunger strike of Micky Devine from Derry. Twenty-seven-year-old Micky Devine, from the Creggan, was the third INLA Volunteer to join the H-Block hunger strike to the death.
Micky took over as O/C of the INLA blanket men in March 1981 when the then O/C, Patsy O'Hara, joined the hunger strike but he retained this leadership post when he joined the hunger strike himself.
Known as 'Red Micky', his nickname stemmed from his ginger hair rather than his political complexion, although he was most definitely a republican socialist. For more read on…